2020 Rewind: Bovine Veterinarian's Cover Articles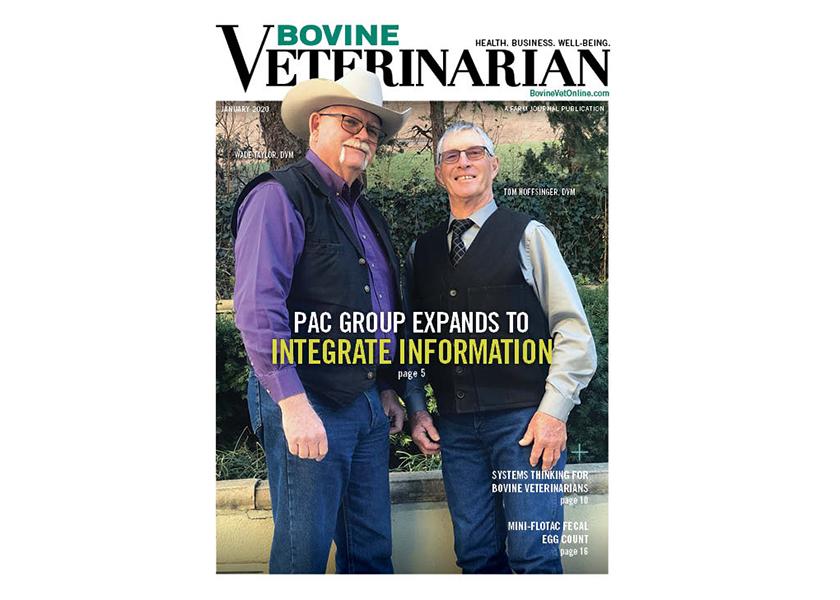 We're recapping this year's most important issues though a look back at the covers of Bovine Veterinarian magazine.
January
The U.S. beef industry has, for decades, known that better collaboration between the cow-calf, stocker and feeding sectors could benefit animal health, performance and beef quality. And while numerous alliances and cooperative agreements have had some success in coordinating practices and sharing information up and down the production chain, progress has remained slow.

February 
Veterinarians Weigh in on Trends, Expectations for the 2020s
During the past decade, we saw numerous changes in beef and dairy production, and in the ways veterinarians serve those industries. These include the emergence of remote monitoring, advanced data systems, new diagnostic tools, genomic technologies, acceleration of antibiotic-resistance in cattle pathogens and drug resistance in cattle parasites.
Most of these trends will continue through the 2020s, and we'll see the emergence of new trends, new insights and applications for science and technology in animal agriculture, along with changes in regulations, production practices, consumer perceptions and preferences.

March/April 
It is a fact of life cows die. Knowing why they die, however, can lead to improved management and fewer losses, say Franklyn Garry and Craig McConnel, veterinarians with Colorado and Washington State Universities, respectively. 

May/June
Veterinarians have at least eight options for doing a cesarean section (c-section) in cattle, but most rely on only one.

July/August
Zoonotic Diseases Contribute To Collaboration Between DVMs, MDs
Six out of 10 infectious diseases in people today are zoonotic based, according to the Centers for Disease Control and Prevention. As a bovine veterinarian, what can you do to address the problem?

September
Veterinarian helps his Kansas ranching community rebuild after fire.

October 
Take The Guesswork Out Of 'Bloat' In Calves
While a distended abdomen can certainly happen in calves of all ages, a true ruminal bloat is not common in young calves—even though visual signs might indicate otherwise.
"We don't usually see ruminal bloat in young calves, due to minimal ruminal development before about five weeks of age or so" explains Sarah Depenbrock, DVM and Assistant Professor of Clinical Livestock Medicine at the University of California-Davis School of Veterinary Medicine.

November/December
Pay particular attention to hutch and transition calves.