S. Dublin On the Rise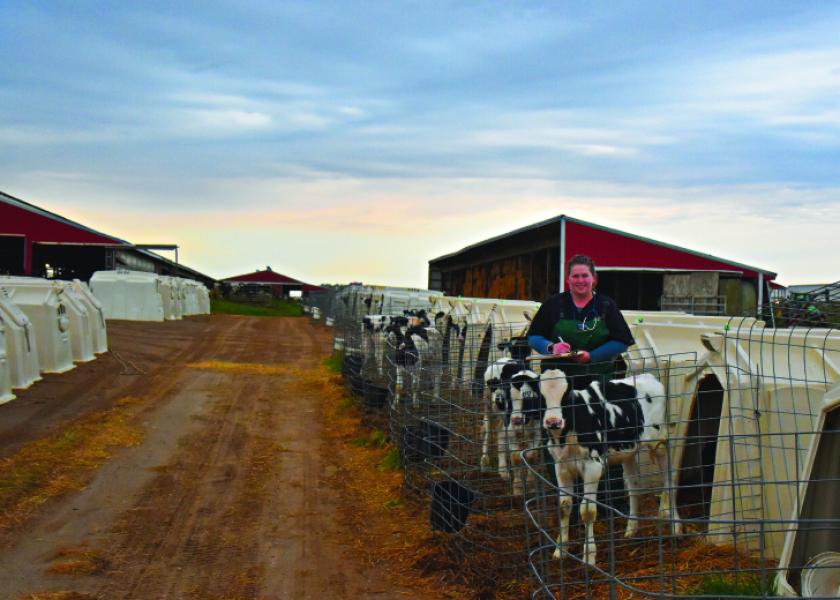 On a sunny October afternoon, Kayla Clark is waiting on lab results that will help her confirm or rule out potential cases of Salmonella Dublin (S. Dublin) on two of her clients' dairy operations.
"We're seeing more of it in our area, especially this time of year as the weather changes and more stressors come on," says Clark, a bovine veterinarian with Sterner Veterinary Clinic, Ionia, Mich.
Veterinarians across thecountry are seeing more cases of S. Dublin, according to the National Animal Health Monitoring System (NAHMS). NAHMS estimates S. Dublin is present today on about 8% of U.S. dairy farms. 
Clark says she finds the problem most frequently in calves.
"The two common age groups are hutch calves (preweaned) and transition calves (post weaning) at 3 months to 6 months of age," she says. "We've always seen S. Dublin in the younger calves — it's only been in the last two to three years that we've seen it become a problem in transition calves."
A common scenario she encounters is when a dairy producer calls to report a dead calf and that some of the other calves, that had seemed fine the day before, are now lethargic, acting depressed and showing respiratory symptoms of some kind.
The latter point is essential. Typical salmonella infections appear as gastrointestinal; however, S. Dublin will most often present as a respiratory illness.
"We typically see the calf's respiratory effort or rate is increasing, and a lot of times we'll see abdominal breathing," Clark says.
In the older calves we try to link the outbreaks to stressors such as transportation, overcrowding, diet changes or deficiencies and poor air quality. Recently we have also seen Salmonella present after severe coccidia cases. 
DIAGNOSIS 
If a dead calf is present, Clark conducts a necropsy. "On necropsy findings, the big thing we're looking for is interstitial pneumonia," she explains. Along with that, she looks for an enlarged liver, enlarged gallbladder and enlarged mesenteric lymph nodes.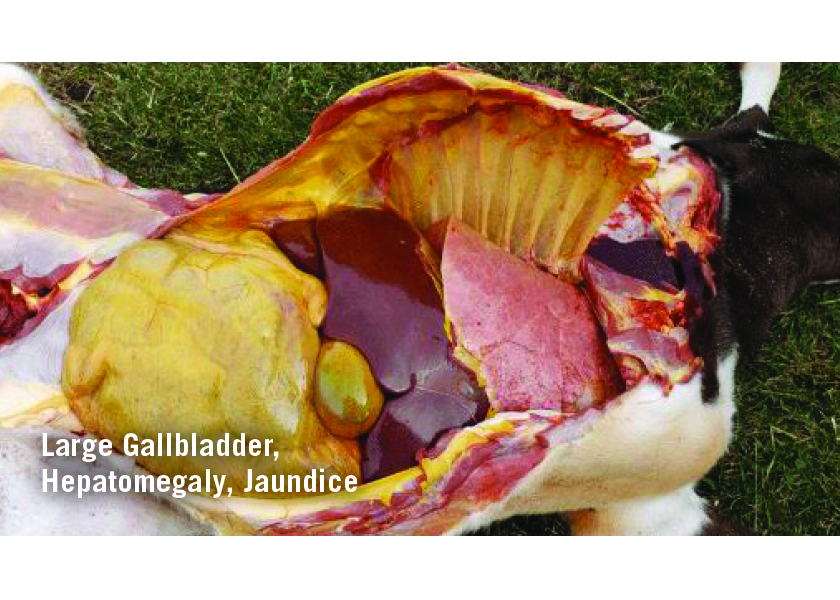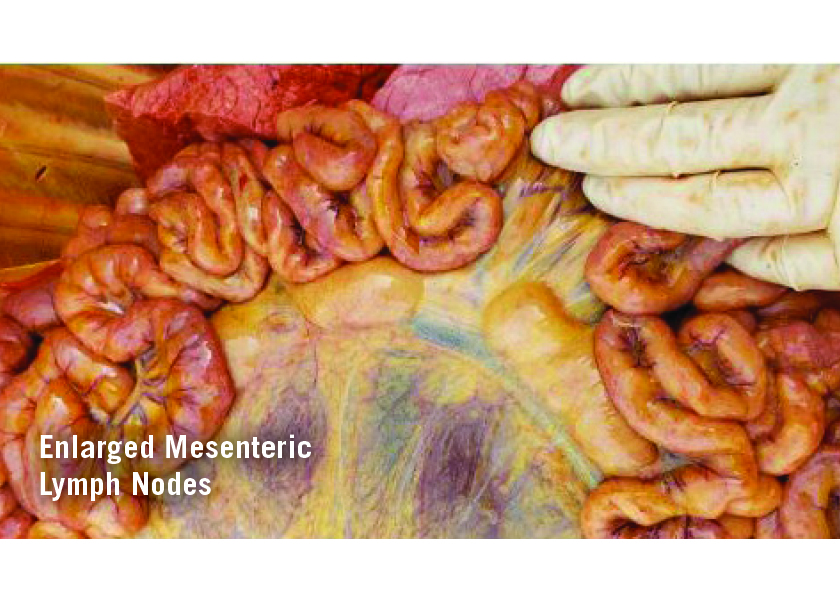 "When those four things are present, I'm thinking S. Dublin or Salmonella," she adds. These organs are also collected and sent to the local diagnostic lab along with intestine and feces to increase the chances of culturing S. Dublin.
Fecal culture tests can be done to check for S. Dublin, but a single negative test won't rule out infection because of the intermittent shedding pattern of the disease, Clark notes. A PCR test can tell you whether an animal is positive or negative for Salmonella, but few labs have PCR tests available specific to S. Dublin. An ELISA (enzyme-linked immunosorbent assay) test is significantly more sensitive than fecal cultures to identify carriers, and it is most accurate when used on calves 3 months to 10 months of age. It can also be used on adults and milk.
"If it looks like a case of Dublin, but I don't get it on culture, I'm
not ruling it out because it's an intermittent shedder, and it's hard to culture," Clark says. "It's a complicated disease."
Treatment
Unfortunately, there are no silver bullets available to treat S. Dublin and restore calves to their full health.
"The treatment of calves infected by S. Dublin is directed to restore hydration status and correct electrolyte imbalances through fluid therapy, controlling inflammation with nonsteroidal anti-inflammatory drugs (NSAIDs) and treating bacteremia with antimicrobials in situations where a suitable drug is identified," write Angel Abuelo, Michigan State University Large Animal Clinical Sciences and Faith Cullens, Michigan State University Extension, in their article, "Salmonella in Dairy Calves." It can be read in its entirety at bit.ly/2Gwq6cI.
Even with treatment, calves affected by S. Dublin still have a significant level of mortality and high morbidity. Clark says it's common for calves to become debilitated, chronic poor doers with stunted growth and reduced productivity if they make it into the milking herd. Those that do are frequently culled. Furthermore, a proportion of those calves that don't die are likely to become carriers for life and shed the bacteria intermittently in feces, colostrum, milk or semen.
Prevention 
All those potential negative outcomes add up to the reason Clark says it's so important that veterinarians help their clients focus on prevention. 
"Key steps are to keep the maternity area and calf pens clean and use good colostrum management practices," she says. 
"It's important to not power wash these areas when you find S. Dublin because it can be aerosolized and can spread the risk of infection on the farm," she adds. While it is not recommended to power wash, it is still necessary to clean the areas. Removing all organic matter such as feces and bedding with water and a cleaner is important. You also need to follow up with an approved disinfectant for Salmonella.  
A useful test for S. Dublin is available at the Cornell University College of Veterinary Medicine's 
Animal Health Diagnostic Center (AHDC). Cheaper, quicker, safer and more sensitive than fecal culture for detection of animals that have been infected, the test detects antibodies rather than bacteria. The test can be used sequentially to identify carriers, helping farmers and health professionals monitor infection spread over time and track the impact of control measures.
Veterinarians can contact Cornell's Veterinary Support Services to discuss the test and issues surrounding Salmonella
Dublin management and control (vetsupport@cornell.edu or 607.253.3900).
Finally, Clark says to remember that S. Dublin is a zoonotic disease, meaning it can be transferred to humans. It is killed by the pasteurization process, so never drink raw milk or consume uncooked dairy beef. It can also be transferred to humans when handling sick calves and disinfecting infected areas (especially if power washing).