Hope from Ashes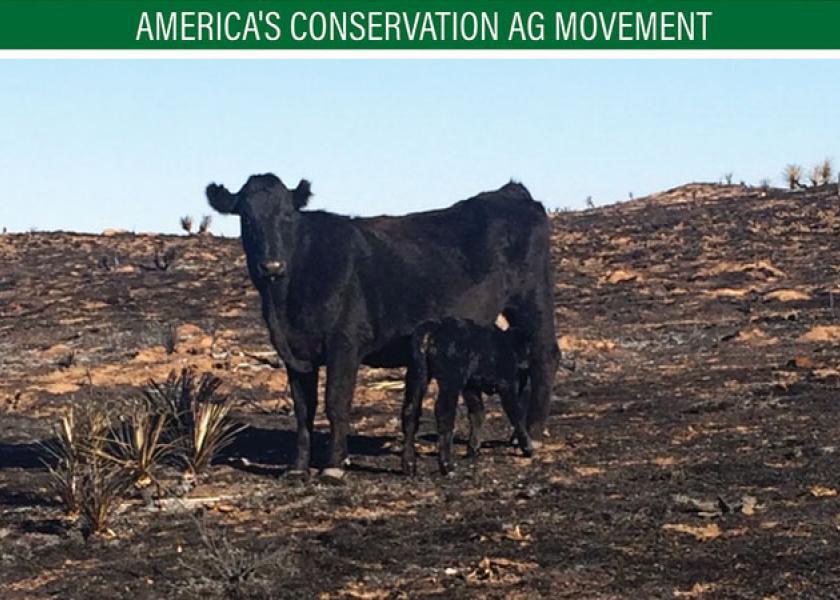 Nearly every resident of Ashland, Kan., and the surrounding communities was affected by what was called the worst fire in Kansas history — the Starbuck wildfire that raged March 6-8, 2017.
Bolstered by 60 mph winds, the Starbuck fire ultimately spread across ranchland in four states burning 1.6 million acres. It killed 10,000 head of livestock, damaging or destroying 18,000 miles of fencing and more than 150 structures — not to mention millions of dollars of damage to equipment and supplies.
In the Ashland area, it took days to tend to all the injured cattle, humanely euthanizing those that were too severely injured. Aside from the devastation, such a task took an emotional toll on both rancher and veterinarian. 
Randall Spare, president of Ashland Veterinary Center, says one of his biggest callings at the time was to show
support for people in the community. 
"As veterinarians, we understand that in times of tragedy, when we have the relationship with people, we're able to help more than any sort of emergency organization," Spare says. "We could call and say, 'Is there anything we can do to help you?'" 
Such relationships are built on a foundation of loving people, even when the need for help falls outside of an 8-to-5 work schedule. 
"When a rancher calls and he's got a cow that's calving or a horse that's sick, you go help them — even if it's not convenient," Spare says. "We do this because we're concerned about the people. They're trying to make a living with those animals, and it's our job to come alongside of them."  
Like Spare, Bernie Smith, focused on helping people. As a rancher and chief of the Englewood Volunteer Fire Department, which serves Englewood, Kan., and the neighboring communities, he was on the front line fighting the flames even as his own ranch suffered loss.
Looking back, Smith says it was encouraging to see people band together and help each other. Over time, the land also healed. Today, the community is stronger and better prepared for future emergencies.
"People are much more fire aware now. Many have taken out fire insurance on their cattle and have a plan for where they can take their cattle if a fire breaks out," Smith says. "We have a strong community of people to help run the fire trucks, and we're figuring out how to grow that as well." 
A sense of community banding-together was echoed by Kendal Kay, mayor of Ashland and president of the Stockgrowers State Bank. Within a week of the fire, he formed a task force to spearhead each arm of the recovery and manage volunteers that came from nearby. 
"It's not easy for people in rural America to accept help," Kay says. "That was a challenge. Volunteers were here, and you'd call rancher, and he'd say, 'No I'm fine. I don't need help.' But in reality they did need help, they just didn't want it at the time. We finally said, 'We're going to send you two people today,' and what we figured out is that became a breath of fresh air. Those two people were not only there to help roll up wire and clean up the mess, but they were also there to just listen, and that was so valuable."
Since the fire, Spare says he is more aware of the need to strengthen rural communities. For him, that includes taking time to mentor young people. Today, he talks with every kid he meets about the opportunities for veterinary medicine in their communities. 
"We've got to find young people that want to serve rural America and be willing to put rural America's interests ahead of their own. Young people who are curious and want to solve production medicine challenges to help producers provide a safe product, whether it be chicken, pork or beef. And there's tremendous opportunity out there to add value [through veterinary care.]"
Spare notes veterinarians are humble and tend to sell themselves short in thinking of their service and value to the community, but they are tremendously important as a value-added entity. 
"Right now, we have five veterinarians, and our payroll is sizeable, but someone reminded me, 'Look, Randall, what you do for our community of Ashland.' We make our communities more viable," he says. 
Another vital lesson Spare learned was about delegation. About five days after the fire, Spare was on the phone for hours, coordinating veterinary care and donations. Someone stopped him, however, and pointed out the pace at which he was working wasn't going to be sustainable in the long run. 
"We may be the leaders, but we can't do it all," he says. "Our community came alongside. Even people who didn't own an acre, or didn't own crops, they came together to help organize the
recovery effort. You can't be afraid to ask for help."
From a coordination standpoint, Kay had a quick idea to create a flier that detailed in succinct bullet points how people could help and where to go to donate. It was easy to distribute, and that, paired with the task force, are elements that they keep in their toolbox for future emergency situations. 
And just like the strength of the people, the grass has risen from the ashes. It was dry just following the fire, but the grass has come back greener and gets a little better each year, Kay says.
Inspired by the helping hand they received, Smith and a few other community members started the "Ashes to Ashes Convoy," which collects hay and monetary donations for areas affected by fire and trucks it out to those communities, just as hay was donated to them following the Starbuck fire. 
"It's just a bunch of local people — firemen, farmers, ranchers and truck drivers; when something comes up, we blow the horn and they come and help," Smith says. "We really enjoy going and helping those people, and they really are appreciative of it. It's our way of paying back all the help we got."