Integrate Cattle Info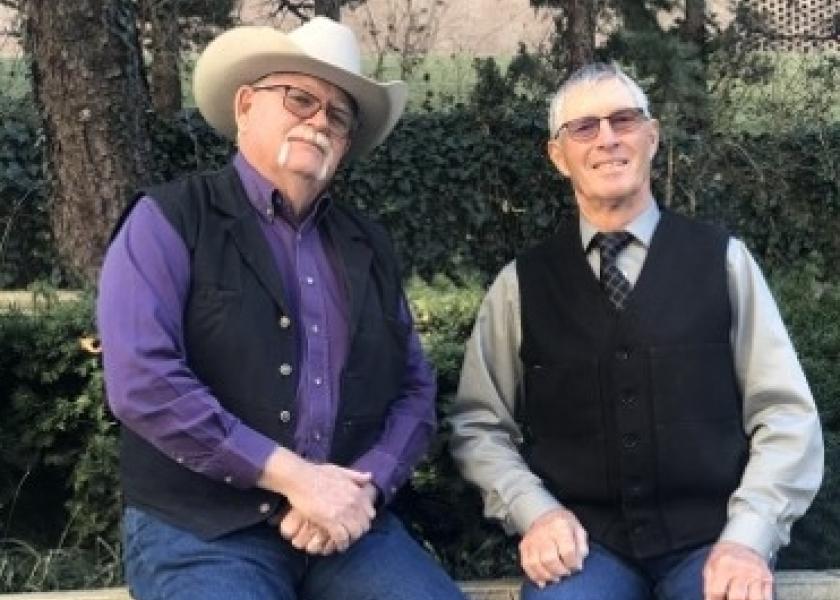 The U.S. beef industry has, for decades, known that better collaboration between the cow-calf, stocker and feeding sectors could benefit animal health, performance and beef quality. And while numerous alliances and cooperative agreements have had some success in coordinating practices and sharing information up and down the production chain, progress has remained slow.
Overall incidence of feedlot morbidity, particularly due to bovine respiratory disease, has not declined, while cattle feeders and their consultants still struggle with large numbers of high-risk calves with unknown [LT1] health backgrounds.
To address these issues, the feedlot veterinarians with Production Animal Consultation (PAC) have embarked on a plan to partner with their colleagues from the cow-calf and stocker sectors, sharing data, experiences, ideas and outcomes.  
PAC formed just over a decade ago, in September 2009, when feedlot veterinarians Tom Noffsinger, Benkelman, Neb., and Wade Taylor, Oakley, Kan., joined forces with a plan to recruit other like-minded, independent veterinarians. Their vision centered on collecting, analyzing, sharing and applying data across their clients' operations, adding value to the veterinary services they provide. 
Soon after, feedlot veterinarians Doug Ford, Nels Lindberg, Corbin Stevens and Kip Lukasiewicz joined the PAC team, along with software developer Garrett Taylor, who designed and manages the group's database. The founding members wanted to apply a team approach to feedlot consulting, and food-animal medicine overall. They began with a feedlot focus, along with some contributions from veterinarians serving stocker/backgrounding operations that supplied participating feedlots.    
Over the next few years, PAC added several more veterinary consultants. Shane Terrell brought expertise in feedlot lameness, Dan Thomson provided industry knowledge in nutrition, medicine, packer relationships, and end-user education, Tom Edwards shared his expertise in ultrasound technology and feedlot lameness, and Matt Fruge became a great day-to-day educator and diagnostician. Reaching beyond the beef industry, Jim Lowe brought knowledge of swine practice and production management. Randall Spare brought years of experience working with cow-calf and purebred operations. Jacob Hagenmaier recently joined the group as part of the third generation of veterinary consultants for PAC. Kev Sullivan, a beef consultant based in Australia, brought an international perspective to the group, as he consults with cattle feeders in Australia, Indonesia, Canada, Mexico and Brazil.     
PAC veterinarians use information technology to evaluate health activities, hospital protocols and management systems, with regular summaries, assessments and audits to help the team apply information gleaned from the data. "We have a strong emphasis on refining case definitions," Taylor says, explaining that the group evaluates and applies a variety of tools including lung auscultation and necropsy to improve the accuracy of diagnoses on the ground and in the database, helping fine-tune their data-driven health and management programs.
Expansion aims for cross-sector collaboration
PAC began expanding its membership to cow-calf and stocker practitioners across the United States in early 2019, intending to broaden understanding of lifetime production systems, integrate management programs and generate data for better understanding of practices that contribute to success from birth through finishing. Noffsinger and Taylor believe that by sharing knowledge, data and experiences across the cow-calf, stocker and feedlot sectors, PAC consultants can help build management systems that benefit the entire production chain, while also collecting and integrating data for continuous learning and improvement.
PAC now has 35 veterinary members in 14 states and 2 interna­tional countries, along with staff to assist in information technology, data collection, research and communications. Domestic members cover more than 2.6 million cattle on feed, 310,000 cattle on grass, 620,000 breeding cows and heifers and 37,000 milking cows. The team now is working hard to build a database incorporating information measuring reproductive performance, calf health and vaccination activities at the ranch, and building an assessment tool to identify important cow-calf management practices. This assessment tool will allow creation of indexes for maternal behavior, nursing frequency, neonatal weather stressors and passive transfer. This process will help clients move toward vertical integration without vertical ownership, Taylor and Noffsinger say.
The group also emphasizes on-going education for their members, in areas such as stockmanship, and in building relationships between people. These include relationships between veterinarians and staff within a practice group, and between veterinarians and nutritionists, crew members and managers at client operations. PAC continues to emphasize caregiver training and team building with participating veterinarians and their clients. They hold regular teleconferences to discuss specific topics and share ideas and observations from client operations, and since 2012 have hosted a series of summit meeting for participating veterinarians and clients. In 2019, PAC held four such meetings across Kansas and Nebraska with more than 400 total attendees.
The group initiated a newsletter in 2013, which evolved into a quarterly magazine, Protein Producers, in 2015, with a goal of educating and informing PAC clients and producers across animal agriculture. As the group expands further into the cow-calf and stocker sectors, they plan to pursue additional opportunities for dialog between members and clients.
PAC consultants recognize that education and training are essential to helping their clients succeed. To that end, they have partnered with specialists such as Ted Howard, an expert in horsemanship and stockmanship, and Jose Valles, who specializes in training caregivers in both English and Spanish, to help caregivers improve the knowledge and skills they use every day.
PAC also conducts research trials to investigate cattle health, performance, and carcass characteristic questions in a controlled setting. Drs. Kip Lukasiewicz, Shane Terrell, Dan Thomson, and Jacob Hagenmaier lead PAC's research efforts with valuable input and assistance from the rest of the group.
Identify effective practices, products and systems
Taylor and Noffsinger say PAC veterinarians yearn to understand what happens in the life of the calf before it comes to the feedlot and how that history affects its health and production as it is finished for slaughter. They quickly realized that they needed help to understand and affect change in production management from conception to harvest.
Noffsinger notes that performance among groups of feeder cattle remains unpredictable, with outcomes often defying expectations. High-risk calves with no vaccination history sometimes perform beautifully in the feedlot, while some documented preconditioned calves have higher-than-expected morbidity rates. The differences could trace back to early factors on the ranch such as genetics, fetal programming, maternal vaccines, colostrum intake, calving systems, stockmanship or others. Through collaboration, the PAC group hopes to identify which practices really make a difference in specific production settings – those that provide measurable benefits and those that just add costs.
Ultimately, the PAC group intends to use information trans­fer to answer a variety of questions, such as:
How do cow-calf vaccine products and timing of vaccination affect feedlot arrival health?

Can we tailor feedlot arrival programs to compliment calf management programs?

What gestational macro and micro nutritional strategies result in cost effective health and performance gains?

Do effective stockmanship interventions influence nursing frequency, passive transfer, neonatal health and weaning behavior?
Noffsinger describes the strategy as "vertical integration of information and trust" across beef-production sectors.[LT2]  Working with cow-calf practitioners, the group hopes to identify management tools, product usage, and information that consistently produce healthier, higher-performing animals in every sector of the industry.
Sidebar
Service-Oriented Mission
Production Animal Consultation (PAC) describes its mission based on this list of standards and goals:
Acting with integrity.

Continuous education and improvement.

Using data to drive decision-making.

Challenging our biases through research.

The importance of horsemanship and stockmanship.

Allowing people to pursue their passion.

The power of collaboration.

A foundation of faith.

Thinking beyond ourselves.

Love for people, animals and each other.
Sidebar
Specialists Address Specific Needs
In addition to general veterinary care, the PAC group offers a range of services across the beef industry, with experienced team members leading each service area.
Veterinary Consulting: PAC veterinarians design health and production programs for producers, provide training to support program implementation and continually evaluate program efficacy by observing cattle, personnel and data.
Research: PAC personnel are experienced in designing, monitoring, and analyzing field research, including efficacy, safety, post-marketing and in-house studies for the beef and swine industries.
Animal Stewardship: The Animal Stewardship Division (ASD) of PAC provides on-site evaluation and training in application of effective stockmanship principles that result in voluntary cattle movement.
Facility Design: PAC professionals design handling facilities for cow-calf, stocker, feedlot and packer operations to achieve voluntary cattle flow during shipping, processing and sorting.
Bilingual Training: Bilingual training services include personal interaction with Spanish-speaking employees, presentation of training materials and translation of handling and treatment protocols.
Data: A proprietary data management system integrates health and production information in a single platform to facilitate evidence-based decision making and timely bench-marking.
Leadership Development: PAC consultants help grow leaders and team members through team building, leadership workshops, and development of core values, culture and hiring processes.