Zoonotic Diseases Contribute To Collaboration Between DVMs, MDs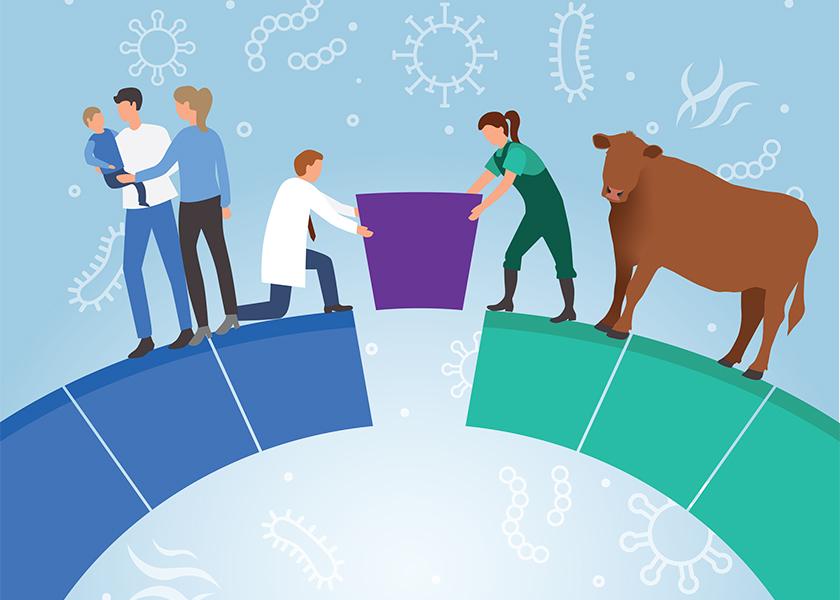 Six out of 10 infectious diseases in people today are zoonotic based, according to the Centers for Disease Control and Prevention.
As a bovine veterinarian, what can you do to address the problem? 
Perhaps more than you realize, says Audrey Ruple, DVM and assistant professor of One Health epidemiology, Purdue University College of Health and Human Sciences.
"As veterinarians, we're in a unique role to care for our animal patients and for our human clients as well because we took an oath to advocate for both," she says.
Ruple says the prevalence of zoonoses points to a need for veterinarians and their human counterparts (general practitioners) to connect and work together today in ways most haven't historically.
"I'm on the public health team at Purdue, and I feel like we can bring a lot to the table," she says.
Group effort
Many physicians agree. Ruple cites research conducted in northeast Ohio in 2006 showing, even then, 53% of the 92 physicians surveyed said a collaborative relationship with a veterinarian who possessed specialty training in zoonoses would be valuable to their practice.
Pediatrician Patricia DeLaMora says that's been her experience.
"My own veterinarian was helpful answering questions about my cat and toxoplasmosis concerns when I was pregnant," says DeLaMora, who works at the Phyllis and David Komansky Children's Hospital at New York-Presbyterian Hospital/Weill Cornell Medical Center.
The most unique zoonotic disease concern she has addressed involved a Madagascar monkey that bit a student on spring break. DeLaMora talked with the veterinarian working with the primates who confirmed the animals were healthy and had been vaccinated — good news she then shared with the parents.
DeLaMora says a more common scenario when she collaborates with veterinarians is when she encounters potential lyme disease caused by blacklegged ticks carried into the home by a pet. 
Veterinarians who diagnose an animal with a zoonotic disease, whether in the clinic or on the farm,  can help educate the client, says Danelle Bickett-Weddle, DVM and associate director for the Center for Food Security and Public Health at the Iowa State University College of Veterinary Medicine.
 "Veterinarians understand the health risks associated with zoonotic and animal-only infectious diseases," she says. "Educating clients on practical, easily implemented steps to protect themselves is an important professional task."
In the event of diagnosis 
Likewise, the general population needs a better understanding of  zoonoses, especially when a pet or farm animal is diagnosed with one, Ruple notes. "We need to explain to the client that this could affect them or a loved one, especially immunocompromised individuals," she says.
DeLaMora says when a veterinarian confirms the presence of a zoonotic disease, she hopes they are comfortable reaching out to the family physician. "I never say no to a conversation," she says. "The more information, the better." 
But Ruple acknowledges, "It's not common for us to reach out, though research says 90% of people are willing to consider their veterinarian as part of their healthcare team." 
Ruple anticipates seeing more veterinarian-physician collaboration, as estimates indicate up to 75% of emerging infectious diseases in human populations will be zoonotic.
"Bringing MDs and DVMs together and having conversations so we're all on the same page is a great way to approach zoonotic diseases and One Health in clinical practice," she says.
---
8 Priorities In The U.S.
The CDC, USDA and U.S. Department of the Interior released a report in 2019* identifying the eight zoonotic diseases of greatest concern to the U.S. They are:
1. Zoonotic influenza
(Zoonotic influenza A viruses)
2. Salmonellosis
(Salmonella species)
3. West Nile virus
(Flaviviridae, Flavivirus)
4. Plague
(Yersinia pestis)
5. Emerging coronaviruses
(Coronaviridae; i.e., severe acute respiratory syndrome [SARS-CoV] and Middle East respiratory syndrome [MERS-CoV])
6. Rabies
(Rhabdoviridae, Lyssavirus)
7. Brucellosis
(Brucella species)
8. Lyme disease
(Borrelia burgdorferi)
*The report was released prior to the COVID-19 pandemic.