Cupid Shuffle Is A Milestone Champion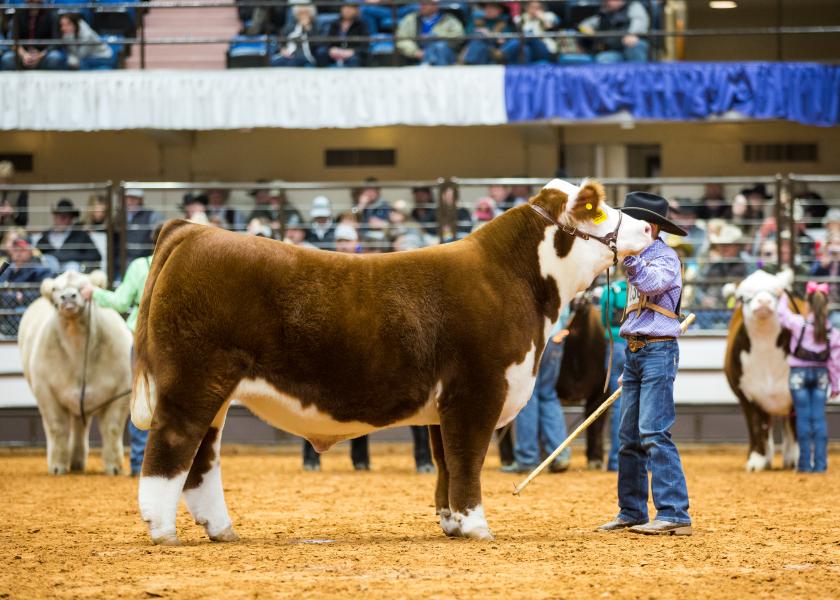 The Grand Champion steer at this year's Fort Worth Stock Show sold for a record $300,000. But the legacy of the steer named Cupid Shuffle may last for decades and his worth to a breed may be invaluable.
When Ryder Day and Lauren Holly Thomas led their steers into Will Rogers Coliseum they had no idea they were about to make show ring history. Judge Chris Mullinix picked Day's Polled Hereford steer Grand Champion and Thomas' Horned Hereford steer Reserve, marking the first time in, well, maybe a couple generations that two Herefords were paired in the winner's circle.
Choosing the two Herefords also brought back memories of Conoco, the Charolais X Angus steer that was the first crossbred to win a major show some 51 years ago. Kansas State University's Dr. Don Good selected Conoco as the Grand Champion at the 1969 North American International Livestock Exhibition in Chicago, an event that has long been considered a watershed moment in cattle breeding. With his choice, Good signaled that crossbred cattle could compete in the show ring and on the rail.
Crossbred steers have held dominance in the winner's circle at the Fort Worth Stock Show since 1982. That was the last time a Hereford steer was selected as Grand Champion – until Mullinix slapped 12-year-old Day's steer on February 7, 2020. It was extra special for the Day family, who raised the steer on their ranch near Lubbock.
Judge Chris Mullinix, Kansas State University
"We're multi-generational cattle raisers on both sides of Ryder's family," his mom, Katie Jo, said. "We're really proud of our show cattle herds and our Hereford herd, in particular."
There was also a connection between the Day's and the couple who purchased Cupid Shuffle, Gary and Kathy Knox Buchholz. In 1989, Katie Jo showed a Hereford steer at the Fort Worth Stock Show that was bred by Kathy Knox Buchholz' father, George "Tee" Knox.
But there's another link in this story – one that connects Cupid Shuffle with Conoco. Chris Mullinix, a professor and the livestock judging coach at Kansas State, occupies the same position Don Good held when he chose Conoco those many years ago. And, Mullinix's wife Elissa is the late Dr. Good's grand-niece.
Despite being a well-respected judge in his own right, Mullinix admits there were a few butterflies in his stomach as he prepared to select his winners in Fort Worth.
"It was a nervous moment for me," Mullinix says. "I knew in my heart exactly what I needed to do and what was right. And yet, when you're in that moment and you know this is something that no one sitting in that arena has seen… Finally, I just relaxed and thought, I know what I was brought here to do – pick the best steer. And so I did."
Ryder Day, 12, FFA member from Meadow, Texas
While he recognizes the significance of his choice in Fort Worth, Mullinix is humbled by any comparisons to Dr. Good, who Mullinix says "is the single most influential person that ever walked through this building," referring to K-State's Weber Hall.
"I don't know that anything I will ever do is as significant as that milestone moment when Dr. Good selected Conoco," he says. "There is a level of significance, and maybe a reminder that what Dr. Good showed us was the advantages of crossbreeding when most people in the livestock business thought it was taboo."