. ( . )

Several years ago, a veterinarian presenting at a Denver conference made a funny, but perhaps prophetic, observation. He noted that two key goals in managing feedlot cattle are to keep them calm and keep them eating. With recreational marijuana newly legalized in the state, he suggested that cannabis products could be the key to happy, hungry calves.
Others joked that perhaps we then could fatten those calves on nacho chips and cheese curls, but that's a different topic.
While we remain a long way from using cannabis products for production or veterinary purposes in food animals, the potential for several applications intrigues veterinarians and producers, especially as more state and federal agencies loosen restrictions on production of marijuana and its non-psychoactive cousin hemp.          
At least 33 states now allow limited sale and possession of cannabis products for medical purposes, 10 allow sales for recreational use, and the 2018 Farm Bill opens the door for commercial hemp production nationwide.
Growing acceptance and dramatic increases in production lead to speculation, and research, into potential uses for cannabis-derived products and byproducts.
Cannabis plants, depending on the variety, can contain up to 113 known cannabinoids. The best known are tetrahydrocannabinol (THC), which causes the psychoactive effects of marijuana, and cannabidiol (CBD), which is not psychoactive but boasts a growing list of pharmacological applications.
Commercially grown hemp, by definition, can contain only trace amounts of THC (less than 0.3%). It can, however, contain significant amounts of CBD and other cannabinoids as well as other potentially medically useful molecules—terpenes, flavinoids, and others, meaning CBD supplies could expand dramatically as more hemp is grown for fiber, feed or other purposes.
Potential applications abound
While millions of people claim positive results from using cannabis to treat conditions including chronic pain, epilepsy, glaucoma, side effects of chemotherapy and many more, most of the evidence remains anecdotal. Clinical trials, either in people or in animals, remain scarce due to marijuana's federal status as a Schedule-1 drug. But as states move to deregulate cannabis, research efforts have gained momentum, and veterinarians have begun to explore potential applications for animals.
So far, much of the veterinary research and application of cannabinoids applies to companion animals, and as in humans, involve chronic conditions. While pet owners willingly pay for long-term treatments and veterinary care, food-animal veterinarians and their clients need financial returns on investments, and treating animals with chronic conditions generally proves to be cost-prohibitive. Some therapeutic or performance-enhancing applications in food animals eventually could however, become viable.
Research suggests cannabinoids can:
Reduce anxiety and stress.
Reduce inflammation and relieve pain.

Stimulate appetite.      

Control neurologic conditions.
Improve reproductive efficiency.
Veterinary professionals see potential and obstacles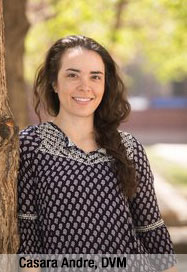 Casara Andre, DVM, is founder of Veterinary Cannabis, a company dedicated to providing practical education to both the veterinary and cannabis industries. The consulting and education company, she says, strives to ensure the use of cannabis in veterinary medicine is consistently examined with scientific rigor to protect the health and well-being of the animals, people and practitioners involved with these industries.
The effects and medical applications of cannabinoids in humans, many of which are well documented, seem to apply to other mammals, she says, adding that cannabinoids in feed could generate significant opportunities and change in livestock production.
Andre says THC-based products have potential for veterinary uses to relieve pain, reduce inflammation, prevent seizures and others medical uses. Cannabinoids (including THC) remain, however, a Schedule-1 drug at the federal level, with no FDA- approved uses in veterinary medicine. In states where medical or recreational sales of marijuana and sale of THC-based products are legal, veterinarians might provide guidance for use, but legal implications remain unclear.
Click next page to read more about the potential clinical uses.