Vet Leader Event Schedule for Great Bend, Kan.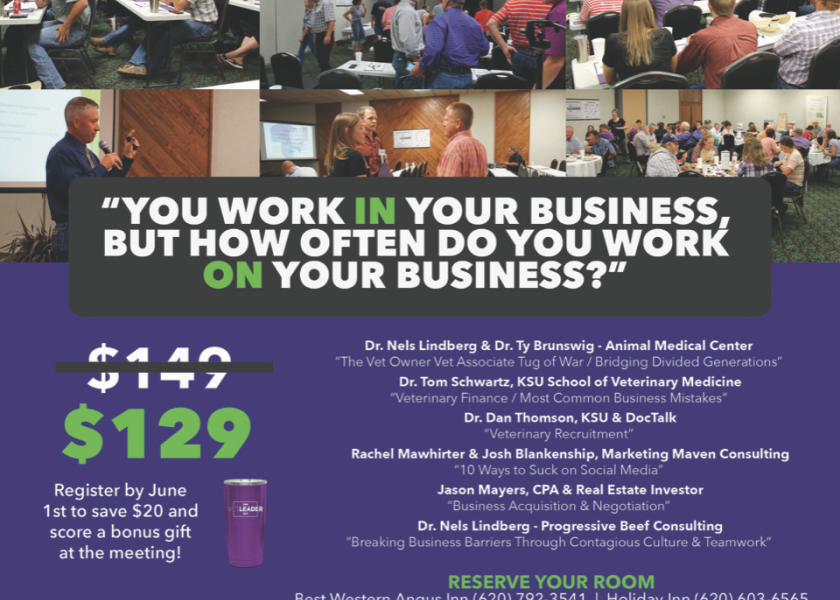 The business of veterinary practice will guide the agenda at the second annual Vet Leader Day, scheduled for June 22 in Great Bend, Kansas. Organizers have designed the event to help practitioners with very practical, usable information and solutions to everyday challenges of practice. The program will include discussions of practice evaluation, negotiation, and transition, common financial mistakes and personnel solutions participants can put to use on the following Monday.
The unique conference offers a 100% money-back guarantee if an attendee feels it wasn't worth their time or money. Early registration, prior to June 1, costs $129. After June 1, the price is $149, while the student rate is just $79.
Dr. Nels Lindberg with the Animal Medical Center in Great Bend hosts the event.
With a focus on entrepreneurship, the program includes:
The Vet Owner Vet Associate Tug of War / Bridging Divided Generations - Dr. Nels Lindberg and Dr. Ty Brunswig
Veterinary Finance / Most Common Business Mistakes - Dr. Tom Schwartz
Veterinary Recruitment - Dr. Dan Thomson
10 Ways to Suck on Social Media - Rachel Mawhirter & Josh Blankenship
Business Acquisition & Negotiation - Jason Mayers, CPA
Breaking Business Barriers through Contagious Culture & Teamwork - Dr. Nels Lindberg
Open Discussion on Entrepreneurial Challenges - Panel Discussion
Visit DrNels.com for more information, lodging and registration.