Time to Rethink Calfhood Brucellosis Vaccination? Page 2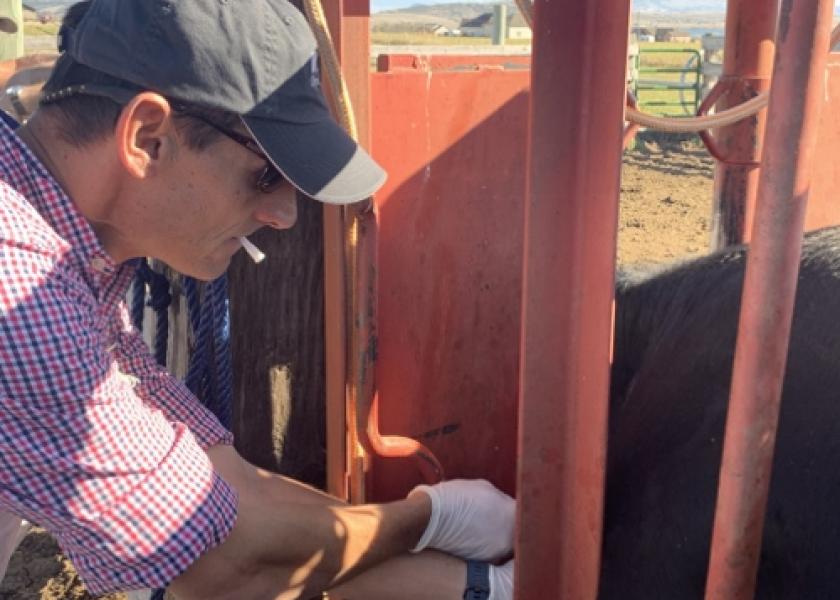 Reasons to reconsider
Rogers says the metal-tag issue will soon become moot, as the USDA intends, by the end of this year, to discontinue free distribution of the tags in favor of RFID for official identification. By 2021, USDA will no longer distribute the tags at all, and by 2023 the metal tags will no longer qualify as official identification.  
Rogers, who raises replacement heifers on his ranch, says he does not intend to vaccinate calves for brucellosis this coming year. Instead, he'll use RFID tags with numbers matched to traditional dangle tags for redundancy. 
Applying the ear tags entails some risk on its own, Rogers adds, as ear infections occur if sanitation is inadequate, and the alternative of using ear tattoos can cause ear warts and discomfort.
The modified-live bacterin vaccine requires veterinary supervision for administration, and while definitive data is lacking, there is some evidence that the brucellosis vaccine might increase stress in calves and interfere with their immune response to other, more important vaccines administered around the same time.   
Zaluski also notes that persistent misconceptions about adult vaccination drives some resistance to change. Some producers believe they need the calfhood vaccine administered between four to 12 months of age in case those cattle are subsequently shipped into a state or county that still requires vaccination prior to import.  However, Zaluski stated that vaccination of those animals as adults can typically meet import requirements.  In the past, use of vaccination in adult cattle was highly restricted because antibody tests could not differentiate between vaccinated cattle and those exposed to field strains of Brucella. That vaccine, however, was discontinued in 1996, and was replaced by a vaccine that no longer interferes with diagnostic tests. Today, adult vaccination provides a fully viable option for that small percentage of cattle sold into areas requiring brucellosis vaccination. 
Money better spent elsewhere?
Oedekoven estimates 350,000 heifer calves receive the vaccine every year in South Dakota alone. At around $5 per head, that adds up to a $1.3 million expense for the state's ranchers, "for a disease we haven't seen in 20 years." 
For years, the USDA has issued the metal brucellosis ear tags at no cost to veterinarians. Those tags serve as a traceability tool, and some ranchers view low-cost individual identification as a primary benefit of vaccination. In reality, most producers are paying around $5 to $6 just to have their veterinarian clip on an ear tag. In addition, auction markets typically charge about $4 per head to read and record the numbers from metal tags, so each brucellosis vaccine could cost about $9.
For about $2 per tag, producers could switch to radio frequency identification (RFID) tags, with the electronic ID linked to each animal's complete vaccination and health records, for a savings of $3 per head. Using electronic readers for RFID tags greatly improves accuracy and efficiency, and could reduce that cost to around $1 per head. Total cost for RFID could average around $3. 
Oedekoven adds that the brucellosis vaccine in current use does not prevent infection with the bacterial disease. It does prevent clinical signs, including abortion, but the vast majority of vaccinated calves will never be exposed to the pathogen. If brucellosis does turn up in states outside the GYA, Oedekoven says officials can effectively control it as if it were a foreign animal disease, with testing and removal in affected herds. 
Oedekoven acknowledges that for some veterinarians, the annual brucellosis vaccination is the only chance they have to visit client operations, establish a VCPR and generate revenue from those clients. Giving that contact up without replacing it with other services would be counterproductive, and some clients might not see the value in changing the way they utilize veterinary services. 
However, with at least some clients, veterinarians have an opportunity to use the brucellosis issue as a conversation starter. The veterinarian could outline how the money currently spent on brucellosis vaccination could instead help fund more economically beneficial practices, such as better preconditioning programs, vaccinations against reproductive diseases, calf nutrition, or other practices that generate profits. Some producers will resist change, but others could recognize the value in building a more consultative relationship with their veterinarian and investing in practices that genuinely contribute to their bottom line.
Zaluski notes an example from human medicine, where the polio virus still circulates in some parts of the world. But in the United States we no longer vaccinate children against the disease, and the public-health community was able to re-allocate resources used for vaccination into surveillance and other high priority areas.   
During the NCBA Mid-Year Conference in July, Rogers, Oedekoven and Zaluski participated in a meeting of the Cattle Health and Security Working Group, where members discussed brucellosis vaccination. Rogers says at least six state veterinarians participating agreed the industry could move away from calfhood vaccinations.
For more on brucellosis and vaccination, see these articles from BovineVetOnline.com:
USDA Withdraws Proposed Change to TB, Brucellosis Programs
NAS Report: Elk are Key Reservoir for Yellowstone Brucellosis
Changes in Brucellosis Test Options for Cattle Exported to Canada