Sleeping With the Cows: A Unique Bed and Breakfast Experience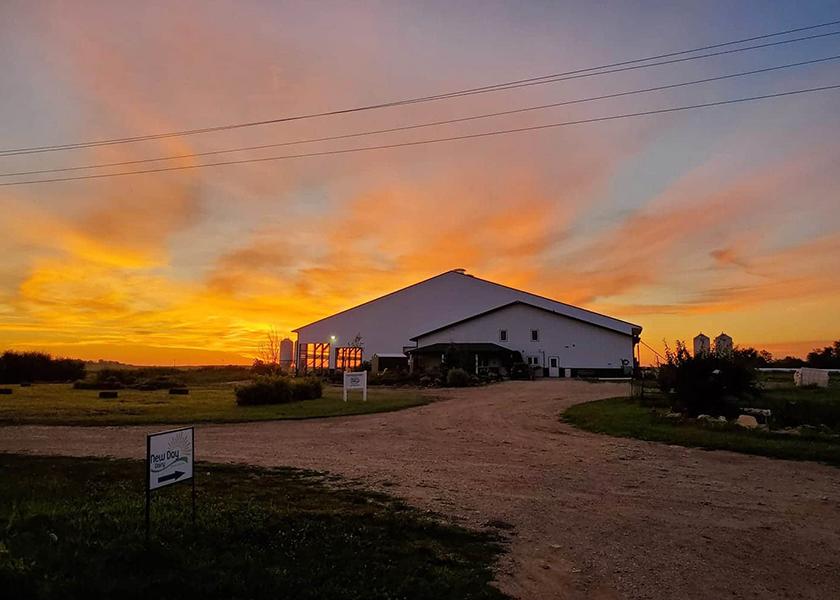 Dairy farming is a 24/7, 365-day commitment. At times it can even feel like farmers are literally with their cows nonstop. From 2-3 times a day milking to feeding and caring for the cattle, many feel like their work schedule are so full that they could sleep with their cows. Nestled in the small Northeast Iowa town, Dan and Lynn Bolin offer an experience to do just that.
The Bolins operate New Day Dairy GuestBarn, located near Clarksville, that invites visitors to basically sleep with their cows. 
Lynn, who grew up in the Minneapolis suburbs, got her first introduction to farm life after marrying her husband, Dan, and moving to his family farm in 2011. "After living abroad and traveling around the world, we realized that we wanted to share a piece of the farm with others," Lynn says.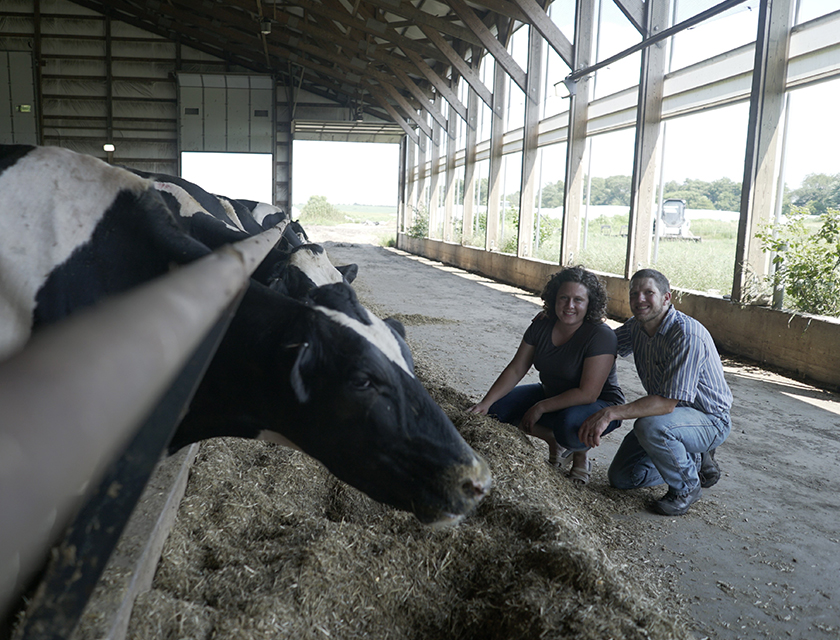 In 2015, the Bolins built a new farm facility that includes a natural ventilated freestall barn with perimeter inside feed alleys and a free-flow robotic system with an attached milk house, calf care room, office space, apartment and a Galaxy robot they have affectionately named Rita. While many dairies open their barn doors to their local community, Bolins took it a step further and invite visitors to come to sleep in their barn.
New Days' GuestBarn is a place where families can experience new adventures on an authentic dairy farm all while having a comfy bed to sleep in at night. An experience that the Bolins believe captures what traveling experiences should include. 
"We've found that our guests appreciate being able to relax on the farm in nature while they and their family are subtly learning and experiencing a different way of life, understanding where their food comes from, and gaining an appreciation of life that can't be found on a Disney cruise," Lynn says. "Their time on the farm enriches their lives back home much like a trip to another country and culture."
The Bolins hope that the New Day Dairy experience further influences and affects guests' lives and decisions when they return home.
A truly unique experience
While there certainly are plenty of bed and breakfasts scattered throughout Iowa and some that even originated as a former dairy barn, New Day Dairy GuestBarn stepped up the experience by offering a bed and breakfast where guests can actually spend the night at a working dairy farm.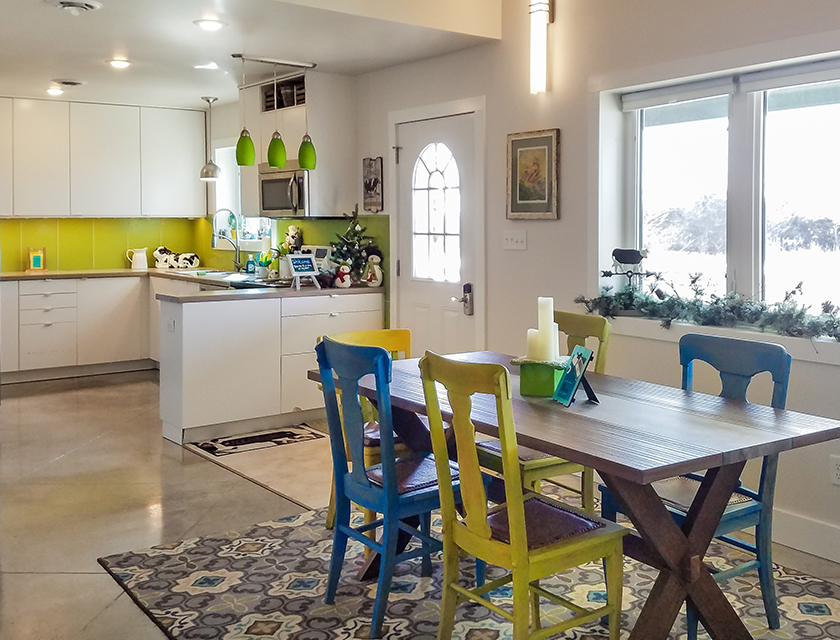 Guests can come and stay in a loft space above the cows, with two large windows that look directly into the barn. "It's a 24/7 cow gazing view," Lynn says. "So, if at 3 a.m., you get up to the bathroom, you can wander out and find out what the cows are doing."
The 24/7 lifestyle is a lifestyle that Dan grew up with. His great-grandfather moved to the farm in 1890 from Illinois, making Dan the fifth generation to run the family farm. "My father started milking cows at the age of 13 when my grandpa went to work as the Postmaster in town," he says.  
In addition to sleeping with the cows, guests can take on the 90-minute "Be a Dairy Farmer Challenge," that includes seeing 'under the hood of Rita', riding in a tractor, feeding a bottle to a newborn calf, scraping manure and working alongside Dan, or better known from his YouTube channel as 'Dairyman Dan,' and getting the very up close and personal view of a Midwest dairy farm. "They even get to scratch a few cow heads if they're lucky," Dan says. 
Music Man
Visitors will see all the care that goes into producing a gallon of milk and they also can watch Dairyman Dan play his guitar or piano in the barn. Dan describes music as 'life-giving' and he collects instruments the same way that some collect art, purses, old tractors or tools. "Music provides me a space to worship, create and also provides a mental break from the ever-present stress that dairy farming can be," he adds.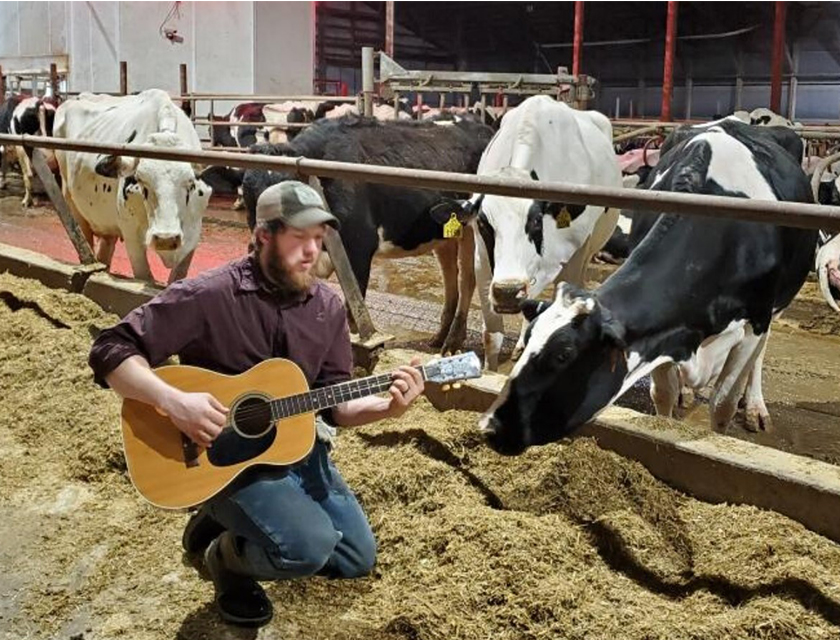 Dan keeps a guitar in the robot room to tinker on while observing a new heifer learning to milk for the first time. Additionally, he has a piano in the alley that provides impromptu concerts for guests and several more instruments in their family home to enjoy as a family.
City Advantage
For Lynn, growing up in the city, nothing on the farm seemed what she now considers normal and has the advantage of connecting with consumers, as she "sees it with the eyes of an outsider."
Like how health professionals talk to each other differently than what they 'translate' to their patients, Lynn says that she too has the advantage of talking to consumers coming from the city and crafts her way to talk to consumers—both in-person on the farm or through social media.
"As I've learned more about the farm, I can then take that knowledge and 'translate' it in a way without all the 'farm' words to consumers who are visiting our farm," she states. "It's all about giving enough information that someone understands but not so much they drown or are overwhelmed."
During a struggling dairy economy, the New Day GuestBarn has been able to provide a place and a way for the Bolins to be at home on the farm with family. "Because we built the GuestBarn in such a unique way with 24/7 cow grazing, we have an exclusive product that we can price according to the market, not having to rely on the 'markets,' like our milk price," Lynn says.
For more information about sleeping with the cows' experience, visit www.newdaydairy.com.