Telemedicine and African Swine Fever: 5 Reasons to Take a Closer Look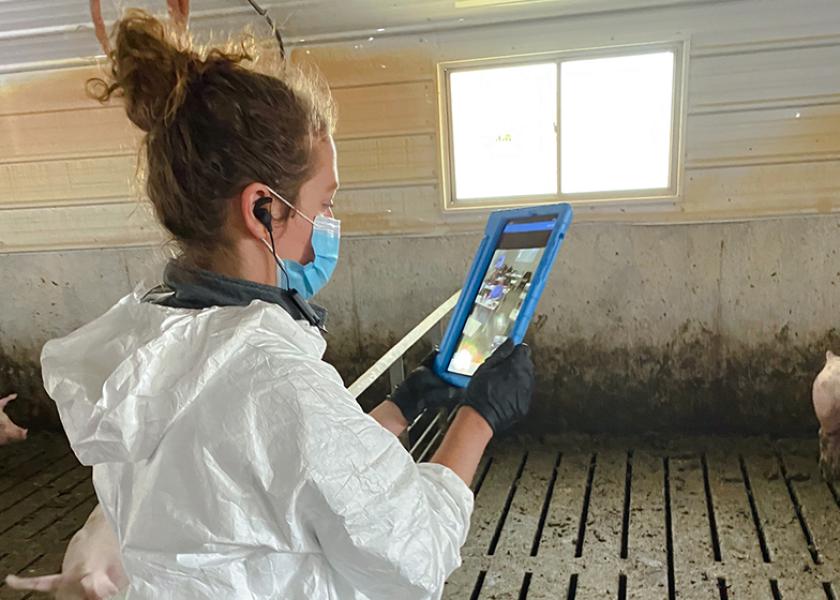 The COVID-19 pandemic and the shortage of food animal veterinarians have catapulted the concept of telemedicine forward. As the threat of African swine fever (ASF) inches closer to the U.S., experts say telemedicine could become an even more useful tool for the pork industry to utilize.
"In the event of an outbreak of ASF in the U.S., veterinary resources will become even more severely strained as biosecurity, distance and logistical barriers will necessitate the use of telemedicine to limit in-person contact with affected swine and ensure timely decision-making," says Gil Patterson, VMD, chief medical officer at veterinary technology company, VetNOW.
What Exactly is Telemedicine? 
When it comes to telemedicine, food animal veterinarians have been practicing the concept for some time even if they didn't realize it, Patterson explains. 
"Veterinarians have been haphazardly sharing pics and sending texts for a long time. Moving those client communications  to a formalized telemedicine platform  provides a degree of professionalism and  robustness that wasn't there before," Patterson says.
Telemedicine services can offer a secure platform for veterinarians to conduct farm or pet visits with clients within an established Veterinarian-Client-Patient Relationship (VCPR), and allows for the sharing and storage of medical documents and multimedia (photos/live video) under one umbrella. It also allows the veterinarian to track time and effort, make notes about cases or communication history, and more.
Electronic monitoring of herds and electronic prescriptions are part of telemedicine, too, explains Abbey Canon, DVM, director of public health and communications for the American Association of Swine Veterinarians. 
"No doubt we will continue to expand technology that can facilitate telemedicine," she adds.
The American Veterinary Medical Association (AVMA) has a policy on telemedicine, Canon points out. That policy states, "The AVMA believes that veterinary telemedicine should only be conducted within an existing VCPR, with the exception for advice given in an emergency until that patient can be seen by a veterinarian." 
COVID-19 brought telemedicine into the limelight, but what does the future of this service hold?
"Whether we like it or not, COVID-19 certainly pushed the industry along into the future. Everyone's comfort level and acceptance of doing meetings on Zoom is forever changed. We've gotten savvier about meeting online. We've discovered ways to be present and connect with people like never before," he says.
Telemedicine is not intended to replace in-person visits. Patterson believes it's critically important for veterinarians to be on the farm. But in between those visits, there are things that might pop up. Telemedicine is a tool to supplement the accessibility and availability of veterinarians in between those on-farm visits, especially when some veterinarians and farms are hundreds of miles apart. 
 
"I see a lot of advantages to telemedicine in terms of helping the animals," he says. "Better veterinary care and easier access to veterinary care first and foremost is going to equal better animal health."

So, What Holds Producers Back?
More and more people are seeing the value in telemedicine, Patterson says. Clients understand the advantages of having secure connections and keeping medical records in one place.
"But there is definitely a 'breaking old habits' factor that we have run into when vets are used to sending texts, doing FaceTime over the phone – that is a change in behavior which falls on the shoulders of vets to say they are switching over to a more formalized approach to telemedicine," he says. 
Determining the right balance between a quick text about the dose of a medicine versus the need for an online consultation will be an important step as more veterinarians consider including telemedicine services. 
As barns get "smarter" with more cameras, monitoring systems, microphones to measure coughing frequency, Patterson says telemedicine is one more tool to bring the veterinarian's eyes and ears into the barn. Combined with technologies such as these, the value of the virtual visit is enhanced by providing more material to make informed decisions.
"Telemedicine is an emerging industry that is getting better and better at helping veterinarians stay connected with their clients out in the field. It helps promote veterinarian accessibility and access. Especially in the food animal realm where we often deal with biosecurity, distance and weather, which may prevent us from actually getting out there in person," Patterson says.
Five Ways Telemedicine Can Help in an ASF Outbreak
If an ASF outbreak takes place in the U.S. and is controlled and exports can return within two years, Dermot Hayes, an Iowa State University economist, says it will still result in $15 billion in lost revenue. If it isn't controlled, he projects that number at $50 billion in lost revenue over 10 years.
To say an ASF outbreak would be devastating is an understatement.
Telemedicine could play an important role in an ASF response strategy. Patterson shares five valuable ways telemedicine can help.
1.    A tool to rapidly get "eyes" into a farm when there is a suspected ASF case, while providing oversight and direction of diagnostic sample collection.
2.    A platform to support regional business continuity as part of swine movement risk assessments.
3.    A way to perform biosecurity auditing of farms to identify at-risk populations.
4.    A secure medium to discuss potentially sensitive conversations where high-impact decisions need to be made.
5.    An opportunity to share and synchronize information from state and federal diagnostic labs.
"I think telemedicine can be beneficial during a foreign animal disease outbreak," Canon agrees. "With the additional downtime requirements that will be implemented during an FAD incursion, simply put, we do not have enough swine veterinarians to visit every farm to conduct routine herd health visits, address endemic disease challenges, evaluate animals for movement and collect samples. We might not know exactly how it will look, but telemedicine will likely play a role in an FAD response and recovery."
Learn More:
AVMA offers additional resources for telemedicine to veterinarians practicing on all species.
Take a look at this interactive map describing the current VCPR laws and regulations surrounding telemedicine in every state provided by the Veterinary Virtual Care Association
Read More from Farm Journal's PORK:
Telemedicine: Videochats with Veterinarians
Will COVID-19 Speed the Adoption of Technology in the Pork Industry?