Rural Vaccination Rates on the Rise in 19 States as COVID-19 Testing, Cases See Uptick
Rural Vaccinations on the Rise - U.S. Farm Report Report
With COVID-19 testing and confirmed cases on the rise across the U.S., the push to get America vaccinated continues. New data shows rural vaccination rates are increasing, too.
"We are definitely seeing an uptick," says Nathan Buerkle, a pharmacist who owns The Drug Store in Haskell, Texas.
"Especially within the last two to three weeks, we have started seeing an increase in traffic," he adds. Buerkle says his area is a hub for many rural communities when it comes to pharmacy and healthcare needs.
According to analysis of current CDC data by Daily Yonder, 19 states saw rural vaccination rates rise over the past two weeks, with the biggest jump in Kansas, with rates up 57%.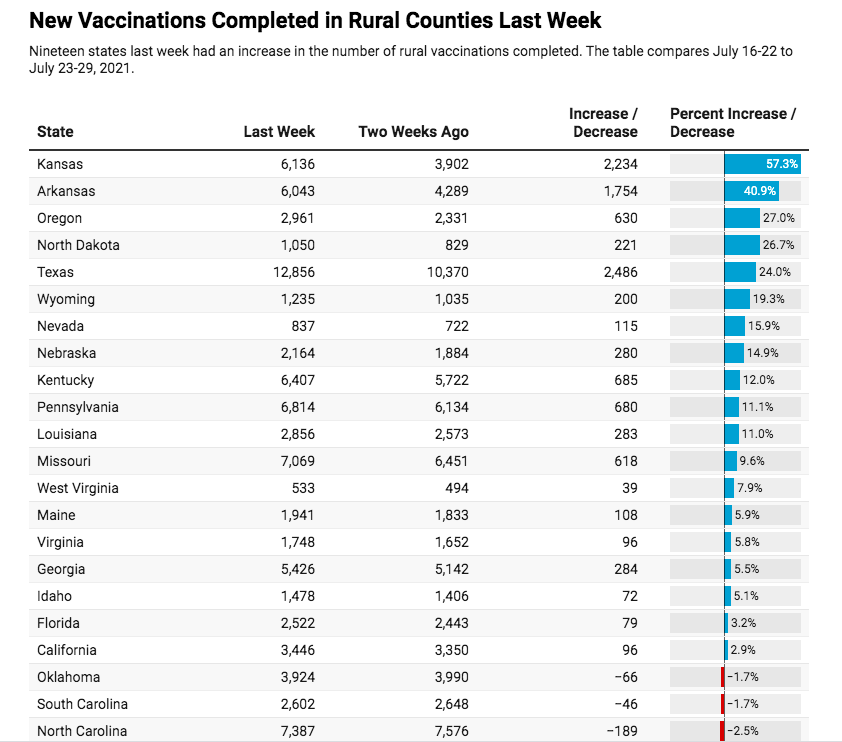 Missouri Rural Vaccination Rates on the Rise
Neighboring Missouri also experienced a COVID-19 vaccination uptick in rural areas. Ryan Summers, who owns Summers Pharmacy with 12 stores in rural west-central Missouri, says he's also seeing this trend, firsthand.
"During May and June, we weren't giving shots most days," says Summers. "If we did, it would just be one or two. But since the Fourth of July, it has really taken off as far as the vaccine rates have gone."
The Missouri Department of Health and Human Services says a new report published this week shows for the first time, all eight of Missouri's regions had at least one "vaccination uptake hotspot," which means the vaccine adoption rate was up significantly.
"We are definitely seeing an uptick in vaccinations and vaccine orders from vaccinators," says Lisa Cox, communications director for the Missouri Department of Health and Senior Services. "This is true for the entire state of Missouri."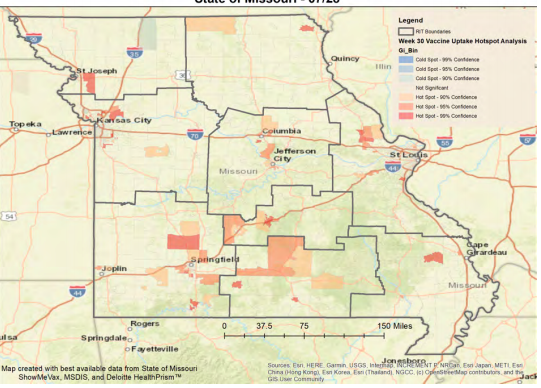 Cox says the state is seeing sustained increases in the southwestern and south-central regions where vaccinations were previously lagging.
Rural Vaccination Rates by Age Group
Summers Pharmacy, which has one location near southwestern Missouri, says over the past month their 12 Missouri locations have seen vaccination rates increase between 20% and 30%.
"It's the younger population coming in to get vaccinated," says Summers. "So, it's 20, 30 and 40 year-olds. We are also vaccinating a lot of kids now, since we started doing the Pfizer vaccine. So, 12- to 17-year olds. We're doing a lot of those individuals, and they're all saying the same thing. They're nervous about going back to school. They're nervous about if the person next to them gets COVID-19 and if they will have to quarantine. So, they want to get the shot."
There's also a mix of ages coming through the pharmacy door at The Drug Store in Haskell, Texas. Nathan Buerkle says younger individuals are getting the Pfizer vaccine there, as well.
"From the age range of 12 to 18, 20% of our traffic for vaccinations has come from that age group. Looking at kind of the younger adult age, it's little less than 20%," says Buerkle.
However, for this Texas pharmacy, the majority of recent vaccinations are still coming from the older age group.
"About 60% of our vaccinations have come from patients 40 and up," says Buerkle. He adds that a 94-year old woman came in just last week for the vaccine.
Uptick in COVID-19 Testing
The Daily Yonder data analysis shows vaccinations for rural Texans jumped 24% in two weeks, as CDC data indicates some rural counties in Texas are seeing COVID-19 cases double.
"Usually when you get a prescription, you can tell by looking at the cocktail of what's being prescribed what it's being used for. So, even though I may not be able to ask the patient directly what the prescription is used for and if they have COVID, we know that those cases are on the rise," says Buerkle.
While Buerkle's pharmacy doesn't conduct COVID testing, Summers' pharmacy in Missouri does, and Summers say he's seeing an influx in testing rates, as well.
"The testing is probably more than it was even back when everything started," says Summers. "The testing has gone up dramatically. This Delta variant has a lot of people really scared and really spooked. So, even people that have slight symptoms, like a runny nose, they're coming in and getting tested just to be sure that they don't have it."
Detecting the Delta Variant
Pharmacists and state officials say one of the driving factors of more Americans interested in getting vaccinated now is the growing concern over the Delta variant. Headline after headline describes the variant as "more contagious" and "more dangerous for children" compared to the original strain. 
However, how the newer Delta strain is being widely detected and translated into detailed data remains a bit of a mystery. As with most rural pharmacies and testing locations, including Summers in Missouri, the COVID-19 test can only tell a patient if they're positive for COVID-19. It doesn't confirm which strain. That's also the case in the rural hospital in Haskell, Texas, which is the closest testing site to The Drug Store. Hospital officials there also confirmed their test doesn't identify the Delta strain.
Missouri Department of Health and Human Services says the state is participating in the national surveillance for COVID-19 variants of concern, which includes the Delta variant. That means the state's public health laboratory is sequencing a limited number of COVID-19 samples for the genetic material specific to each variant. However, the number of samples being tested in the lab isn't clear.
In addition, Missouri officials say a certain number of samples are submitted from commercial laboratories to the CDC for genomic sequencing. But again, the number of samples isn't clear as the rural testing sites Farm Journal called, including pharmacies and hospitals, are conducting the COVID-19 rapid tests that don't detect the Delta variant. They are only able to indicate if the patient is COVID-19 positive and not with which strain. That means, unless hospitalized, most COVID-19 positive cases today don't know if they have the Delta strain or another strain.
The Missouri Department of Human Health and Services points out one way the state is also trying to track the variant is by teaming up with the Missouri Department of Natural Resources and the University of Missouri. Since February 2021, the groups have an ongoing effort to test wastewater samples for the presence of COVID-19 variants. The map shows the trends in Missouri communities, and not case by case numbers.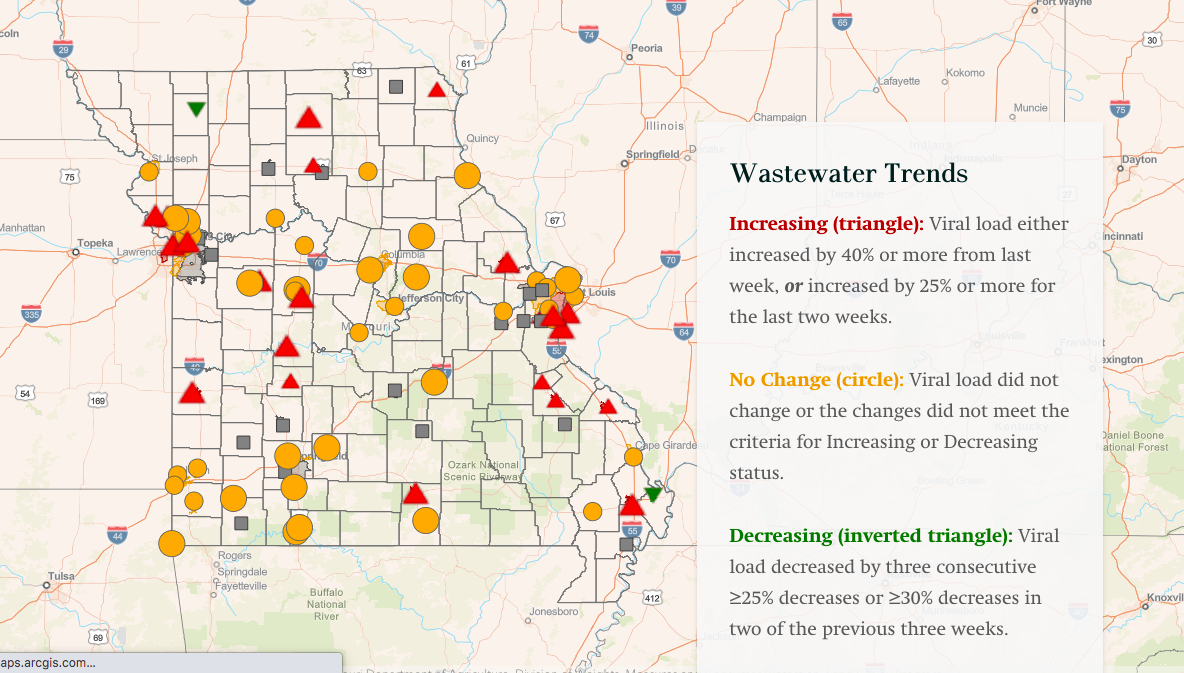 Why Are Some Americans Choosing to Not Get Vaccinated? 
A recent Farm Journal survey found of those individuals who have not been vaccinated, more than a third say it's because they've already had COVID-19. And a quarter said it was due to concerns over possible side effects. None of the respondents listed the reason as lack of vaccine availability.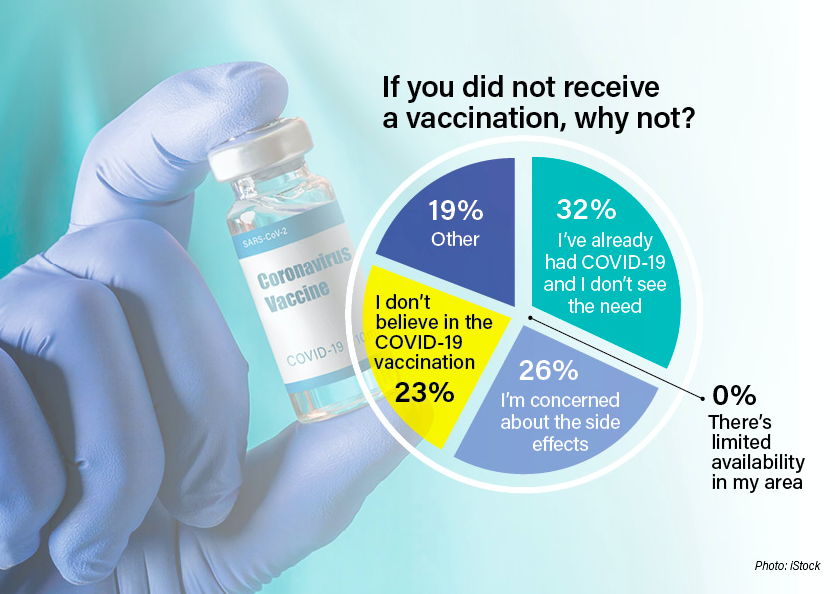 "Initially, Moderna was the only one we were able to have access to," says Buerkle. "Then, the Johnson and Johnson. Pfizer was not really available for a smaller size pharmacy like us, but we've actually been able to get our hands on Pfizer now."
Vaccines Going to Waste
Summers also offers all three vaccines today. Before July, Summers says vaccines were going to waste because lack of people coming in for the vaccine. Today, the story has changed. 
"A lot of times, we'd give one dose out of a vial, and Moderna had 10 doses in it, they have 14 now. So, we weren't turning people away when they came in to get the vaccine, Instead, we'd give one or two shots out off the vial, and then we'd have to dispose of the rest," says Summers.
Missouri Governor Mike Parson says in a one-week period in mid-July, Missouri saw triple the amount of doses ordered, and since then, he says the rate has stayed at around 21,000 doess per week. 
That's as both Summers and The Drug Store pharmacies say in just a few months, they went from seeing COVID-19 vaccines going to waste, to now using all the doses in a single vile, as more Americans are getting vaccinated.