A Road Map For Resiliency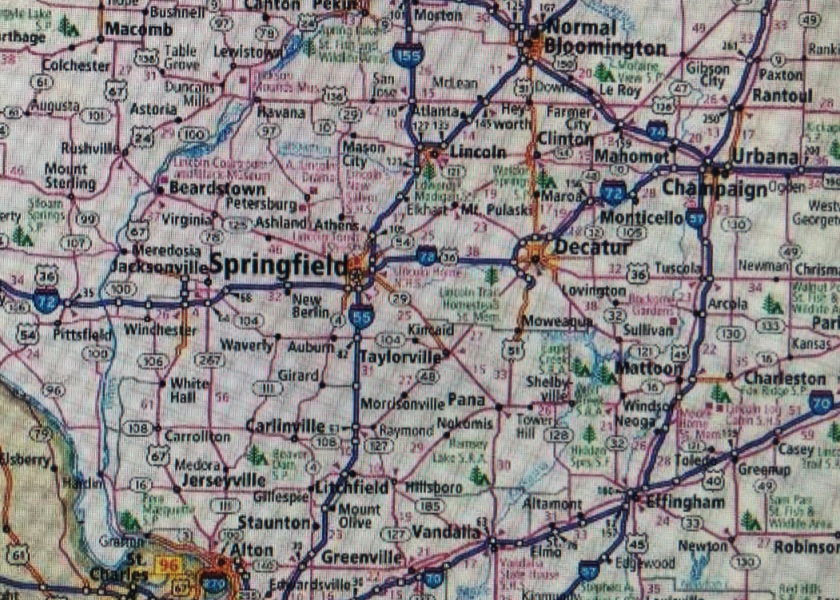 First some news you likely already know. The bovine veterinary industry is struggling. Practitioners are leaving the profession, especially women.
In the zero-to-five-years since graduation group, the majority of practitioners is female. But that majority drops off after year five (Figure 1), according to Dr. Carie Telgen, American Association of Bovine Practitioners (AABP) immediate past president and a partner in Battenkill Veterinary Bovine, Greenwich, N.Y.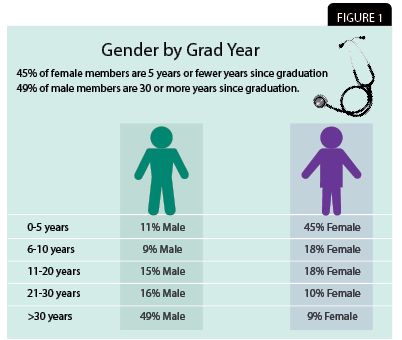 "Where are those veterinarians going? It's a concern we're dealing with as an organization," Telgen said during a media briefing at the AABP annual conference in Salt Lake City in October.
The organization membership includes more than 5,000 cattle veterinarians and students based across the U.S. and Canada. A small number of members also resides and works outside North America.
SOMETIMES THE JOURNEY ISN'T WHAT YOU PLANNED FOR OR EXPECTED.
Some practitioners, especially women, leave bovine veterinary medicine to start families. Other practitioners struggle with the long hours and on-call nature of the business, which can exact physical and emotional tolls, AABP leaders speculate.
A high level of student debt and inadequate compensation to counter the debt, once veterinarians are in practice, are also contributing to decisions to leave, according to a 2018 survey on veterinary well-being commissioned by Merck (https://bit.ly/3Azr52p).
The American Veterinary Medical Association reports that the average debt load a veterinary student graduated with in 2019 was $183,000.
Dr. Carrie Jurney, president of Not One More Vet (NOMV), says student debt is the No. 1 reason young practitioners, in particular, give for leaving the profession. NOMV is the largest wellness focused charity for veterinarians in the world.
Jurney, a veterinary neurologist based near San Francisco, addressed the issue of veterinary well-being during the annual conference. She polled conference attendees on the question, "How many of you would honestly recommend this profession to family members?" Approximately 36% said yes they would, 31% said they would not. An additional 31% said they were unsure.
CONSIDER HOW THE "BIG 5" INFLUENCES YOUR COURSE.
During her presentation, Jurney discussed her own mental-health struggles as well as those of friends and colleagues. She says she learned about the role of what psychotherapists call the 5 Big Models of Personality in mental health (Vinney, 2018) and how they apply to veterinarians.
The five models are: agreeable, conscientious, extroversion, emotional stability and neuroticism (Figure 2).
Personality traits, influenced by a combination of genetics and life experiences, can play a huge role in veterinary well-being, Jurney notes.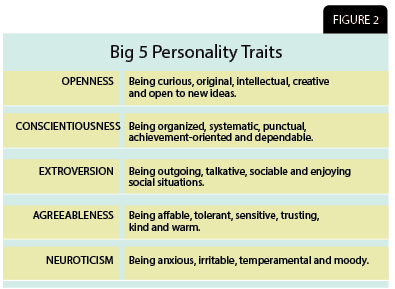 "We looked across veterinarians and found, on the whole, we are less extroverted, less agreeable and less emotionally stable," she reports.
It also turns out veterinarians, as a group, tend to be highly conscientious and more neurotic than the general population.
"No one likes to be called neurotic, right? But regardless, many of us are, present company included," says Jurney, who sought help from a therapist.
"As I carefully explained my narrative to this woman and how crazy I was, that Angel looked at me and she said, 'You know what, I'm just going to stop you right there. You realize that's part of why you're a good doctor, right?'" Jurney recalls.
"She explained to me in that one moment that I didn't have to hate my brain," Jurney adds.
"Those parts of my brain I'd hated actually let me accomplish my proudest achievements, one of the things that brings the most meaning to my life – my skill in medicine, being able to think about worst-case scenarios and how to deal with them. Those are really important skills in surgery, and I am an Olympic athlete in that."
Yes, Jurney acknowledges, she would have preferred having some other superpower like invincibility or flying.
"But I got neuroticism, and I can work with that," she says. "I can use it for good, while I learn how to throttle those parts of it that don't serve me well."
MAP A ROUTE TO THE DESTINATION YOU WANT TO REACH.
Jurney encourages veterinarians to be self-aware. She says if your inner critic shows up, acknowledge it and notice how it affects you. Pay attention to your heartbeat and how you breathe. The process can lessen negative emotions.
She also encouraged everyone attending the AABP conference to seek out mental healthcare professionals, to have an objective third party help you figure out how to change and grow.
"I'm talking about learning how to cultivate a skill, learning to cope," she says. "Practice being nonreactive and non-judgmental. Practicing can help reduce your anxiety and burnout and let you deal with work stress better."
Other recommendations she shared: consider getting a financial planner if you have a high debt load. Set boundaries at work and in your personal life. Practice gratitude. Focus on small changes. Aim for progress, not perfection.
"We want our lives to mean something," Jurney says. "We want to grow, and most of us are OK with a little bit of struggle as long as it makes us a better person."
GATHER RESOURCES TO HELP YOU ALONG THE WAY.
Jurney says Not One More Vet offers a variety of tools, through education, research and support, to help you on the journey to well-being.
If you struggle with burnout check out LifeBoat, a first-of-its-kind app NOMV recently launched. The app connects peers in the veterinary community who chat in small peer groups and address stress triggers and suicide ideation. You can find more information about LifeBoat and other NOMV resources at https://nomv.org/
For bovine veterinarians specifically, AABP is in the process of developing resources to address mental health and diversity. Earlier this year, the association created a Diversity, Equity and Inclusion task force and also a Mental Health task force to address both issues. Resources pertaining to both are available to members online at aabp.org. 
10 Ways to Kick the 'Imposter Syndrome' to the Curb