Top Honors Awarded to AABP Dairy and Beef Veterinarians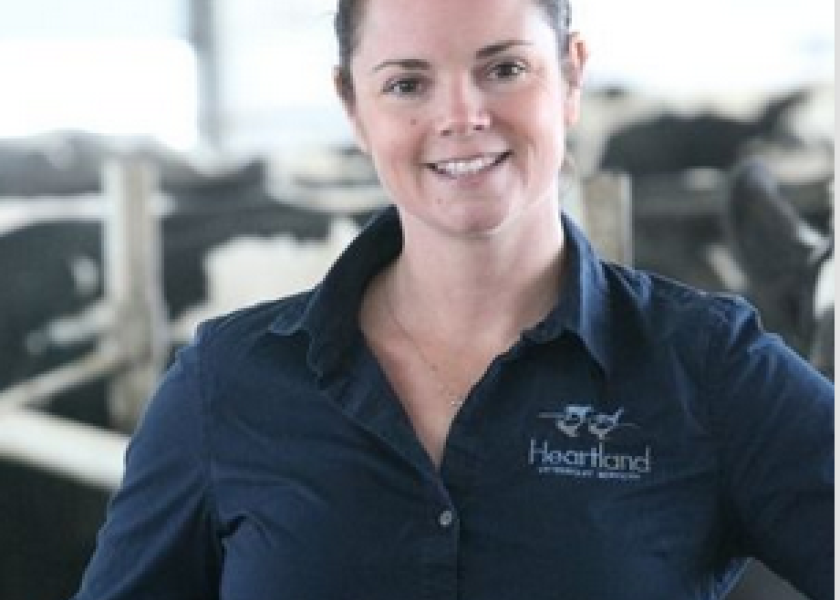 The top honor that an American Association of Bovine Practitioners (AABP) member can obtain in his or her career is the AABP Bovine Practitioner of the Year award sponsored by Boehringer Ingelheim.
At the 2021 54th AABP Annual Conference in Salt Lake City, Utah, Oct. 7-9, Dr. Kelly Barratt, Listowel, Ontario, received this prestigious honor. This award honors a veterinarian in active practice who is active in organized veterinary medicine and has made significant contributions to bovine medicine. Barratt is the first woman to receive this award from AABP.
Several other bovine veterinarians were also honored via the virtual platform at the Annual Business Meeting and Awards Luncheon on October 9. They are:
AABP Award of Excellence
Sponsored by AABP, recipients must be involved in teaching, research, industry or government areas. The recipient's professional activities must have had a consistent and direct influence on daily activities of veterinarians in bovine practice. The 2021 recipient is:
Dr. Nigel Cook, Waunakee, Wis.
Zoetis Distinguished Service Award
The recipient of this award is an individual who, through long and continued service, has promoted the goals of the AABP and whose accomplishments have served as a model for service to bovine agriculture through organized veterinary medicine. The 2021 recipient is:
Dr. Dale Moore, Moscow, Idaho
Merck Animal Health Mentor-of-the-Year Award
The recipient of this award is an AABP member who has been engaged in the field of veterinary medicine for at least 25 years and has served as both advisor and role model to pre-veterinary and/or veterinary students. This award is given to a member who embodies this spirit whether in practice, the clinic, or the classroom. The 2021 recipient is: Dr. Mark Hilton, West Lafayette, Ind.
Boehringer Ingelheim Excellence in Preventive Medicine Awards
This award recognizes individual member practitioners or practices that have developed outstanding preventive medicine programs. Because of differences in management goals and needs, one award is given to recognize an outstanding program for dairy production, and one for beef production. The 2021 recipients are:
(Dairy) Dr. Dr. James Bennett, Plainview, Minn.
(Beef) Dr. Christine Navarre, Baton Rouge, La.
Dr. James A. Jarrett Award for Young Leaders
Recipients of this award have graduated veterinary school within 10 years, have given extraordinary service to the AABP in a manner that significantly enhances the mission of the organization, and whose contributions will help ensure the current and future success of the AABP. The 2021 recipient is:
Dr. Elizabeth Homerosky, Rocky View County, Alberta
Amstutz-Williams Award
This award honors the late of Dr. Harold E. Amstutz, who served the AABP as secretary-treasurer and executive vice president until 1993, and Dr. Eric I. Williams who was the editor of the Bovine Practitioner and Proceedings Book from 1969 until 1998. The award was made to recognize the long and distinguished services of the two honorees. It will be the highest honor that can be bestowed by the AABP and this will only be presented when a highly qualified individual is nominated and selected for outstanding service to the veterinary profession.
Dr. Dee Griffin, Lincoln, Neb.
AABP Honorary Life Membership
The American Association of Bovine Practitioners consists of veterinarians and veterinarian students with an interest in cattle practice. The AABP Board of Directors has recognized non-veterinarians who have made significant contributions to the organization, its members, or bovine veterinary medicine. The board can confer Honorary Life Membership to recognize these individuals. The recipient of the AABP Honorary Life Membership is Mr. Dick Lewis, Orono, Minn.
Other awards given at the 2021 54th AABP Annual Conference include:
2021 AABP Foundation Competitive Research Grant Award
•    Assessment of systemic inflammation following oral calcium supplementation in postpartum dairy cows
Dr. Stephen LeBlanc, Ontario Veterinary College
2021 AABP Foundation Cattle Welfare Grant Awards*
•    Evaluating the efficacy of two local anesthetic options to reduce pain in calves after cautery dehorning
Dr. Abbie Viscardi, Kansas State University
•    Determination for the need for analgesics in day-old calves following cautery disbudding
Dr. Pat Gorden, Iowa State University
*These grants are supported by an anonymous donor with matching funds from the AABP Foundation.
2021 AABP Research Summaries Graduate Student Awards
•    First Place – Lisa Gamsjäger, University of Calgary
Do volume, immunoglobulin G content and feeding method of the first colostrum meal impact subsequent nursing behavior and transfer of passive immunity in beef calves?
•    Second Place – William Crosby, Mississippi State University
Comparison of sampling methods and diagnostic techniques for recovery of Mannheimia haemolytica from feedlot cattle
•    Third Place – Claira Seely, Cornell University
The association of prepartum urine pH and periparturient activity and rumination time on postpartum subclinical hypocalcemia dynamics in Holstein cows
2021 Student Case Presentation Competition Winners
•    Overall Winner – Monika Dzuiba, Michigan State University
Negatively Controlled Trial Investigating the Effect of Dry Cow Therapy on Clinical Mastitis and Culling
•    Research Report Winners
o    Research Project – First Place
Monika Dzuiba, Michigan State University
Negatively Controlled Trial Investigating the Effect of Dry Cow Therapy on Clinical Mastitis and Culling
o    Research Project – Second Place
Megan McMahon, University of Minnesota
Effect of water tank sanitation on water quality, bacterial and viral contamination, and feed intake of cattle in a midwestern feedlot
•    Clinical Case – Jessica Garcia, The Ohio State University
Management of a zoonotic emerging multidrug resistant Salmonella enterica serotype 4, 5, 12, i- on dairies in the Midwest