There are roughly 2,500 different strains of Salmonella, with 30 of them--including Salmonella Dublin--causing health concerns for humans. ( Arm & Hammer Animal and Food Production )
Of the roughly 2,500 different strains of Salmonella, 30 of those can impact human health, and one of those—Salmonella Dublin (S. Dublin)—has come to the forefront of concern for veterinarians and cattlemen in recent years.
While Salmonellosis is typically a disorder of the gastrointestinal tract, S. Dublin is a cattle host-adapted strain that often--but not always--presents as a respiratory illness, according to Jackson McReynolds, R&D and Technical Director for Arm & Hammer Animal and Food Production.
In his recent webinar, Protecting the Food Supply Chain, McReynolds noted that S. Dublin infection incidence rates have increased rapidly in recent years.
"It was the most common bovine clinical isolate the National Veterinary Services Laboratories found in 2016 and 17, and second in 2015," McReynolds reported.
Part I – The Problem In Dairy: Nationwide in the U.S. today, about 2.6% of bulk tank milk is positive by culture and 11% by PCR, with asymptomatic shedders likely responsible, according to Simon Peek, a University of Wisconsin dairy veterinarian. Peek spoke on the topic of S. Dublin during the 2018 Dairy Summit. Click here to review his full PowerPoint presentation at the Summit.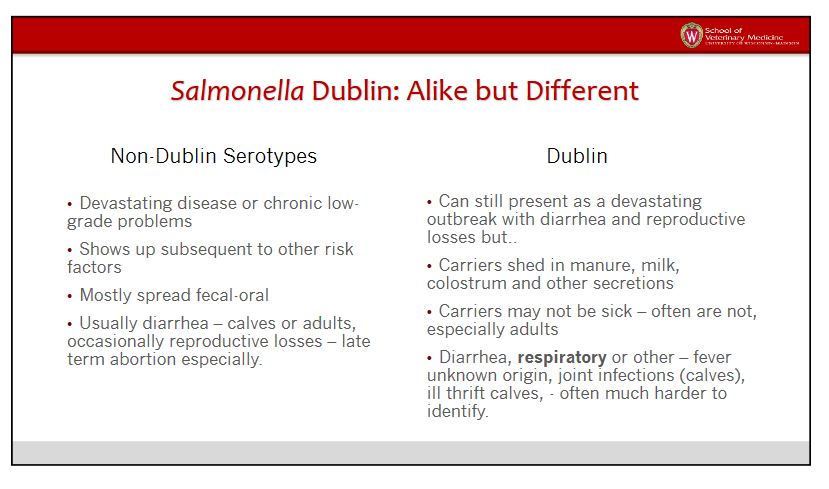 Dairy calves at age seven- to 10-weeks, in the transition from milk to full-grain rations, tend to be at significant risk to S. Dublin, McReynolds said, with much of that risk due to stress.
"Careful management of calves is needed," McReynolds said. "If you change something, change slowly. Take a step-down approach to change whenever possible to allow calves to transition and adjust."
Antibiotic treatments can "knock back" acute infections of S. Dublin but might not rid the animal of the disease. And while a vaccine is available for use in calves, later tests can't differentiate between a vaccinated and an infected animal.
Dairy farmers should also exercise caution as the bacteria can be shed through the milk. "If feeding milk to calves from infected dairy cows you will increase the likelihood of the spread of disease in the herd," Peek said.
One of the problems with S. Dublin is that it is host-adapted to cattle. Calves that don't die from it could become carriers and shed the bacteria intermittently in feces, colostrum, milk or semen, Peek noted.
A priority for managing the disease is to prevent its entry onto farms, as once S. Dublin becomes established, there is a high risk that calf health will be compromised for a long period of time as it is tough to eradicate.
Effective prevention and control strategies should be focused on reducing exposure and improving immunity, which can be achieved by putting increased emphasis on biosecurity, the calving pen, and calf and heifer management, McReynolds said.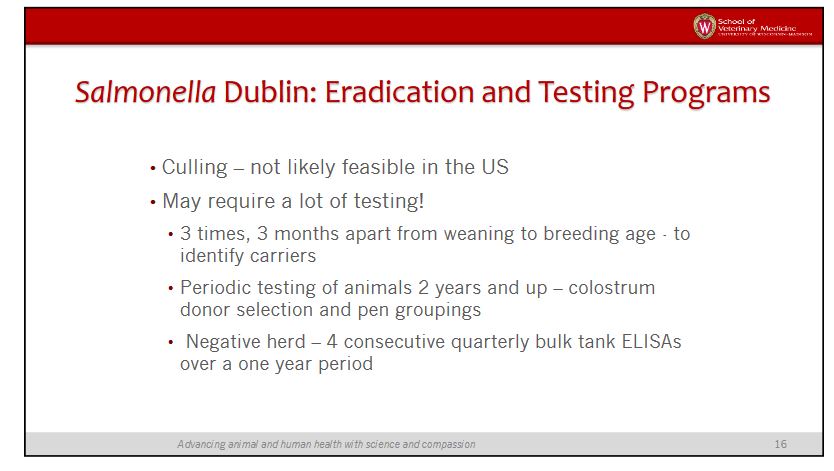 Part 2 of this story will address the issue in beef cattle and will be posted to Bovinevetonline the week of June 28.