Justin Sexten: Stuck In The Middle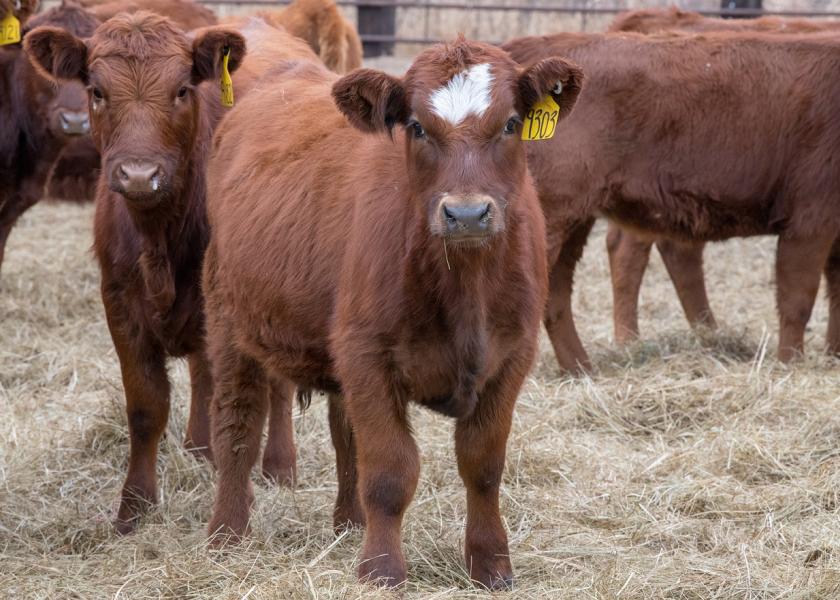 Whether you are looking to market spring-born calves, yearlings off grass or buying the next turn, everyone is looking to capture the value added by their management. This time of year many operations find themselves in the middle of this marketing challenge. We know selling large, uniform cattle lots is preferred to smaller, variable lot sizes. A Kansas State Cattlemen's Day report documented this linear price increase 10 years ago, as group size increased toward load lots. When you account for weight variation and a 50:50 gender split a large cow herd is needed to produce these uniform load lots to capture marketing scale.
For those with smaller operations, specialization offers an alternative. Market reports are scattered with notes of premium cattle with differentiators such as age / source, all natural, weaned and vaccinated. Cattle destined for these differentiated markets while offering premiums typically are accompanied with greater costs to participate and a narrower market.
The reasons sellers cite for participating or resisting market differentiation typically fall into three categories: inability to perform practices, lack of market access or unfavorable cost relative to benefit.
With such a wide market distribution in the beef industry we find a large population of operations somewhere between Scale and Specialized. "Agriculture of the Middle" (AotM) is an increasingly challenged market segment discussed in a 2017 article in Sustainability by Teresa Hooks and her colleagues from Ireland. The authors outline the opportunities and challenges of operations lacking the scale of low-cost, volume producers and the inability or unwillingness to navigate production challenges of high-margin niche markets.
The primary goal of the research was to review the success and challenges of AotM beef operations developing a value-based supply chain using a cooperative model. In the process the authors also highlighted several ideas applicable to independent operations today. They identified three keys to operational success: financial viability, sustainability and resilience.
Financial viability is where the research highlights the differences between commodity and speciality production models. Sustainability like other sources was presented as a balance between environment, economic and social goals. While viability and sustainability are important, the discussion of resilience, the operation's ability to endure a crisis, (ie market disruption, disease and weather events) seems a more timely topic.
Operational resilience is exhibited as persistence, adaptability or transformation according to the research. This operational trait is difficult to test prior to adverse events. Unfortunately the last 12 months have given the beef industry multiple testing opportunities.
When we consider the price variation observed in commodities during the last year, the need for resilience is greater than ever. An example from the report highlighted comments from cooperative members who summarized commodity production as making your best efforts to reduce costs, yet ultimate profitability remains reliant on how the overall commodity performs. With wide, and rapid market swings the ability to take advantage of opportunities can challenge even the best marketer.
The cooperative model discussed was a market maker, with a price premium averaging 30%. This premium was determined by calculating the average cost of production for members and pricing cattle such that 75% of members were profitable. An interesting approach to a value added product focused on constant improvement. This model provided market feedback ultimately ensuring members continue to enhance efficiency and address costs.
There were two challenges presented to the cooperative from within. When the commodity went higher, group cohesion to the specialty marketing goal waned and producer participation declined challenging the fledgling supply chain. Alternatively as requirements for participation increased as the market developed producers were no longer willing to undertake the increased production demands.
As we compare the research to application the challenges of Ag in the Middle remain. The search for balance between scale and specialization will persist. Resilience requires persistence, adaptation and transformation. Given the last 12 months there is little question of persistence throughout the beef community.
When building resilience into a marketing plan there are many ways to adapt and transform the value-added practices incorporated into your operation. There are countless sources documenting the value added by implementing these simple management practices and technologies. When similar practices are applied across different operations value differences will remain due to countless other factors.
The challenge for many in the middle is understanding where ROI for value added technologies is greatest. Many suggest that regardless of scale the base price has the most impact, as value added premiums are simply a component to this base. Raising the base can remain a goal however continual focus on cost effective practices at profitable cost will enhance resilience.
Singular focus on market differentiation does not ensure ROI, one must provide a differentiated product the consumer wants. Look for opportunities to partner in the marketplace where differentiated products are offered in volume. While this research evaluated a formal cooperative, a gathering of like minded operations with similar goals can capture the benefits of both differentiation and scale.