The Art And Science Of Time Management From A Veterinarian's Perspective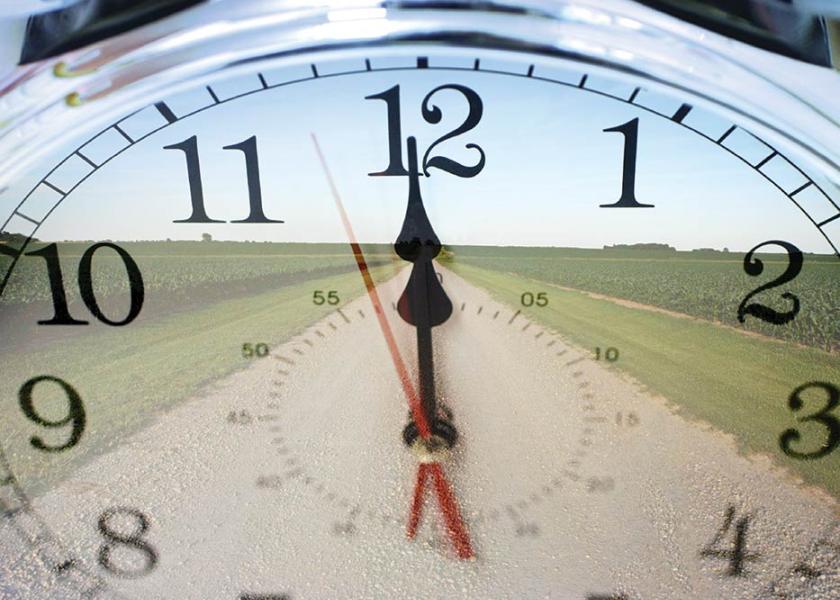 This article was written by Scott MacGregor, DVM, MacGregor Consulting, LLC, Boise, Idaho.
How many of you have been to business meetings that suck? There is actually a book by that title by Cameron Harold. How many of you daydream and get off task? How about having too much on your plate during a given time period? How are your communication skills both in written form and speaking?
Ah yes the big question: how is your balance between family and work?
As veterinarians, working in livestock operations we are judged not only on what we bring in the way of ideas but also how well we deliver these ideas. How good a teacher are you? Do you run boring meetings with the crew that puts them to sleep? (Happened to me) I have found crews absolutely love to be taught something in the area of health. It's like investing in the bank. My observation would be that crew productivity goes up and turnover goes down. Most of the feed yard crews will do more health related endeavors in a day then many veterinarians.
There have been numerous books written on how to increase productivity. Certainly Franklin Covey has generated volumes of materials that are excellent in this area.
Learning how to prioritize is important. Doing those things identified as important first helps streamline your time spent. Also take time each day in your practice or in the companies you work for, to devote time to developing strategies. Covey calls this Q2 thinking. The ideas in this area of thought are important but not urgent.
When it comes to targets or goals for a crew going forward, I learned early in my career to think big. I had put together a monitoring system for implanting cattle in a large feedlot. There average based on implant checks that I performed, was 89%. The national average at the time was 94%.  We decided, along with the crew, that 95% was our new goal. They attained this goal within a short period of time. My mistake was not to think large. We I asked them six months later to start washing the ears and changed the goal to 100%. The crew in short order went to 100% proper implants on many of their checks. Think of the added money we generated for our client.
Our lives are cluttered with a 100 different things in a day. Some are big things but most are not. I write lists each day and put the big things at the top to do first. You find that the little "rocks" in your boat, (as my partner calls it), will fit nicely into the spaces left after the big rocks are placed first.
I can waste time for hours on the internet, like watching YouTube old time music videos, or new coffee makers. I can also be a slave to my phone, involving texts and e mails. Covey's suggestion here is to "Rule Your Technologies" Easy to say hard to do when you are addicted, and busy.  It all boils down to how you spend your most productive time, each day. Removing your technologies totally might be the wrong direction to take, but rather use your technologies to help communicate and organize better.
What most of us busy people need is a shot of rejuvenation! Scheduling time away from work helps us both be more productive with our work but also have that balance we are looking for between work and our private lives. Carving time for family, personal hobbies, exercise, spirituality, naps will improve your quality of life. Naps? Yes short naps have shown to substantially enhance both creativity and productivity. It has also been shown to lower the risk for heart attacks and strokes.
Most of us are afraid of public speaking. Let's face it, veterinarians are "experts" in their field, so being asked to speak does happen to us. My old partner in practice, Morgan McArthur, won the worlds Toastmasters contest. He says when you speak, "Tell them what you are going to tell them, tell them, then tell them what you told them." Oh yes, tell stories in the process. People like stories. It also helps to start your speech with a "bullet". This captures your audience from the start.
Situational speaking is something we do numerous times each day. Similar to having the right negotiation skills, how you speak to people can affect outcomes. Rate your audience. Speak at the right level of sophistication. Stop and listen and formulate what you want to say. Write down lists if needed to help you remember all the points you want to make. How many beef veterinarians were busted right out of school by an old sage cowboy who said to you: "Doc please talk English, I don't understand what you are saying." Of course they are saying that the medical terms we learned in Veterinary College don't mean anything on the feed yard, or ranch.
Lastly when it comes to running an efficient meeting think "LEARN".
    Leader - There must be a clear leader for the meeting.
    Efficient- The meeting has to start and stop on time.
    Agenda- A written agenda sent out before the meeting can half people to focus on the topic at hand.
    Results/Responsibility- Solutions and results of the meeting need to be clearly defined and assigned to people who will be responsible for carrying them out.
    Notes- Outcomes of the meeting need to be succinctly written and sent out to the attendees, including their roles going forward. This is a good place to use your technologies.
I heard a wise saying early in my career from a rancher I admired. He stated: "I have always wanted to sit at the table with the kings, but I could never afford the seat." What he was referring to is how many times we have seen people we admire who are at the top of their profession but had to give up everything to get there. Regardless of these exemplary people, what most of us strive for is a life of good work we are proud of and a personal life that has quality and meaning. Balance!
Time Tips
B. Lynn Gordon, PhD, a former South Dakota State University Extension specialist, offers these tips for effective time management:
    Prioritize your tasks/responsibilities. Do you say, "I don't have time" because you think you don't have time available? Is this truly the case? Or could you be letting other issues creep in and take away your extra time. Without prioritizing tasks you could spend too much time on low-impact activities based on deadlines alone.   
    Plan realistically. Time management includes prioritization of tasks, understanding or estimating how long a task will take, knowing what is on your to do list, etc., but it really in the end is how you manage your time. If you fail to focus on the "time element," of your tasks and day, you will always feel overwhelmed and like you are not progressing forward.
    Articulate what you have time to do. Be clear and communicate with your clients or co-workers what you have time to do. If you say yes to everything sent your way, you can actually bring the team down by taking on too much and not being able to complete what you said you could. If your projects take longer than you expected, speak up and let others like your supervisor or manager know.
    Find a system that works for you. Everyone has a different preference for how they could develop or adjust to organizing their time. Some like to carry written to-do check off items as they go. Others find it convenient to schedule tasks on their phones to receive automated reminders
    Stay in control. Letting your busy schedule overwhelm you results in poorer quality work, lack of contentment with your job, added stress and pressure. Some believe they work the best under pressure, however, long term working under constant pressure can become addictive and take toll on you, your health and you're working relationships. Balance is essential to prevent burn out, mistakes and frustrations.