You Can Delay Drug Resistance in Parasites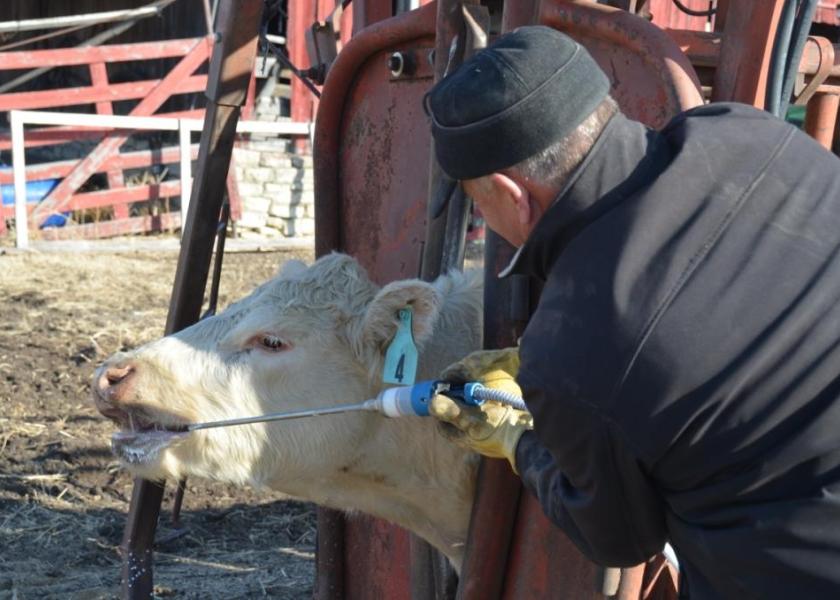 In treating internal parasites in cattle, efficacy less than 100% eventually leads to at least some drug resistance. But while even the best treatments are unlikely to achieve 100% efficacy, strategies such as combined treatments, refugia and objective monitoring for efficacy can improve the sustainability of currently available anthelmintics. That message came through in several presentations at the recent American Association of Bovine Practitioners (AABP) conference in St. Louis.
During the beef-cattle sessions, Jenifer Edmonds, a veterinary parasitologist at Johnson Research, LLC in Idaho, outlined parasite resistance trends and practical implementation of fecal egg counts.
Edmonds says "drugs don't make parasites resistant, lack of 100% efficacy does," adding that parasitologists generally have used 95% efficacy as a goal for minimizing resistance, but that might not be adequate over time. Also, she says, efficacy of a product can vary widely between locations depending on the types of nematodes present and their past exposure to anthelmintics.
Parasite treatments at lower-than-recommended dosage favors emergence of resistance, Edmonds notes. This frequently occurs when producers use pour-on products at dosage levels intended for external parasites, or when dosage varies due to inconsistencies in delivery or when cattle lick the compound from the backs of herdmates.
Resistance to dewormers first appeared in sheep back in 1964, when Haemonchus contortus, or the "barber's pole worm," began to resist common treatments. By the early 2000s, cattle parasites from the genera Haemonchus, Cooperia and Ostertagia began showing multi-drug resistance in some herds. In 2018, the FDA's Center for Veterinary Medicine (CVM) asked drug sponsors to voluntarily modify their labels to include information on resistance.
When an antiparasitic drug is used alone, resistance can develop fairly quickly. Edmonds cites the example of Monepantel, a novel class of anthelmintic for sheep. The product was introduced in 2009, and the first case of resistance was documented in 2011.
Using a combination of two or more products, from different anthelmintic classes, can boot efficacy well above that for either drug alone, significantly delaying the emergence of resistant worms. This is especially true if concurrent treatments are used along with a planned program of refugia, the practice of leaving some animals untreated to maintain a population of worms fully susceptible to treatments.
In a statistical model based on using concurrent treatments with Monepantel and Ivermectin, Edmonds says, resistance was delayed by 10 years with a low level of refugia, and 40 years with a high level of refugia.
A sustainable control strategy also should include a monitoring component to measure efficacy over time. Fecal egg count reduction tests, which involve collecting and testing manure samples from around 20 cattle before and after treatment, provide an incomplete, but useful measure of efficacy trends in a herd. 
For analysis, Edmonds says the Modified Wisconsin Sugar Flotation Method is more sensitive than the McMasters test. A newer test, known as Mini FLOTAC, appears to be the most sensitive. That test recently became commercially available through Dr. Ray Kaplan's parasitology lab at the University of Georgia. According to the WormX.info website from the American Consortium for Small Ruminant Parasite Control, the increased sensitivity of the Mini FLOTAC is helpful for livestock species with lower fecal egg counts or where the fecal egg count reduction test is being used to check for efficacy against dewormers. The Mini FLOTAC is recommended for research and fecal egg count reduction tests while other fecal egg counting methods are still appropriate for use by clinical veterinarians for routine fecal testing. For more information and current pricing, please contact the lab at (706) 542-0742 or famacha@uga.edu.
In summary, Edmonds says producers should work with their veterinarians to develop multi-pronged control strategies, while monitoring to ensure at least 95% efficacy, to ensure long-term success in preventing performance and reproduction losses associated with internal parasites.
For more on parasite-control strategies, including concurrent treatments and refugia, see these articles from BovineVetOnline:
Control External Parasites, Prevent Disease
Parasite Control: Kill most, protect some