Poster Session Highlights BRD Research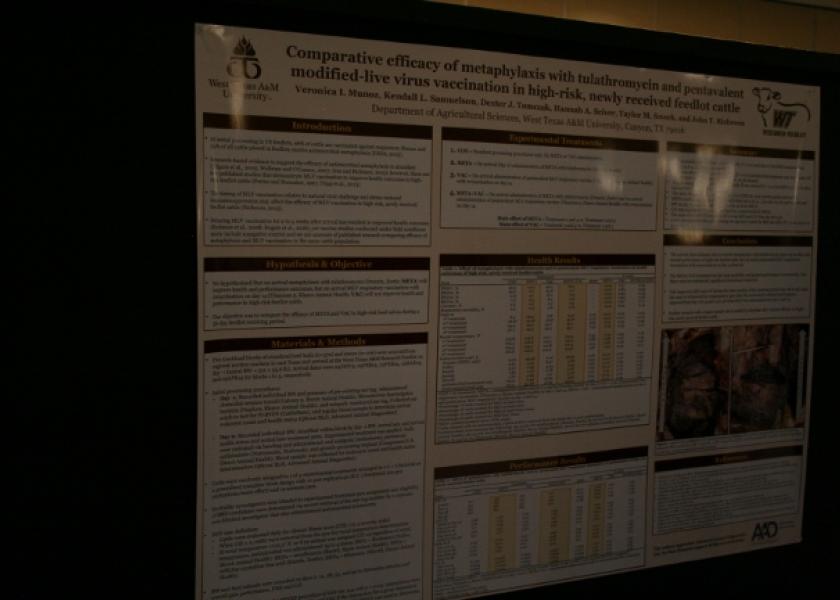 Editor's note: We'll have a series of articles summarizing highlights from the recent Bovine Respiratory Disease Symposium and Academy of Veterinary Consultants Conference on this site over the rest of this month. Check back often.
Along with presentations covering multiple aspects of bovine respiratory disease (BRD), the recent BRC symposium in Denver featured a poster session, where graduate students and their advisors exhibited cutting-edge research into prevention, detection and control of the BRD complex.
A panel of expert judges graded the 12 poster presentations, and announced awards for the top three at the end of the conference.
First Place: Veronica Munoz, West Texas A&M: Comparative Efficacy of Metaphylaxis with Tulathromycin and Pentavalent Modified-Live Virus Vaccine in High-Risk, Newly Received Feedlot Cattle.
Munoz and her team assigned 480 five-weight steer and bull calves to four treatment groups:
No metaphylaxis or MLV vaccine on arrival.

Metaphylaxis administration upon arrival

MLV vaccine administered on arrival and 14 days later.

Metaphylaxis and MLV vaccine on arrival and revaccination at day 14.
In this trial, researchers found that on-arrival metaphylaxis with Tulathromycin improved health and performance of high-risk calves, but on-arrival MLV vaccination with revaccination on day 14 did not.
Second Place: Matt Scott, Mississippi State University: Whole-Blood RNS-Seq Analysis of Stocker Calves at Arrival Provides Immunological and Metabolic Distinction Related to BRD.
Third Place: Emily Snyder, University of Georgia: Systematic Review and Meta-Analysis Comparing Arrival Versus Delayed Vaccination of High-Risk Beef Cattle with 5-Way Modified-Live Vaccines Against BHV-1, BRSV, PI3 and BVD Types 1 and 2.