New Survey Identifies Needs and Gaps in Cattle Care and Well-being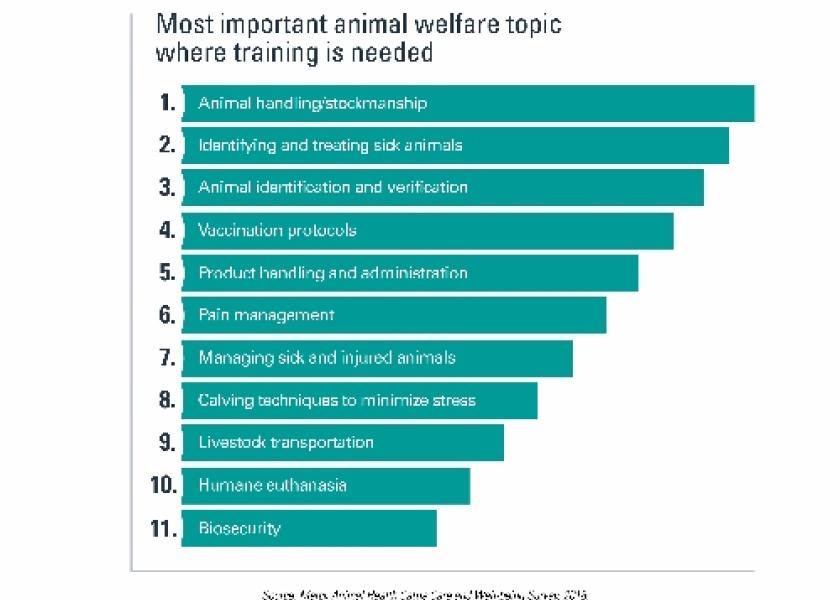 Merck Animal Health (known as MSD Animal Health outside the United States and Canada) this week announced the results from the Cattle Care and Well-Being Survey, a comprehensive survey of U.S. beef producers and veterinarians, that identified resources, topics and training needed to advance cattle care and well-being. The findings describe the critical role veterinarians play in the lives of cattle producers, and the need for more training when it comes to cattle care and well-being. 
"Merck Animal Health is committed to helping the livestock industry advance the health and well-being of cattle, and this survey helps us keep a pulse on the challenges facing producers and veterinarians as well as identify the topics and resources that would be of most value," said Guy Ellis, D.V.M., Bovine Technical Services Veterinarian, Merck Animal Health. "The survey included a cross section of segments and sizes, but interestingly, the needs expressed were very similar."
Survey Highlights:
Written protocols and procedures were found to be the most impactful resources in helping improve animal care, followed by written employee animal care commitments.
Veterinarians and nutritionists were ranked by all segments of cattle producers, including beef veterinarians, as most influential in setting guidelines for beef cattle care, followed by state and national trade associations and organizations, universities and Extension.
Animal handling is the number one animal welfare topic reported as requiring the most training; identifying and treating sick animals was second; and animal identification and verification was third. The only exception was among beef veterinarians who ranked vaccination protocols third.
Additional findings revealed the following insights:
Nearly two-thirds of respondents said they had not participated in third-party certification programs in the last 12 months, although nearly three-fourths had completed the Beef Quality Assurance (BQA) program in the past.
Participants ranked eLearning as their preferred training method, as it gives employees the flexibility to access materials that will benefit them as they work to achieve animal health goals.
"We recognize the significance and quality of education and training the industry currently has available to them but more is needed," said Ellis. "And, the fact that survey participants said they value online learning demonstrates the beef industry is able to quickly adapt to new knowledge and techniques to improve the care and welfare of all animals. Merck Animal Health is committed to filling the gap and to serve as a resource to ensure high-quality care and welfare for beef animals."
Survey Methodology
The online survey was conducted by Merck Animal Health during the summer of 2018. Veterinary advisory boards, beef producers and veterinarians with connections to Merck Animal Health representatives and purchased lists from trade publications were utilized to survey the target audiences. The research compiled feedback from 651 respondents, including 350 cow-calf producers, 56 stocker operators, 102 feedyard operators and 143 beef veterinarians. Data were analyzed based on the number of respondents within each category and as the percentage of the total number of survey respondents. Statistical significance was designated a priority as p-values less than or equal to 0.05.