Cautious Optimism on CWD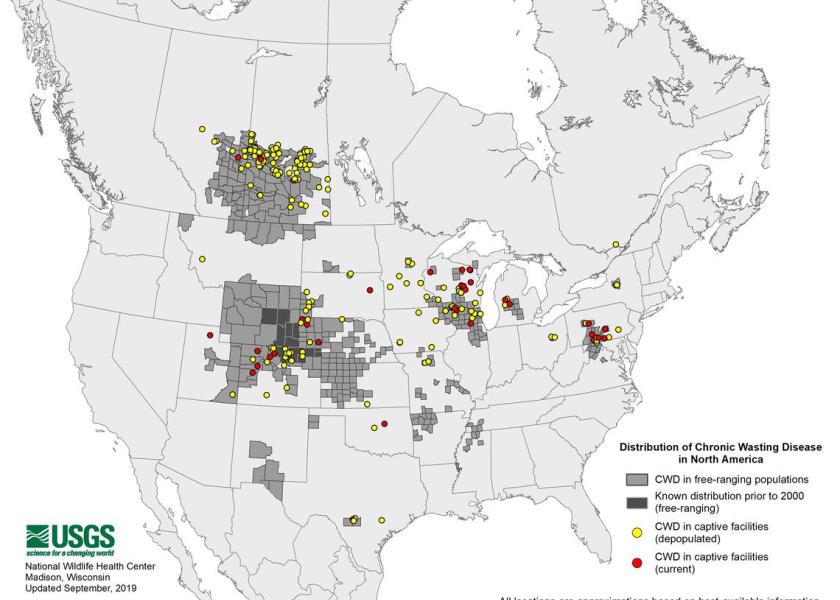 Since Chronic Wasting Disease (CWD) first emerged in captive deer in Colorado in the 1960s, the prion disease has spread to at least 26 states, three Canadian provinces and several countries in Europe. While the fatal disease continues to spread, fears that it could cross species barriers to affect livestock or humans have, so far, not come to fruition.
Results of a long-term exposure trial, reported in 2018 in the Journal of Wildlife Diseases, for example, support the belief that the lethal prion disease is highly unlikely to spread to cattle.
In this 10-year trial, researchers from the University of Wyoming's Wyoming State Veterinary Laboratory (WSVL), the Colorado Division of Parks and Wildlife and the Wyoming Game and Fish Department (WGFD) collaborated to expose groups of cattle to high levels of CWD prions. The researchers exposed cattle to CWD using two methods and in different locations in Colorado, Wyoming and at the USDA's National Animal Disease Center in Ames, Iowa. One group of 12 calves received an initial oral dose of brain material from CWD-infected mule deer, with five un-inoculated cattle serving controls.
Two other groups of cattle spent 10 years housed in outdoor pens with CWD-infected mule deer or elk, with continuous exposure through feed, water and direct contact. At the end of the trial, the researchers euthanized and examined all the surviving cattle. None of the cattle showed any sign of CWD or any neurological pathology during the trial period or at necropsy.
Nevertheless, CWD, like other transmissible spongiform encephalopathy (TSE) diseases, can develop slowly, with exposed animals remaining healthy for years before showing clinical signs. While results of the 10-year trial are encouraging, scientists remain concerned.
Call for a national strategy
Control measures for CWD have mostly evolved on a state-by-state basis, with the exception of some broader controls over movement of captive cervids. The patchwork of state policies and control measures is understandable, with a lack of consensus or scientific evidence to support their efficacy. Various states have experimented with culling, larger quotas for recreational hunters, restrictions on transport of carcasses or venison and tighter biosecurity regulations in the captive cervid industry. States generally have tried to balance the economic contributions of recreational hunting and deer farming with population control and other strategies.
Now though, researchers studying CWD and other prion diseases say it is time for a national strategy for the long-term health of wild and captive cervids, reduced risk of disease in livestock, and ultimately, to protect public health. Recently, a team of experts in public health, wildlife diseases, prion research and laboratory diagnosis developed a report calling for a comprehensive national strategy to address the risks associated with CWD.
The multi-discipline team included representatives from the Center for Infectious Disease Research and Policy (CIDRAP) at the University of Minnesota, the Prion Research Center at Colorado State University; the National Prion Disease Pathology Surveillance Center at Case Western Reserve University; and the Minnesota Department of Health. Their report was recently published in the journal mBio by the American Society for Microbiology. Their recommendations include:
Invest in CWD research
We need research into continued improvements in diagnostic testing for lower costs, faster results and reduced risk of cross-contamination in processing plants. The authors also note that research investment can help answer questions regarding disease pathways and mechanisms, including risk of transmission between cervids and the potential threat to humans. In natural settings, CWD has not been found in animals other than deer, elk and other cervids, but laboratory tests suggest that evolving strains of the causative prions could cross species barriers and affect other animals, including primates.
Finally, research is needed on development of effective vaccines or treatments to protect cervids and potentially decrease CWD spread.
Enhance mandatory CWD cervid testing
Requirements for CWD testing in hunter-killed cervids vary widely between states and zones within states. In many cases, testing is voluntary and statistics suggest a significant number of CWD-positive animals are butchered for human consumption. The authors argue that mandatory testing of killed or dead cervids in all areas where CWD is endemic and establishing associated monitoring systems that can be shared across states would provide more accurate data for wildlife managers and public policy makers, and also reduce human consumption of meat from CWD-positive animals.
Voluntary testing, while useful as a surveillance tool, does not prevent human exposure to CWD. For example, Wisconsin's Department of Natural Resources has offered CWD testing to hunters in surveillance areas at no cost, but only 5% of Wisconsin's 336,464 deer harvested in 2018 were tested. In four Wisconsin counties where CWD is most established, only 4,925 of the 23,441 deer harvested were tested in 2018, with 894 (18%) testing positive. So, more than 18,500 deer harvested in those counties were not tested for CWD, suggesting that the meat from at least 3,000 CWD-positive animals was consumed.
Improve cervid management
Without comprehensive, effective changes in wildlife management and the captive cervid industry, the nearly $40 billion annual contribution of wild cervid hunting in the United States is under threat, the authors say. They note that the Association of Fish and Wildlife Agencies (AFWA) has published the best CWD management practices based on current science. The document addresses movement of live cervids, carcass disposal, and feeding/baiting, and the authors say states should implement the recommendations as soon as possible, backed by sufficient resources. "Science-based and enforced regulation of captive cervid facilities is essential to prevent transmission of CWD within such herds and subsequently reduce risk of transmission to wildlife populations," they say.
The group concludes that available data indicate the incidence of CWD in cervids is increasing and the potential exists for transmission to humans and subsequent human disease. Research to better understand potential risk to humans, along with better public-health measures to prevent human exposure could reduce the likelihood of human cases.
CIDRAP launches CWD Resource Center
Earlier this year, CIDRAP launched a new online CIDRAP CWD Resource Center dedicated to educating the public, particularly hunters; the medical and public health communities; wildlife scientists and managers; and public policymakers and elected officials about Chronic Wasting Disease (CWD). 

The CIDRAP CWD Resource Center is part of CIDRAP's Chronic Wasting Disease Response, Research and Policy Program, a national program responding to the CWD wildlife disease crisis and its potential for animal-to-human and human-to-human transmission.

Among its many resources, the CIDRAP CWD Resource Center has the most current information on all aspects of CWD epidemiology, prevention, research, and policy, including:
Twenty detailed frequently asked questions on CWD, including what is CWD, what are prions and what can hunters and others do to reduce exposure to CWD.

Up-to-date CWD news from across North America and Europe; summarized best CWD management practices published by the Association of Fish and Wildlife Agencies.

CWD maps from the U.S. Geological Survey.

CWD information from government agencies in the United States, Canada and Europe.

Legislative initiatives introduced in the United States to address CWD.

Extensive links to CWD content on websites from the U.S. Centers for Disease Control and Prevention, Chronic Wasting Disease Alliance, Ontario Federation of Anglers and Hunters, Quality Deer Management Association, and others.
Find the CWD Resource Center online at: http://www.cidrap.umn.edu/cwd
For more on CWD and prion research, see these articles from Drovers.com:
APHIS Revises CWD Program Standards
Cattle Resist CWD in Long-Term Trial
NIH Study Finds No CWD Transmissibility in Macaques
Elk Feedgrounds Could Increase CWD Risk
Chronic Wasting Disease A Time Bomb For Agriculture?
CIDRAP launches CWD Resource Center
Sidebar
Michigan Testing New CWD Diagnostic Tool
Michigan State University and Michigan Department of Natural Resources scientists are testing a faster, more accurate way to screen and diagnosis CWD, in deer. The three-year, $900,000 project, funded by both institutions, will use RT-QuIC, a technology known to have better detection and sensitivity in real time.
The current technology used for CWD screening and diagnosis is slow, sometimes less sensitive and testing must take place in a lab, which can be labor-intensive.
"We are going to use RT-QuIC to amplify the misfolded protein in suspect tissue samples," says Srinand Sreevatsan, BVSC, MVSC, MPH, PHD, professor and associate dean of research and graduate studies in the MSU College of Veterinary Medicine. "This will offer us better detection and sensitivity as these proteins accumulate."
The researchers also intend to explore detection of biomarkers that accumulate in blood as a result of neurological damage as a screening test in the field. This approach would facilitate deer screening in the field for the neuronal proteins. That means testing will be fast and easy for captive deer farmers and wild deer hunters, and only deer triggering positive for potential brain damage would be sent to the laboratory for RT-QuIC testing.
During the first year of the project, scientists will develop RT-QuIC and investigate the specific biomarkers that indicate CWD. They will use these results to develop a rapid field test to detect CWD in free-ranging and hunted deer during the second and third year.