CAST Report Encourages Genetic Diversity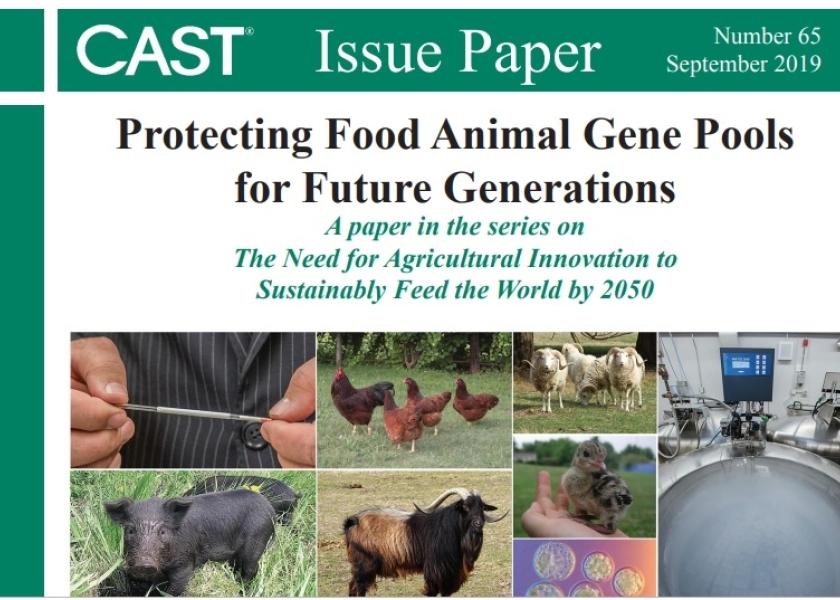 While genetic selection strategies around the world have improved livestock productivity and consistency, a lack of genetic diversity could put food production at risk, according to a new report from the Council for Agricultural Science and Technology (CAST).
The report, titled "Protecting Food Animal Gene Pools for Future Generations," outlines specific goals and strategies for preserving availability of older livestock breeds and potentially critical genetic traits.
 By losing breeds we make finding potential solutions to future production demands much more difficult, and recent history indicates that predicting future demand is problematic," the authors write.
This paper explores several aspects of the genetic-diversity issue, including:
Characterizing the animal populations to identify unique attributes that will influence the collection and conservation of breeds.

Improving cryopreservation technology for a variety of germplasm and cell types that targets biological differences impeding success among species.

Expanding the content, accessibility and cross-talk among databases housing breed and genetic resource information.

Developing private-public partnerships among rare breed associations/curators, agricultural universities, federal agencies and nongovernmental organizations to ensure the long-term operational continuity of germplasm repositories.
The report provides several examples of rare livestock breeds that carry valuable genetic traits, such as the Gulf Coast sheep, which resists internal parasites, foot rot, and other common sheep diseases, and the and the Narragansett turkey, which possesses genes for early maturation, egg production, meat quality, and disposition, and has broader genetic variation than commercial turkey lines.
As an example of breeders capitalizing on older genetic traits, the authors cite the "Line 1" Hereford cattle USDA bred in the 1940s for fast growth and weight gain. Later, in the 1970s, breeders used Line 1 Hereford genetics to transform the commercial Hereford breed to address consumer preferences for leaner beef.
The task force provides five key recommendations:
Commit resources necessary to characterize the genetic diversity of existing livestock and poultry populations in the United States, including both phenotypic and genotypic data, and enhance a cloudbased platform to house the data that is publicly accessible.

Engage private sector philanthropic awareness and expand funding opportunities across the federal government for research to develop the most effective cryopreservation strategies for domesticated livestock and poultry species, including species-specific protocols for routine use with a high success rate for recovering the desired population.

Support the conservation of in situ populations, particularly for those species such as poultry in which cryopreservation methods are suboptimal, through funding opportunities related to maintaining important genetic stocks for research, small farms, urban development and/or sustainable agricultural practices.

Evaluate cryopreserved germplasm, whenever possible, for the potential to generate offspring (not just fertility) and use data to inform the minimum collection score to provide the best protection of genetic resources for future use. There are no formal mechanisms in place for this type of testing, yet it is an important component of the success of ex situ conservation.

Expand investment in permanent staffing and programmatic support of the National Animal Germplasm Program (NAGP) to increase the procurement, management and utilization of genetic resources.
See the full report, "Protecting Food Animal Gene Pools for Future Generations," from CAST.
For more on genetic diversity in livestock, see these articles from BovineVetOnline.
Unique Collection Reaches a Major Milestone