FDA Announces Veterinary AMR Performance Measures on FDA-TRACK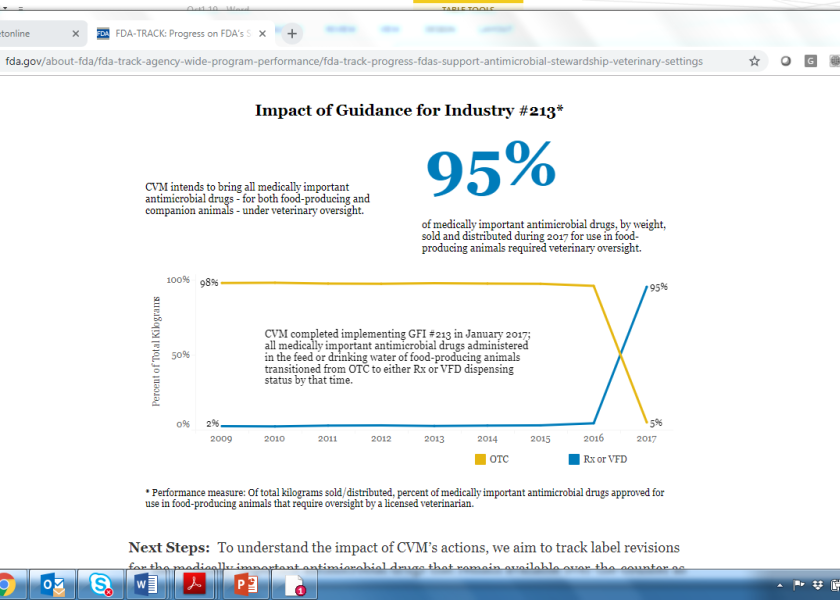 Today the U.S. Food and Drug Administration is announcing the availability of performance measures that  track the progress of the Center of Veterinary Medicine's (CVM) Five-Year Plan for Supporting Antimicrobial Stewardship in Veterinary Settings. This information is part of FDA-TRACK, a tool that promotes transparency and monitors certain FDA programs through performance measures and projects. 
CVM's five-year plan is organized under three goals:
Align antimicrobial drug product use with the principles of antimicrobial stewardship.

Foster stewardship of antimicrobials in veterinary settings.

Enhance monitoring of antimicrobial resistance and antimicrobial drug use in animals.
For the first update, FDA has provided information for key projects within Goal One of CVM's five-year plan. Key projects for Goal One include: bringing all dosage forms of medically important antimicrobial drugs approved for use in animals under veterinary oversight, ensuring that medically important antimicrobial drugs used in the feed or drinking water of food-producing animals have a defined duration of use, and updating the list of medically important antimicrobials. 
Information in FDA-TRACK will be updated on a semi-annual basis for each project. Key projects and performance measures for Goal Two and Goal Three of CVM's five-year plan are under development and will be made available in the coming year. 
Additional Information from USDA:
FDA-TRACK: Progress on FDA's Support of Antimicrobial Stewardship in Veterinary Settings
For more on USDA's antimicrobial stewardship initiatives, see these articles from BovineVetOnline:
FDA Plans Next Moves on Antimicrobials
FDA Funds Duration of Use Studies
FDA Releases Draft GFI to End OTC Sales of Most Animal Antibiotics