VMLRP Lists 2019 Shortage Situations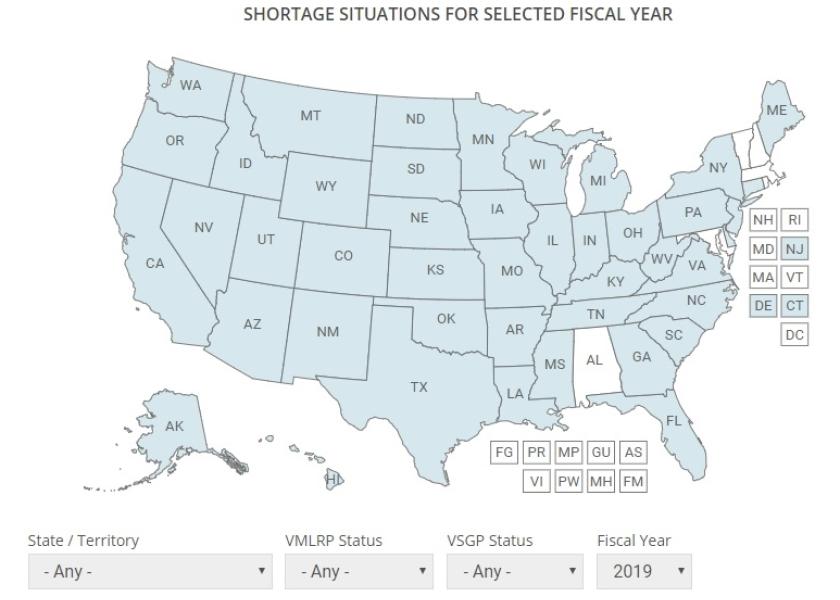 Each year, the USDA's National Institute for Food and Agriculture identifies locations around the United States experiencing shortages of veterinary services, for use in awarding grants to veterinarians under the Veterinary Medicine Loan Repayment Program (VMLRP).
The VMLRP will pay up to $25,000 each year toward qualified educational loans of eligible veterinarians who agree to serve in a NIFA-designated veterinarian shortage situation for a period of three years.
The VMLRP website includes an interactive map detailing shortage areas and specific types of shortages for 2019. The application process will open soon, after delays related to the recent 35-day partial lapse in federal appropriations.
The website also features:
​VMLRP General Information
Information for anyone interested in the VMLRP, including, but not limited to, legislative authority, regulations, Federal Register notices, reports and statistics, and a glossary pertaining to the VMLRP.
​VMLRP Timeline
General Timeline for the process and events specifically pertaining to the different aspects of the VMLRP program.
​Applicants
Information for veterinarians interested in applying to the program, including eligibility, loan consolidation, the application review process, a guide to completing the application, and application forms.
​Participants
Information for award recipients on the following topics: service obligation, tax allowance, the loan repayment process, etc.
​Shortage Situations
Information on veterinarian shortage situations and the nomination process including links to the designated Veterinarian Shortage Situation Map, Veterinarian Shortage Situation Nomination form, and a guide for State Animal Health Officials completing the nomination form.
​Panelists
Information for anyone interested in serving on the Nomination or Awards Panels, including the questionnaire and a description of roles and responsibilities for each panel.
See the interactive map showing locations and types of shortages from USDA/NIFA.
Read more about the VMLRP in these articles on BovineVetOnline:
Readers Respond: Recruiting Rural Veterinarians
Rural Veterinarians Need More Support from their Communities
Campus Connection: Barriers to Rural Practice
AVMA Calls for More Action on Veterinary Shortages
NIFA Awards Nearly $10 Million to Address Veterinary Shortages