Veterinarians Raise The Bar For Bull Breeding Soundness Exams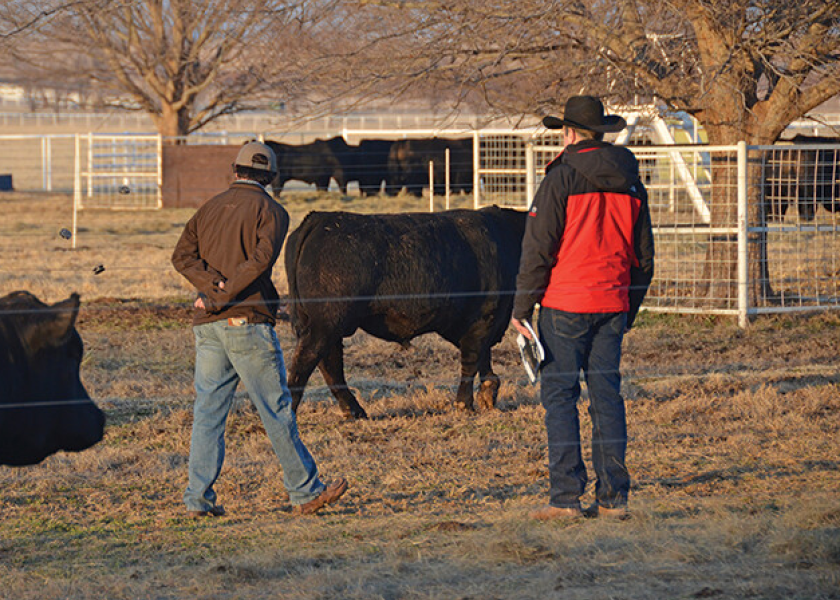 A bull can look and act like he's primed to produce offspring, but a breeding soundness exam (BSE) can help you determine his actual potential for success. Data show that one of every 5 bulls tested fails a breeding soundness exam, according to the Society of Theriogenology, an organization dedicated to animal reproduction. A variety of reasons for that exists, with a primary one being poor sperm morphology, says Jennifer Koziol.
"Multiple studies have shown us that about 50% of the bulls that fail breeding soundness exams do so because of poor sperm morphology," says Koziol, DVM, MS, DACT, clinical assistant professor, Purdue College of Veterinary Medicine.
For a bull to pass a BSE as a "satisfactory potential breeder," the Society maintains that 70% morphologically normal sperm is the standard. Along with that, a minimum of 30% progressively motile cells also remains a standard. Some practitioners say the standards set a low bar to achieve – given the potential ramifications for beef producers – and are why many are working to improve the quality of the BSEs they perform.
But like many of the procedures veterinary practitioners undertake, evaluating sperm morphology is not a simple process. "The assessment is tedious and takes time," notes Ahmed Tibary, DVM, MS, DSc, PhD, DACT, Washington State University professor and president-elect of the Society.
Some abnormalities of semen are difficult to see with the common staining techniques practitioners use. "Slide preparation is important; when in doubt fix semen samples in phosphate-buffered saline," he recommends. "It's also important to have a system to keep the slides and semen warm for evaluation of motility."
Koziol says veterinarians need to look at sperm morphology at a high power with oil, with either brightfield or phase microscopy. "Looking at morphology slides at anything less than 1000X under oil or just looking at sperm motility and calling a bull satisfactory isn't good enough," she says.
Glen Jensen encourages practitioners to consider using a complete differential spermiogram (CDS) in their assessment of sperm morphology. A CDS breaks down and lists each of about 24 morphological abnormalities recognized by the Society, providing a more complete picture of the bull's sperm production and quality.   
"A significant benefit comes when we utilize the potential influences each type of morphological abnormality can have on fertility," says Jensen, DVM, Emery Animal Health & Integris Cattle, Castle Dale, Utah.  
Examples of this include detached heads and distal midpiece reflexes, which he says have very little negative effect on fertility until they reach levels of between 30% and 40 % in the ejaculate. On the other hand, he says proximal cytoplasmic droplets, nuclear vacuoles, and pyriform heads will begin to negatively impact fertility at around 15% to 20% of the ejaculate.  
"Without a CDS  this information is missing, and some subfertile bulls will be used while other bulls will receive an unsatisfactory classification yet would perform well," Jensen says. "Using a CDS, veterinarians can better help producers make informed breeding management decisions through selecting the correct bulls for optimal herd reproductive performance.
Jensen says veterinarians need to treat semen evaluation as a diagnostic tool, then look at management, environment, and genetics to help improve overall bull, herd, and industry cattle fertility. "Too often we as veterinarians and cattlemen want to look at a BBSE as the bull is good or not, rather than a management tool where we obtain a good history, perform a reproductive exam, analyze the semen then look for ways to change or treat the problems found." (Jensen offers more insights at https://bit.ly/3i88ToZ)
Here are three additional considerations to help you improve the value of bull BSEs for your clients and your clinic:
1. Consider the quality of your equipment and whether you need to upgrade. Particularly, you need a good electroejaculator and a good microscope. Koziol says she doesn't automatically subscribe to the school of thought that you must have a phase-contrast microscope. While phase contrast microscopes make it easier for you to see certain sperm morphology defects, such as nuclear vacuoles, she believes a good brightfield microscope can get the job done.
"Diadem defects (a sperm morphology abnormality) are a great way to know if your microscope is good enough or not," she says. "If you can easily see diadem defects and recognize them on sperm morphology slides, then your microscope is good. If you never see them during an entire bull-checking season, then perhaps you should think about investing in a new microscope."
In addition, Koziol says camera systems for microscopes have become more economical and can transmit the microscope image to a TV.
"This is a great way to add value to our examinations, as it takes the mystery away from what we are seeing in the microscope," she says, noting that bull owners can quickly learn what normal and grossly abnormal look like.
"In my practice, owners who have observed the results will often call a bull unsatisfactory, even before I can finish counting 100 cells," she says. "It makes my life easier when I can show an owner why their bull is not going to cut the mustard this breeding season."
2. Address the role of profitability. A BSE done on the ranch or farm is ideal, because the bull is acclimated to that specific environment and doesn't have to deal with the stress of transportation. Tibary says to "work with clients so the BSE is more of a regular part of the ranch's herd health program and part of the regular work you do for the client."  
At the other end of the spectrum, another option is to host a breeding soundness day at your clinic or a centrally located facility, where you can assemble a team to implement the process.
"It helps us concentrate our labor, and we get a lot of our bulls in the practice done in a consolidated period of time," Koziol says. She adds the clinic often will offer a package of the exam, a dose of dewormer and annual vaccines for a special price.
"It gives the clients with a small number of bulls an economic incentive to bring them to us at the clinic," she says. "This helps us be really efficient working in good facilities and not having to pack and unpack our whole andrology laboratory.
"During non-COVID times we have often added in a lunch and learn or dinner meeting that producers enjoyed," she adds. "Certainly, for our larger producers we are happy to pack up and go to them and offer a volume discount for those that have 10-plus bulls for us to do at a time."
Tibary adds that if a bull BSE is done at the clinic, the results will be most accurate when the bull arrives ahead of time for rest before the procedure is conducted. "Make sure that the personnel helping is not rushing or stressing the bulls, and always focus on safety first," he says.
Fee-wise, Koziol says she thinks what you charge a client for the BSE likely depends on the market where you're located. "I take a very what I call Chick-Fil-A approach to pricing for bull breeding soundness exams," she says. "People will pay more for a quality product with great customer service and never blink an eye, but you can't price yourself out of a job, either."
3. Evaluate the entire bull. The physical exam is valuable for a number of reasons, says John Wenzel, Interim Associate Department Head/Extension Veterinarian, Department of Extension Animal Sciences and Natural Resources, New Mexico State University.
"In the big pasture, arid country that I practice in, bulls have to travel several miles to water, so when they become older, feet and leg/joint abnormalities fail as many bulls as fertility issues do," he says.
Also, things like ocular cancer and scarred preputial lesions that prevent or shorten penile erection contribute to failing a bull on a BSE.
"Scrotal circumference is something that I have emphasized in producer education events, because it is so important from a predictive standpoint," Wenzel explains. "In our country, the incoming bull with a satisfactory BSE may not be gathered again until it is ageing out of the bull battery, so that initial BSE is of the utmost importance. It is disheartening to see a bull that has passed a previous fertility exam that has a persistent frenulum, substandard scrotal circumference or some other abnormality that should have been picked up if a BSE was performed properly."
Tibary adds that he encourages veterinarians to work with clients to consider that the preparation of bulls for reproduction starts early, even before weaning. "Attention should be paid to every detail regarding preventive herd health and nutrition in the preparation of young bulls," he says.
Updates from the Society of Theriogenology
The Society for Theriogenology updated its recommendations regarding BSEs in its Breeding Soundness Examination of Bulls manual, in 2018, to include:
•    With respect to morphology, the abaxial tail implantation and the distal droplet are no longer to be categorized as abnormalities.
•    Also, with respect to morphology, the classification scheme designating abnormalities as Primary or Secondary will be discontinued and descriptors with respect to location (Head, Midpiece, and Tail) will be utilized.
•    With respect to motility, assessment should be by evaluation of progressive motility; the minimum standard (30% progressively motile) however was not changed.
Learn more at https://www.therio.org/
Drovers and Bovine Veterinarian invite you to attend a free one-hour webinar March 9 at 7 p.m Central on how to use breeding soundness exams to ensure adult and yearling bulls are ready for the breeding season. PLUS- Veterinarians are eligible for one hour of CE credit.