Lil' Bill, Calf Born Premature Defies the Odds At Mississippi State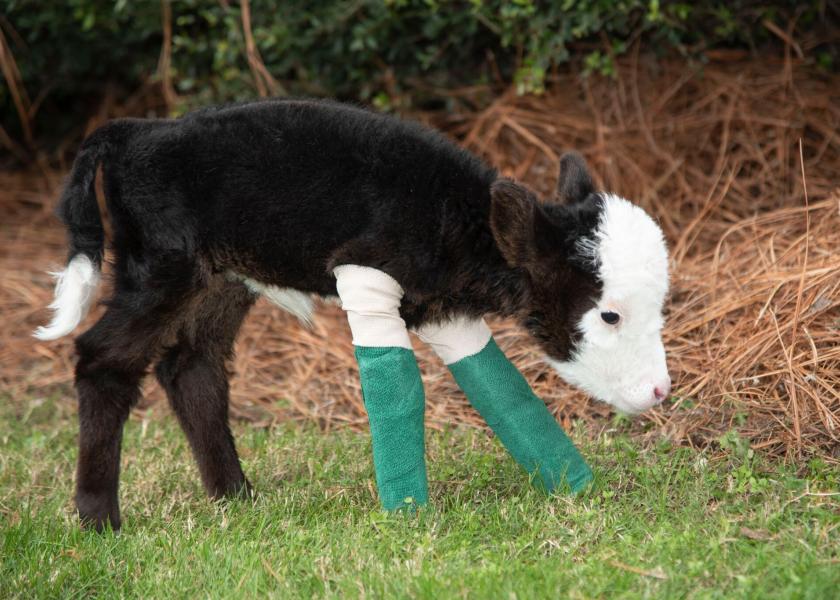 The internet has fallen in love with Lil' Bill, a 7.9-lb. premature calf under the care of the Mississippi State University College of Veterinary Medicine (MSU-CVM).
From the moment the photo of Lil' Bill was posted on the MSU-CVM Facebook page, people have been asking for more information about his condition, genetics and story.
Lil' Bill came to MSU-CVM after his owners, long-time Simmental breeders, discovered him in the pasture. After caring for him for a couple days, the family consulted the MSU-CVM staff on Nov. 1.
Similar to preterm babies, the calf was having trouble breathing from lungs that were not matured.
Under the direction of Dr. Gretchen Grissett, the veterinary team has cared for the calf 24/7, giving him therapeutic oxygen and feeding him through a feeding tube. While he's improving, veterinarians said his prognosis is undetermined.
Normal calves weigh 50 lb. to 80 lb. at birth, depending on genetics. Grissett and her team have ordered DNA tests to see if the calf might have some form of dwarfism, in addition to being premature.
"Right now, Lil' Bill's bones are not fully developed so we have his legs splinted to provide adequate support. Allowing too much activity on his joints could lead to long-term orthopedic issues for this little guy," she said. "Many of the issues we are facing with him are, in fact, very similar to those experienced with premature babies. It often takes them months to grow and become as strong as they should have been at birth, and they commonly face development delays and other such problems— if they're fortunate enough to survive."
Grissett adds that Lil' Bill is getting stronger and is behaving more like a typical calf. "Other than sleeping a lot, which is normal for preemies, Lil' Bill behaves much like most five-week old calves," she said. "Once awake, he trots around looking for attention, often head-butting team members to demand more milk!"
Watch below for more: