Fun-Run Challenge Pumps up Scholarship Fund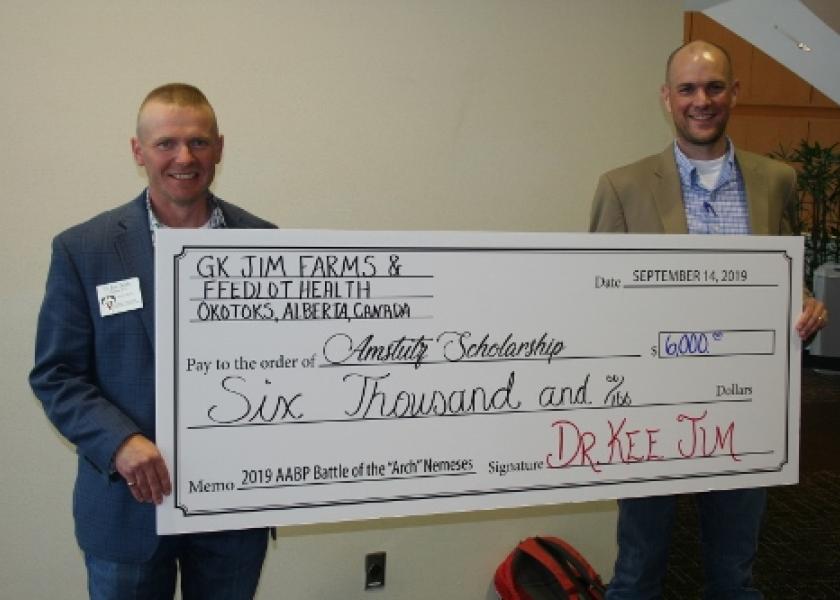 For several years, AABP has hosted an early morning 5-K fun run during its annual conference, with entry fees helping support the Amstutz Scholarship Fund.
In the months leading up to this year's conference, held in Mid-September in St. Louis, two veterinarians from Feedlot Health Management Services, Okotoks, Alberta decided to ramp up the competition with a personal challenge.
Last spring, Dr. Eric Behlke and Dr. Holt Tripp challenged each other for best finish and bragging rights in the race. Both competitors trained diligently through the summer, along with considerable trash talk.
As interest in the competition grew, Feedlot Health founder Dr. Kee Jim offered a $6,000 donation to the scholarship fund on behalf of the winner.
Dr. Tripp came out ahead in the race, finishing third overall, but the big winner was the Amstutz Scholarship fund and the outstanding veterinary students it helps support. The Amstutz Scholarship provides over $300,000 per year to deserving students.
For more on the fun run, Amstutz Scholarships and the 2019 AABP Conference, see these articles on BovineVetOnline:
Donors Provide $325,000 in Scholarships/Awards to AABP Student Members
Cattle Production Veterinarian Hall of Fame Inducts Johnson, Glock