DCHA Announces Agenda for Annual Conference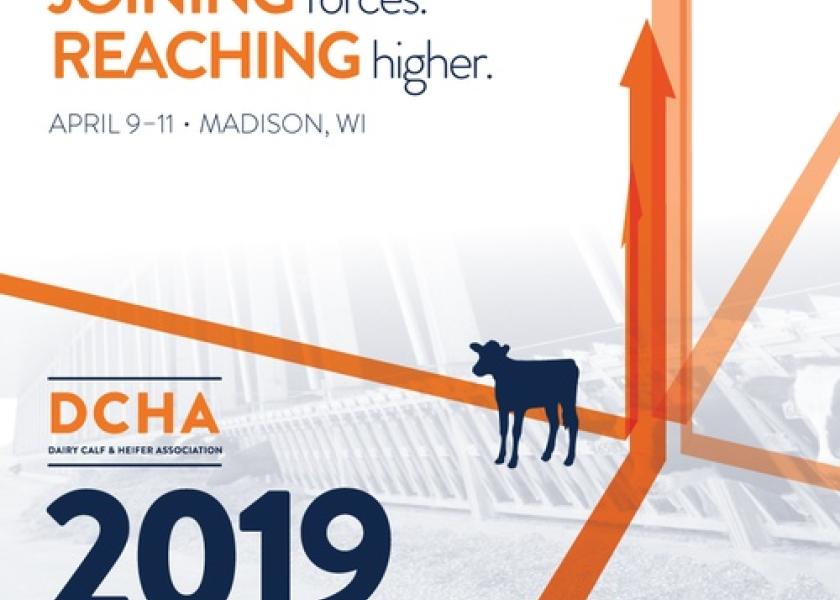 The Dairy Calf and Heifer Association (DCHA) invites dairy producers, veterinarians and nutritionists to "join forces and reach higher" during its 2019 annual conference. The event takes place April 9 to 11 in Madison, Wis.
The conference has been pre-approved by the American Registry of Professional Animal Scientists for 16 ARPAS CEUs. Participants should request credits for this event at arpas.org.
Event Description:
Joining forces. Reaching higher.
Join fellow producers and industry experts to reach higher in your operation.

For a complete agenda with times, click here .

The Madison Marriott West is almost full. For alternative hotel accommodations, please call Comfort Suites Madison West and mention Dairy Calf & Heifer Association.

Comfort Suites Madison West
1253 John Q Hammons Rd
Madison, WI 53717
608-836-3033
The hotel also provides complimentary shuttle service from the airport and to the Madison Marriott West if requested, based on availability. Please schedule ahead of time.

Conference agenda highlights include:

Keynote speaker, Keith Poulsen, will address, "A Growth Mindset on the Ranch Encompasses More Than the Health of the Calves"

In our general sessions:
Robert Hagevoort will speak about the "Best Management Practices for Milk and Dairy Beef Quality Assurance."  

Jennifer Van Os will discuss "Welfare of Dairy Calves and Heifers: Relevance to the Animal, the Producer and the Consumer."
Unmatched breakout sessions include:
Increasing Your Operation's Positive Impact on the Environment - Dennis Frame, Timber Ridge Consulting

The Business of Dairy Heifers; Quality, Labor, Cost, Risk Management - Jason Karszes, Cornell University

Dairy Workforce Training - Robert Hagevoort, New Mexico State University

Calf Scours on a Timeline - Not All Cases are Infectious - Keith Poulsen, WI Veterinary Diagnostics Laboratory Director

Dry Period Heat Stress: Effects on Dam and Daughter - Geoffrey Dahl, University of Florida

Nutritional Regulation of Gut Function: From Colostrum to Weaning -Michael Steele, University of Guelph, Ontario

Thinking Outside the Bottle, Alternative Milk Sources for Calves - Panel

Offensive Game Plans to Help Prevent Disease Outbreaks - Panel

Xs and Os of Custom Heifer Raising: Contracts, Economics and Customer Relations - Panel
Industry Tours Tuesday, April 9:
ABS Global - visitors will learn about biosecurity practices and tour a state-of-the-art calf facility where the company houses its young bulls.

Crave Brothers Dairy Farm - along with touring the all-in, all-out calf nursery barns, visitors will see their milking facility, cattle barns and manure digester.
Pre-Conference Seminars, Tuesday April 9:​
"The Use of Colostrum to Support Health Post Day One," sponsored by SCCL

"Managing Fly Control for Growth and Health," sponsored by Champion Animal Health

​Post-Conference Seminars, Thursday April 11:


Get up close to see:

Deep nasopharyngeal swab performed by Don Sockett    

Lung ultrasound performed by Theresa Ollivett

Tour STgenetics genomic testing facility
When signing up for post-conference seminars, PLEASE NOTE, you are signing up to attend the procedures with Don Sockett and Theresa Ollivett from 2:00-4:00 or from 4:00 to 6:00, and touring STgenetics during the other time slot.

For example, if you sign up for the 2:00-4:00 procedures, you will tour STgenetics from 4:00-6:00.

Register online through the DCHA website.