Certificates of Veterinary Inspection Are Crucial To Successful Interstate Cattle Transports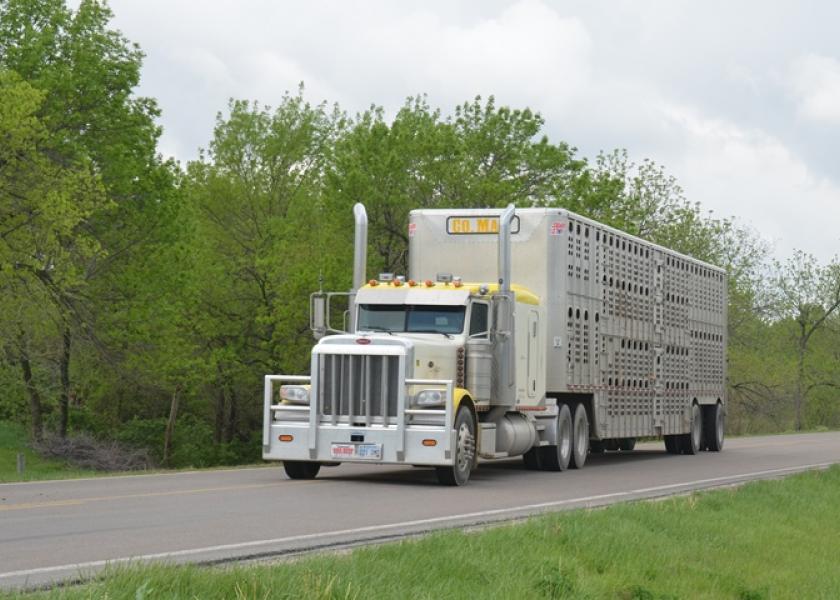 Because cattle moving from state to state can carry diseases, for livestock and people, veterinarians following rules for testing and information-gathering on Certificates of Veterinary Inspection (CVI) are crucial, according to Amanda Price, DVM, MS, assistant state veterinarian for the Utah Department of Agriculture and Food.
These certificates are a nexus where veterinary science, public health and the American economy intersect, she notes. Testing for brucellosis, tuberculosis, trichomoniasis, vesicular stomatitis and more may be required and verified. The correct tests at the correct times, with correct documentation, could mean the difference between a successful cattle sale across state lines, and expensive quarantine or destruction of infected animals or herds.
"The Certificate of Veterinary Inspection declares that only healthy cattle are being shipped across state lines, and that protects everybody," Price says. "The CVI also allows the USDA and other agencies to track animals in the event of a disease outbreak."
To write a CVI for cattle, you must be Category II accredited with the USDA. The USDA can be bad about sending reminders, Price warned, so keep up on your accreditation dates yourself.
As an assistant state veterinarian, she looks at accreditation of veterinarians quarterly and says she finds expired accreditations every time.
Don't assume rules haven't changed. Services like GlobalVetLink (GVL) list important requirements for cattle transport, but Price recommends that veterinarians "best be safe" and consider a call to the state veterinarian's office. Even if you've certified cattle to move from one particular state to another one in the past, disease prevalence and new rules from state and federal agencies change fast.
"The state's own website may be out of date," Price says. Trichomoniasis rules in Utah were being updated, according to Price, with new requirements coming to the website that would affect female cattle coming from trichomoniasis-positive herds. In a porcine case last year, Oregon found pseudorabies in a wild boar, and Price says that Utah immediately began requiring pseudorabies testing.
"If the animals you send to a state don't meet their requirements, it could result in those animals being quarantined, tested or even destroyed," she says.
Fill out every box every time. Paperwork is seldom fun, but remember that the CVI will help agencies track animals during disease outbreaks and could save animals and people.
"Fill out every applicable box on the CVI," Price says. "Make sure you submit testing information, especially if you aren't listing the animals individually."
That includes items sometimes left off CVIs: the physical address for consignor/seller (or origin), the physical address for buyer (not just a PO Box), and species, for every CVI, every time.
During a recent webinar, one veterinarian asked what to do if a client wouldn't give all the information for a CVI—in this example, the buyer's physical address. Buyers' and sellers' addresses are crucial to traceability in the event of a disease outbreak, Price told the attendee.
"You could refuse to write that health certificate unless they provide that [information]," Price says. If you're worried about rules or ethical issues, contact your state veterinarian or the USDA for guidance.
Thread the needle when it comes to timing and agency requests. In addition to the CVI, most state offices require an import permit number, and staffers may not be around after hours or on weekends to issue one. Also, Price recommends you build in time for initial testing as well as confirmatory testing.
On the flip side, she says, "while you want to plan ahead, don't plan too far ahead."
Most CVIs and test results are only good for 30 days (tuberculosis is an exception with 60 days), so if a shipment is delayed, that means a new inspection and a health certificate.
It can be tricky to make sure testing done on animals is early enough to get results but not so early that results are considered out-of-date. Triple-check those requirements for particular tests as well as state requirements for types of tests and timing.
Other less common conditions you might run into, depending on endemic areas and the states of destination, include anaplasmosis, bluetongue, scabies, tick infestations and any new communicable diseases.
You don't need to know everything about everything all the time, Price notes. But when you're called to certify cattle or other livestock to move from state to state, take your time to dig in with early preparation, open communication with agencies, buyers and sellers, and careful attention to paperwork and testing requirements.
"Don't risk your USDA accreditation by writing a bad health certificate," Price says. Lose that accreditation, and you can't write CVIs or be approved to do livestock testing for the major diseases.
"Remember, as an accredited veterinarian, state animal health officials and the USDA are expecting you to be our eyes and ears in the field," she says. "While clients do not like having suspects that can hold up a shipment or place a farm under quarantine, this is part of your responsibility as an accredited veterinarian."
Brendan Howard is a freelance writer based in Olathe, Kan., who has been writing about and for veterinarians for more than 14 years.