Solving Real Life Challenges a Driving Force for Dr. Gary Smith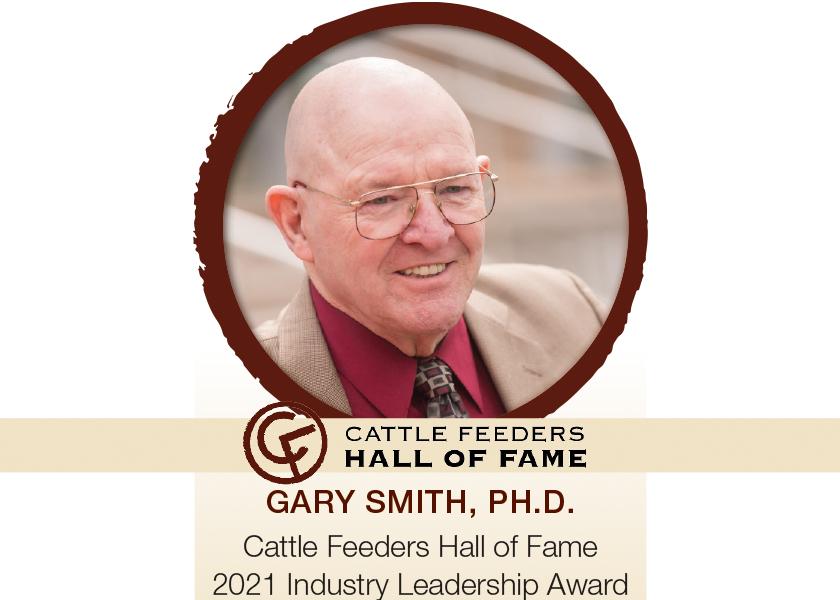 If you've spent time at all in the cattle industry you've likely implemented, or benefitted from, the research and contributions of Dr. Gary Smith, PhD. Smith, who began his career with aspirations to teach high school agriculture students, is now one of the most prolific contributors to the beef industry's scientific advancement and guides the next generation of meat scientists though positions as a visiting professor in the department of animal sciences at both Colorado State and Texas A&M Universities.
With innovations in everything from palatability and instrument grading of carcasses to the ideal way to package exports for freshness, to national beef quality audits and BQA implementation, to chemical residues and E. Coli O157:H7 and the Multiple Hurdle method to prevent contamination at packing plants, Smith has left his DNA on nearly every segment of the beef supply chain.
"As I proceeded through my career, the kinds of research I wanted to do were things that would help producers and packers and retailers, whatever was the then-current issue. Whatever kinds of problems that they had, I wanted to work on, and I wanted to try to figure out something that might help them that way," Smith said.
Smith has spent his entire life connected to agriculture, growing up on a mixed livestock farm in Oklahoma and participating in 4-H and FFA through high school. And though he thought he'd become a vocational ag teacher, during the student teaching process he realized that working with high school students wasn't the best fit, so he returned to school and got his master's degree at Washington State University in animal breeding, focusing his thesis on performance testing of beef cattle.
From there, he was hired to teach meat science at Washington State and spent the next five years learning about and teaching meat science, followed by the completion of his PhD in meat science at Texas A&M. Later, Smith spent nine years as the head of the department of animal science at Texas A&M but missed getting to work with producers and packers and being able to mentor students, so when he had the opportunity to go to Colorado State University's newly founded meat science program and return to research and teaching, he jumped at the chance.

Of all the areas of study Smith has worked on, two of the things he's most proud of are instrument grading of carcasses, and the Multiple Hurdle system for packing plants. Prior to the implementation of instrument grading, there were wild discrepancies between plants because carcass grading was subjective to the eye of the grader, and Smith's work brought standardization to the industry.
"Something I'm really, really proud of is that we did the first instrument grading, and we worked on that for years and years before the government ever agreed to do it. But now that we do it, we don't have this disparity between packing plants in how their carcasses grade," he says. "Before we started instrument grading, we'd have a plant somewhere that was unbelievably high, and we'd have some with unbelievably low, percentages of high grading carcasses, and it was simply because there were differences in the people who were assigning the grades. They weren't doing it for any real reason, just as they looked at it, they didn't see the same thing. Those instruments see the same thing. Regardless of whether they're in Kansas City or College Station, they see exactly the same thing."
Following work that Smith did with E. coli O157:H7, a trip Ken Monfort took him on launched his work in Hazard Analysis Critical Control Point (HACCP) program development, and what's now called the Multiple Hurdle system of food safety interventions. Monfort didn't reveal the reason for the trip to Chicago until they'd arrived at what turned out to be the headquarters of McDonald's, where the president and CEO asked Smith to teach HACCP to everyone that sold beef to McDonald's because he wanted to require them to do so.
"So, I got involved in food safety, and I had taken the food microbiology course while I was working on my PhD, but I was far from being a microbiologist. I started working with colleagues at the university who were real microbiologists and we got really heavily involved in HACCP, and then developed a way that every packing plant should put together a whole bunch of interventions, which ultimately became what we call Multiple Hurdles," he explains. "Multiple Hurdles is now used all over the world. If you're trying to kill the bacteria on a food product, instead of just using one thing in one place, you have six things in six different places, so that the bacteria have to go over multiple hurdles in order to wind up in the product.
"I would say the second most important research that I ever worked on was Multiple Hurdles, because everybody used it, and it really almost saved the beef industry, because we figured out a way to actually be reasonably sure that if it was there, we found it. But we tried to kill all of it before we could find it," he continues.
Aside from solving the challenges facing ranchers and processors, Smith has a love and passion for teaching the next generation of meat scientists.
"One of my favorite things [about teaching] is watching those young people succeed after they've entered the workforce because I knew what they could do when I was working with them. I'll never forget one of the highlights of my life was when I walked into a meeting in Kansas City, and they were having a panel of four or five speakers. And all of those speakers were former graduate students of mine," he explains. "That's what a teacher gets from teaching, you're so thankful that at some point in their life they chose to study with you, and here, despite what you might have not done for them, they succeeded. You know they're doing what they intended to do, and they're doing it really well."
This passion and dedication are being rewarded, during August's Cattle Feeders Hall of Fame awards ceremony, held in conjunction with the NCBA's Cattle Industry Convention and Trade Show, Smith will be honored with the Industry Leadership Award for his service, something he credits to the people he's been surrounded by over the years.
"It's a great honor, and I credit whatever success I helped to foster to my colleagues and my graduate students who did all the hard work. And then the help and support financially and psychologically, of cow producers, feeders, packers and retailers, for letting us use their product, and letting us work in their facilities, letting us do stuff that we thought might help them do a better job of what they were trying to do," he says. "I think it just honors the person who is lucky enough to have the right people working with him, not for him, but working with him, and industry allowing us access."
In his free time Smith enjoys spending time with his extended family and continuing the strong family traditions started by his late wife.
"I lost my wife to Parkinson's disease, eight years ago. Now, I try to do everything I know she would be doing if she was still here with our extended Smith family. I'm trying to be a good father, father-in-law and grandpa to our 19 grandchildren," he says. "For example, she sent everyone in the family cards for Valentine's Day, their birthdays and so on. It was very, very hard when she was gone for me to do that. But I assembled a list of their ages and all of these dates. And now I have a book that I go through every Monday morning, and I look at that and say, 'OK, who has a birthday or anniversary coming?' And I'm not doing it, because I wouldn't have done it ever if she were still here, but I'm doing it because I know that's what she would have done. That's great fun."
About the Cattle Feeders Hall of Fame
The Cattle Feeders Hall of Fame was launched in 2009 to celebrate the rich traditions of the cattle-feeding industry and recognize individuals who have devoted their careers to producing safe, quality beef and improving production practices. Merck Animal Health, Osborn and Barr, and Drovers are the founding partners.