Pfizer Vaccine Receives Full FDA Approval: "Now is the Time to Get Vaccinated," White House Says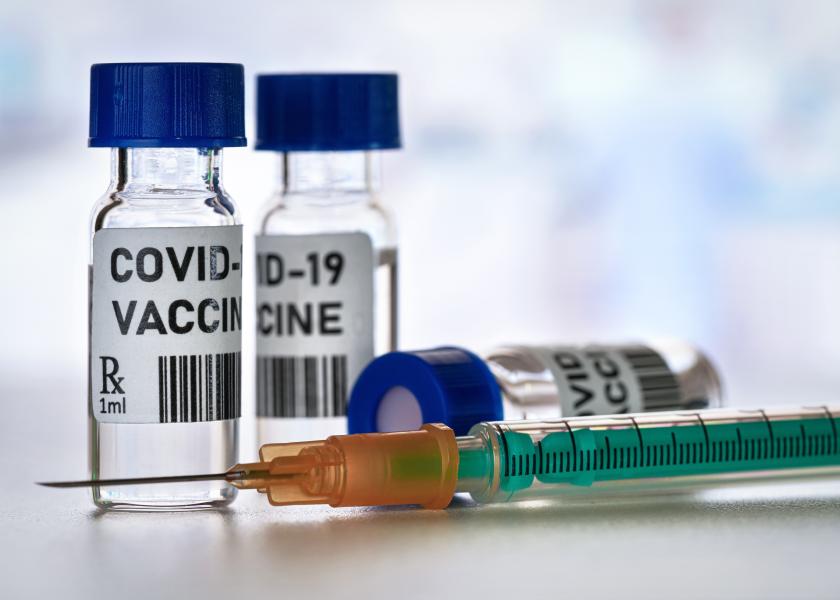 Nearly nine months following the authorization of the first emergency use of a COVID-19 vaccine, the U.S. Food and Drug Administration (FDA) has granted a seal of approval for the Pfizer-BioNTech vaccine, Comirnaty.
In an AgriTalk interview on Tuesday with host Chip Flory, Dr. Bechara Choucair, White House vaccination coordinator, discussed the FDA's approval of Pfizer's vaccine.
"We know there are a lot of people who are still undecided about the vaccine. And there are many reasons why some of these folks are undecided about the vaccine. But for the subset of these folks, and according to the Kaiser Family foundation, up to three out 10 of these folks are waiting to get the full approval of the FDA before they get vaccinated," Choucair says. "If you've been waiting for this approval before you get the vaccine, now is the time go ahead and get vaccinated."
Many have questioned whether the FDA would push approval for the Pfizer vaccine because so many people have already received the jab. Choucair explains the FDA's acceptance of the vaccine wasn't a political move. The decision was based on fact and scientific data.
"The FDA has gone through a very complex process to ensure the safety, the effectiveness, and the quality production of this vaccine. They have reviewed literally hundreds of thousands of pages worth of preclinical data, clinical data, and information. They're reviewed details of the manufacturing process," Choucair says. "They've gone through inspections at the sites in which the vaccine is made. We know the FDA has worked around the clock and has said that this was one of their top priorities. And we know the FDA is the gold stand for safety in the world. So I think people should absolutely be confident in that this vaccine has met its high standards, is safe, and is effective."
With Pfizer leading the FDA approval charge, it begs the question if or when Moderna and Johnson & Johnson will follow suit.
"We know from Moderna and Johnson & Johnson, both companies are still gathering final data and submitting their application materials. And the FDA has already said the COVID-19 vaccines are among their top priority," Choucair told Flory. "Currently in the United States, we have three vaccines that are very safe and very effective. They're effective at preventing you from getting the infection, but they are particularly effective in preventing you from getting more severe consequences after injection – like hospitalizations and deaths."
Given that schools are reopening across the country with in-person classes, COVID-19 is likely to spike. However, Choucair says there is a spark of hope in the ongoing full approval of the Pfizer vaccine for teens and preteens.
"The vaccine has received full approval for 16 years old and older. Now, keep in mind that 12- to 15-year-olds will continue to receive the vaccine. Pfizer remains authorized for emergency use, and it is safe and effective, as we've heard from both the CDC and the FDA," he says. "At this time, Pfizer has requested the full approval for the use of the vaccine and on individuals 16 and older. In July, Pfizer did say it would pursue separate approval for the 12-to-15-year age group once that additional six-month data comes out."
Choucair told Flory the data attests to the effectiveness of the vaccine and the Pfizer option is working as anticipated.
"If you look at the overwhelming majority of hospitalizations related to COVID-19 in this country today, they are amongst those who are unvaccinated. You look at the overwhelming majority of people who are dying from COVID-19 today, they are by far unvaccinated. So the vaccines work. They're effective; they're safe. If you are still thinking about getting vaccinated, now is the time to roll up your sleeves and get that shot."
An uptick in vaccinations seems likely with the FDA approving the Pfizer vaccine. However, it's difficult to put into perspective how many Americans are vaccinated or unvaccinated. In his final thoughts, Choucair discussed the number of shots administered each day, as well as weekly averages.
"This is our path to getting this pandemic behind us. It all starts with more and more people getting vaccinated. And the fact remains that we're seeing more and more people getting vaccinated every single day. We've averaged 800,000 doses per day over the last week or so. We have more than 470,000 people every single day, rolling-up their sleeves and getting that very first shot," Choucair says. "We know people are realizing that this pandemic is not over. People are realizing this delta variant is much more contagious and they're realizing there are more people in hospitals, more people dying, and we want to make sure they're protecting themselves, and their communities."
Listen to Chip Flory's full interview with Dr. Bechara Choucair, White House vaccination coordinator, here.