Farm Journal's #FarmON Concert To Benefit National FFA Foundation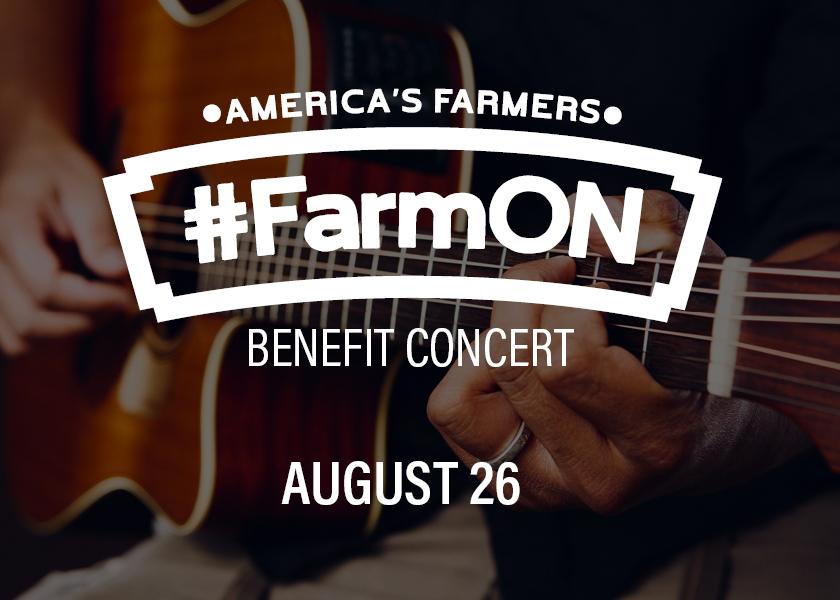 Farm Journal has announced that a #FarmONTM Benefit Concert will be presented in partnership with the National FFA Foundation on Thursday, August 26, at Frahm Farmland in Colby, KS. Country music artists will perform during the event as the grand finale of the Great American Farm ShowTM, which includes Pro Farmer Crop Tour and Farm Journal Field DaysTM.
"Farm Journal's #FarmON social media movement continues to be a great way for farmers and ranchers to connect and inspire each other," said Charlene Finck, president of Farm Journal. "This concert is not only a thank you to everyone who makes agriculture one of America's greatest industries, but also provides a direct channel for people to show their support and donate to FFA, which is right in line with #FarmON's message of optimism and looking toward the future."
Highlights of the concert will also be broadcast across the country to an expansive digital audience, and performers will be announced in upcoming weeks.
"The National FFA Foundation is excited and honored to partner with Farm Journal on this event that not only celebrates agriculture, but also strengthens the future of the industry by supporting FFA," said Molly Ball, president and chief marketing officer, National FFA Foundation and National FFA Organization. "We hope FFA members, alumni and supporters and all of our FFA family and friends will take part in this great event." 
The Great American Farm Show kicks off with the 2021 Pro Farmer Crop Tour August 16-20, with crop scouts walking fields from Ohio to South Dakota to collect valuable yield-predicting data for the 2021 corn and soybean crops. Farm Journal Field Days takes center stage August 23-27, with live on-farm events in Dekalb, IL, Belzoni, MS, and Colby, KS, as well as free online programming throughout the week. The #FarmON Benefit Concert will be a highlight of the final event in Colby, KS.
For more information about the #FarmON Benefit Concert, go to www.farmjournalfielddays.com.