Farm Journal Announces Easton Corbin to Headline #FarmON Benefit Concert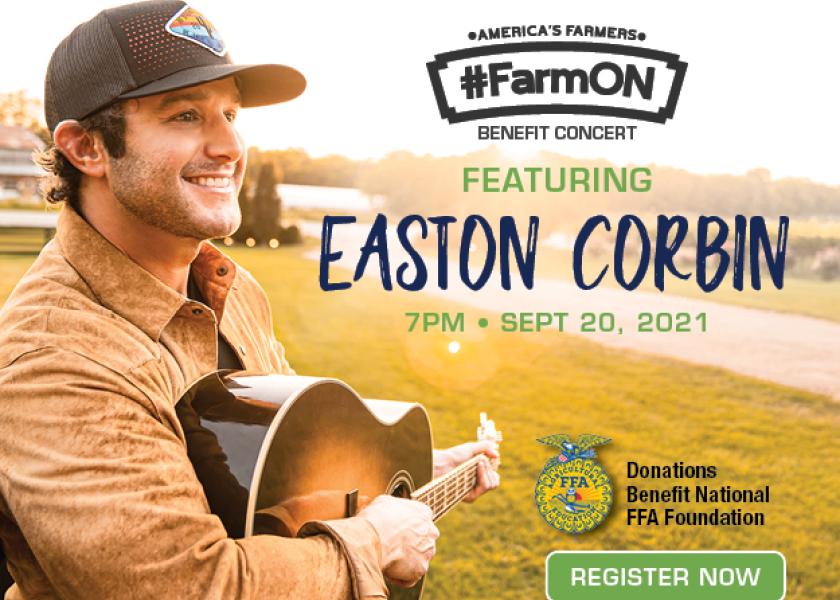 Farm Journal announced that country music star Easton Corbin will headline the live 2021 #FarmON Benefit Concert during Farm Journal Field Days. Proceeds from this second annual benefit concert will go to the National FFA Foundation. Highlights from the concert will air in prime time on Monday, Sept. 20, 2021, from 7 to 8 p.m. CDT, on RFD-TV and stream on other online and social networks.
 
Corbin was honored as Billboard's 2010 Top New Country Artist and has captured his place at the top of the charts with songs like "Turn Up," "A Little More Country Than That" and "Roll With It." He blends traditional instrumentation with modern-day production alongside vivid storytelling for a sound that is uniquely his. He's a three-time American Country Music Award winner and has three Billboard Top Country Albums.
 
"We are excited to bring another #FarmON Benefit Concert to everyone in agriculture and to work directly with the National FFA Foundation to support the work they do to develop our agricultural youth," said Charlene Finck, president of Farm Journal. "This concert not only serves as the grand finale event of our Great American Farm ShowTM experience but also as a thank you to farmers, ranchers and everyone who keeps our food system moving forward."
 
A partnership with RFD-TV allows for the concert to air in prime time in 52 million homes. RFD-TV is a leading independent channel available on a broad network of satellite and cable systems and can also be streamed online.
 
The #FarmON movement is fueled by the engagement of farmers and ranchers everywhere and will be a prominent part of the Great American Farm Show, which includes the 29th annual Pro Farmer Crop Tour and Farm Journal Field Days.
 
For more information about the #FarmON Benefit Concert and Farm Journal Field Days, go to farmjournalfielddays.com.