Danelle Bickett-Weddle: Perspective Is Invaluable To Progress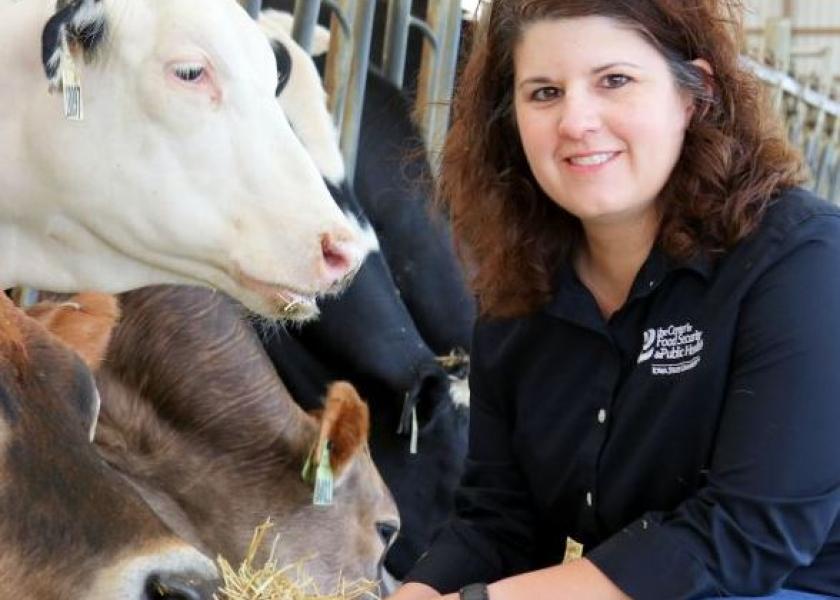 Earlier this week, I had the privilege of interviewing Danelle Bickett-Weddle, DVM, MPH, PhD, DACVPM, for an article on disease and risk management on the farm that I'm developing for our July/August issue of Bovine Veterinarian. She is the associate director for the Center for Food Security and Public Health at the Iowa State University College of Veterinary Medicine. Bickett-Weddle shared more information than what an 800-word article in a magazine can accommodate, and I wanted to share more of her thoughts with you. I believe you'll find them helpful. Here are some of the highlights.
Q. What have you learned during the past few months, or have more perspective on, as a result of what agriculture has experienced with SARS-CoV-2?
A. I think COVID-19 brought to light America's reliance on our livestock producers and food processors. It brought to light that less than 2% of the population is feeding us. We've identified where some of our vulnerabilities are. Because, while the cows are uber important, in this case the workforce was affected. That's been very different from other issues we've dealt with in the past that have affected the animals. COVID-19 has also highlighted the importance of essential workers in agriculture—veterinarians, their staff, livestock producers, their workers and others responsible for putting food on Americans' tables.
Q. What do you anticipate veterinarians and livestock producers will do as we come out of this pandemic?
A. I think we'll see our veterinarians and producers working together even more closely to make farms more resilient. I think we'll see people putting more time and effort into having contingency plans, once they can think clearly and aren't under so much immediate pressure to make decisions. Any good businessperson will tell you the ability to be flexible and pivot to that next opportunity is important for survivability. We might have been really comfortable with our plan A, but when plan A fails we need to be able to go to plan B. So, making sure you have those plans in place is important.
Along with that, I think we'll see producers looking at and updating their standard operating procedures; or, if they don't have them, they'll develop them. The veterinarian can and should be a part of that. We'll see more cross-training—making sure more than one person on the farm knows how to feed the calves or ride a pen in the feed yard, looking for sick steers. Cows have to be fed and milked every day, so we're heavily reliant on that workforce. This is making us look more closely at the human side of how we do business—how we continue to protect those resources that are so vital to making sure that we have milk at the grocery store and meat on our table.
Q. What if you're a young veterinarian or you've not been faced with addressing risk management, and you don't feel equipped to address it? How do you start?
A. I think whether you're new or you've been at it for 20 years, ask the producer, 'What are you most concerned about? What are your biggest challenges? What keeps you up at night?' Often, the answers evolve over time and they may surprise you. This is called "risk perception" and is the first part of risk analysis. Sometimes the concern is a seasonal issue. Sometimes it's a business decision. But I think whether you've been at this six months or 20 years, there's a need to have that continual conversation with the producer to find out what's going on from their perspective.
Veterinarians are skilled in the art and science of implementing best practices. A cookie cutter approach to preventing or managing a livestock disease is not highly successful, because what works for one farm may not work for another. Veterinarians understand the farm, the facilities, the kind of feedstuffs used and the producers' perception of risk and tolerance for risk—along with who might be open to trying new things versus those who aren't. Depending on what producers reveal, veterinarians can go in a number of different directions to address their concerns and provide resources. But first, you have to uncover the producer's primary concerns.
Q. Are there any silver linings with what agriculture has experienced the past few months?
A. It's the realization of the importance of animal agriculture. I think it's pointed out to the majority of people (outside agriculture) that food production is important. And our ag industry is important—that we're an essential business.  And by and large, we're still here. We're still producing high-quality milk and high-quality meat. Consumers still want those products. So, I think there are a lot of silver linings. It's just that we have to cut through the fog at times to be able to see them.