You're Invited to the 2021 Farm Journal Field Days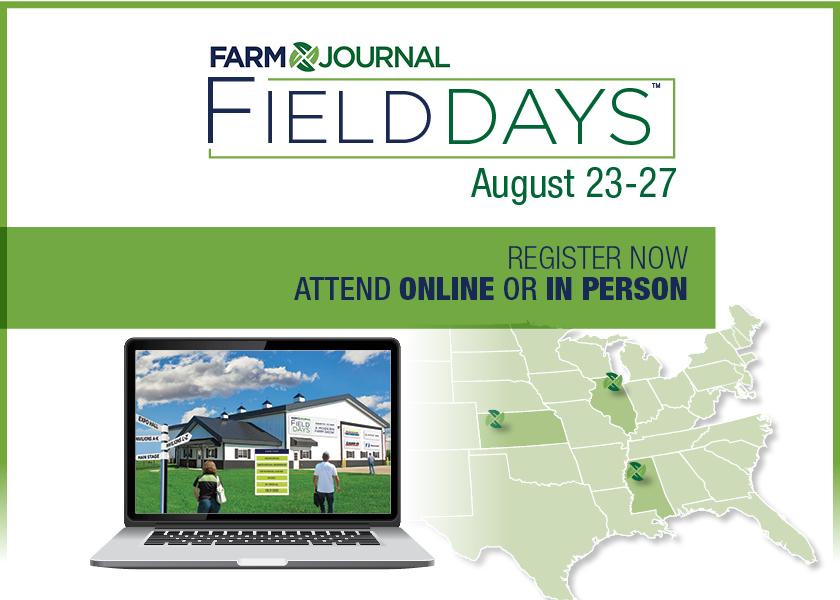 This spring marked the start of the 145th year of Farm Journal magazine. Pennsylvania Quaker Wilmer Atkinson published his first journal in March of 1877. While times have changed in nearly a century and a half, his mission of providing real value has not. 
Farm Journal has always supported our nation's farm leaders and we understand the importance of farm community events. As such, I want to personally invite you to the 2021 Farm Journal Field Days. 
From Aug. 23-27, you have the opportunity to engage in online and in-person programming. Here's an overview of the fun ahead:
Aug. 23-27: Online Event
August 23: In-Person Field Day at Whiskey Acres in DeKalb, Ill. 
Aug. 25: In-Person Field Day at Silent Shade Planting Company in Belzoni, Miss.
Aug. 26-27: In-Person Field Day at Frahm Farmland in Colby, Kan.

Why Should You Attend?
Powerful and Insightful Speakers: Hear from leading experts such as Ken Ferrie, Missy Bauer, Greg Peterson, Chip Flory, your farmer peers and more! 
Interactive Farm Tours: Take a behind-the-scenes look at our three host farms. Aren't you ready to network with fellow farmers and learn from your peers?
Easily Accessible: Since part of the programming is online, you are not limited by geography or time restraints. This type of programming is more convenient in every way. 
On-Demand Learning: Even though the virtual event spans several days, you can learn at your own pace. Log on at certain times to hear your favorite speakers, and then revisit other topics when you have the time. 
Direct Access to Exhibitors: Visit virtual booths, ask questions and learn about their latest offerings. 
Thank you for your loyal support of Farm Journal, which continues to inspire us to make this proud and trusted publication even better. I look forward to seeing you on Aug. 23.