Why Should You Attend the 2021 Farm Journal Field Days?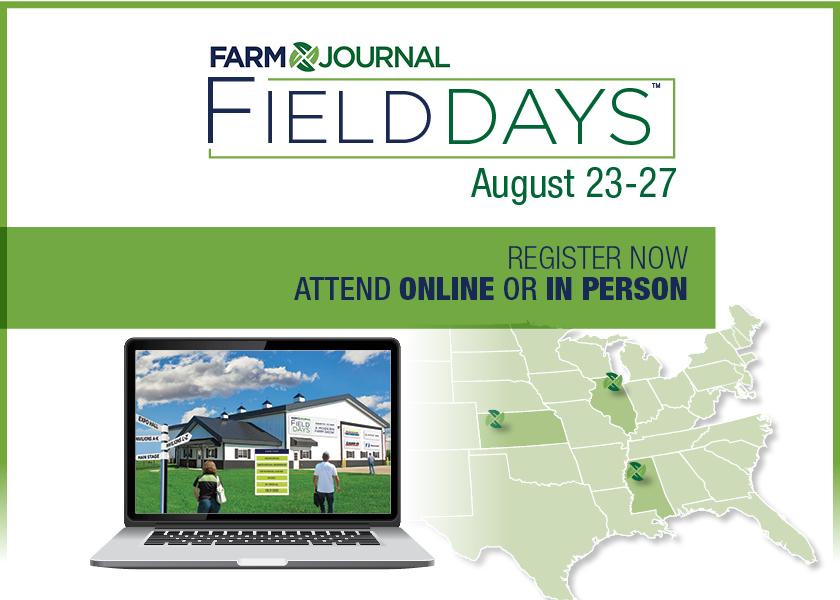 Farm Journal Field Days is a combination of virtual and live programming to take place Aug. 23–27. Here's an overview of the fun ahead:
Online Event: Aug. 23-27
Aug. 23: In-Person Field Day hosted by Whiskey Acres in DeKalb, Ill.
Aug. 25: In-Person Field Day hosted by Silent Shade Planting Company in Belzoni, Miss.
Aug. 26-27: In-Person Field Day hosted by Frahm Farmland in Colby, Kan.
Why should farmers attend?
Powerful and Insightful Speakers: Hear from leading experts such machinery expert Greg Peterson, AgriTalk's Chip Flory, your farmer peers and more!
Interactive Farm Tours: Take a behind-the-scenes look at our three hosts farms. Aren't you ready to network with fellow farmers and learn from your peers?
Easily Accessible: Since part of the programming is online, you are not limited by geography or time restraints. This type of programming is more convenient in every way.
On-Demand Learning: Even though the virtual event spans several days, you can learn at your own pace. Log on at certain times to hear your favorite speakers, and then you can revisit other topics when you have the time. 
Learn As a Team: Normally, only one or two folks from your family or farm can attend in-person events. With Farm Journal Field Days, you can all learn together! Make the lunch hour a watch party, and then discuss what you learn. 
Direct Access to Exhibitors: Visit virtual booths, ask questions and learn about their latest offerings.