See the Agenda for the Aug. 23 Illinois Farm Journal Field Day Event
WHISKEY ACRES _From Seed to Spirit_ - Full Rez
It's almost time for the 2021 Farm Journal Field Day events! First up is Whiskey Acres, a seed-to-spirit operation and the nation's only certified on-farm craft distillery. Join us in DeKalb, Ill., on Aug. 23 for a behind-the-scenes look at this innovative and just plain cool operation.
The day will be filled with education, networking and tours of Whiskey Acres. You can register on site.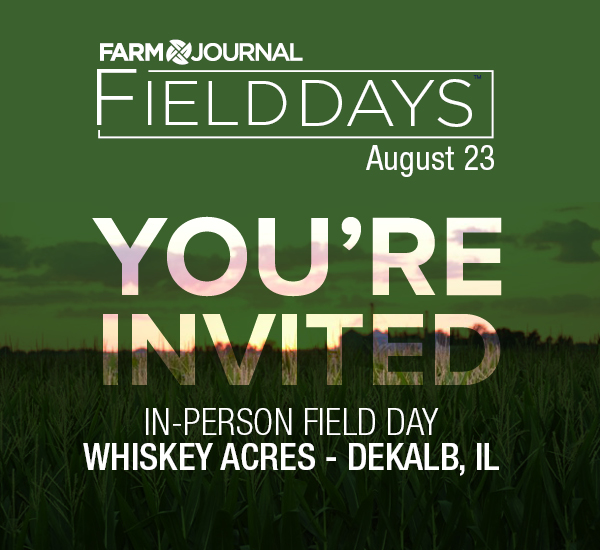 "We're a commercial grain operation, raising corn and soybeans," says Jamie Walter, president and CEO of Whiskey Acres Distilling Co. "But we added a value-added business to our operation, making whiskey. We have a big visitor center here, and we refer to ourselves as an estate distillery. You'll see our fields, our distillery production, our visitor's center and our aging rick houses. We do it all right here on the farm."
Here's the agenda for the day:
10:00 - 10:15 a.m.: Welcome & Host Introductions
10:15 - 11:00 a.m.: Weather Outlook with Eric Snodgrass, Nutrien Ag Solutions
11:00 - 12:00 p.m.: Grain Marketing Roundtable featuring:
Fred Dietz, Advance Trading 
Ed Dugan, StoneX
Matt Bennett, AgMarket.net
12:00 - 1:00 p.m.: Lunch
1:00- 1:30 p.m.: Networking Break
1:30 - 3:10 pm Farm Tours of:
Production Floor 
Farm Fields 
Aging Buildings
3:15 - 5:00 p.m.: Networking in the Whiskey Garden
Read more about Whiskey Acres: Proof Positive: Grain Farmers Distill Crops into Premium Spirits for Retail
Register to secure your spot at Farm Journal Field Days in DeKalb. The in-person registration cost of $49 includes online event access.
Other Farm Journal Field Days in-person locations include:
Aug. 25 in Belzoni, Miss., hosted by Silent Shade Planting Company
Aug. 26-27 in Colby, Kan., hosted by Frahm Farmland