Pull Out All the Stops for Cow Care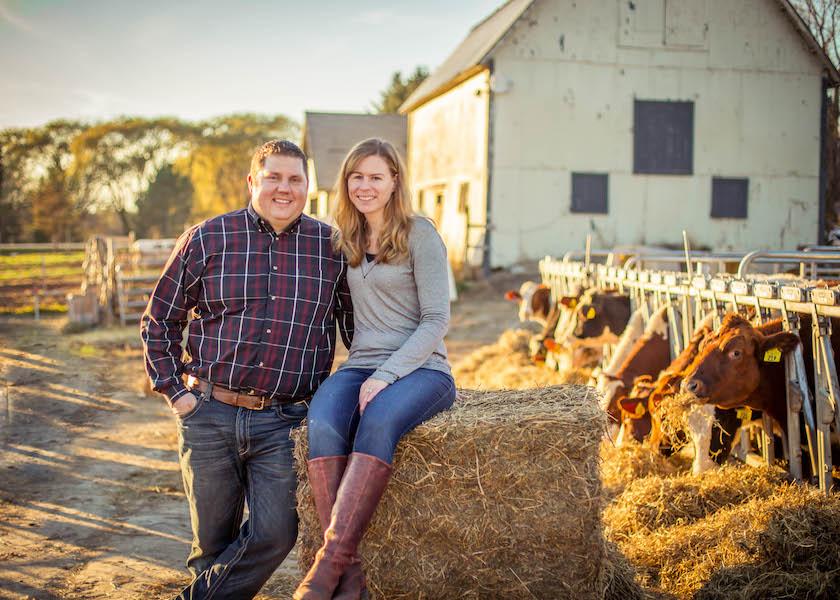 When Andy and Sarah Lenkaitis began farming in partnership with his parents in 2014, they knew they would need to make a few updates to their facilities in the future. In 2016, they made the decision to upgrade from a 37-stall tiestall operation to a high-tech, 110-cow freestall facility. Before they broke ground, however, they had three priorities in mind:
> Take care of the cows
> Take care of the people
> Keep the farm around for generations to come
Today, that's exactly what Lenkaitis Holsteins in St. Charles, Ill., has accomplished.
"When we broke ground on our new facility, we wanted to address our labor situation but also improve overall cow comfort," Andy says. "A big part of how we designed the barn was to make sure one person could do everything easily and safely."
In order to make the new facility user friendly, the family decided to embrace technology. Andy, who is a full-time herd management specialist with the automated milking group at GEA Farm Technologies, knew just what type of technology it would take to build the facility of their dreams.
"I had to make sure Sarah really liked me before we started this project," he jokes, "But because of my job, I've had the opportunity to look at a lot of different layouts for a lot of different barns and talk to people about what they did and didn't like about them. That really helped us make some of our important design decisions."
While Andy had a pretty good idea of what he wanted for their system, Sarah says they worked together as a team to make it become a reality.
"He'd come to me with ideas he had seen at other farms and say, 'Do we want to do this or do we want to do that?' Then he would explain to me how those different scenarios would work," she says. "I really appreciated his experience and perspective."
With only one full-time employee, Sarah has to be able to do a lot of the work on the farm by herself since Andy travels quite a bit for work.
"He really thought through what it would take to make a clean, safe, ergonomic environment for the people," she says.
When it came time for the pair to figure out the cow comfort necessities, Andy and Sarah pulled out all the stops.
"When we were going over what we could and couldn't afford, there was a lot of discussion between us," Andy says. "You can put whatever you want on paper, but at the end of the day if you want to make something work, you'll figure out a way to get there. You have to keep an eye on what you can cut from the project and what items will bring in a return on investment. Those are the variables that will make things a go or a no-go."
At Lenkaitis Holsteins, the list of cow comfort amenities goes on and on. From robotic milkers to temperature-controlled buildings, the 85 cows at Lenkaitis couldn't pick a better place to live.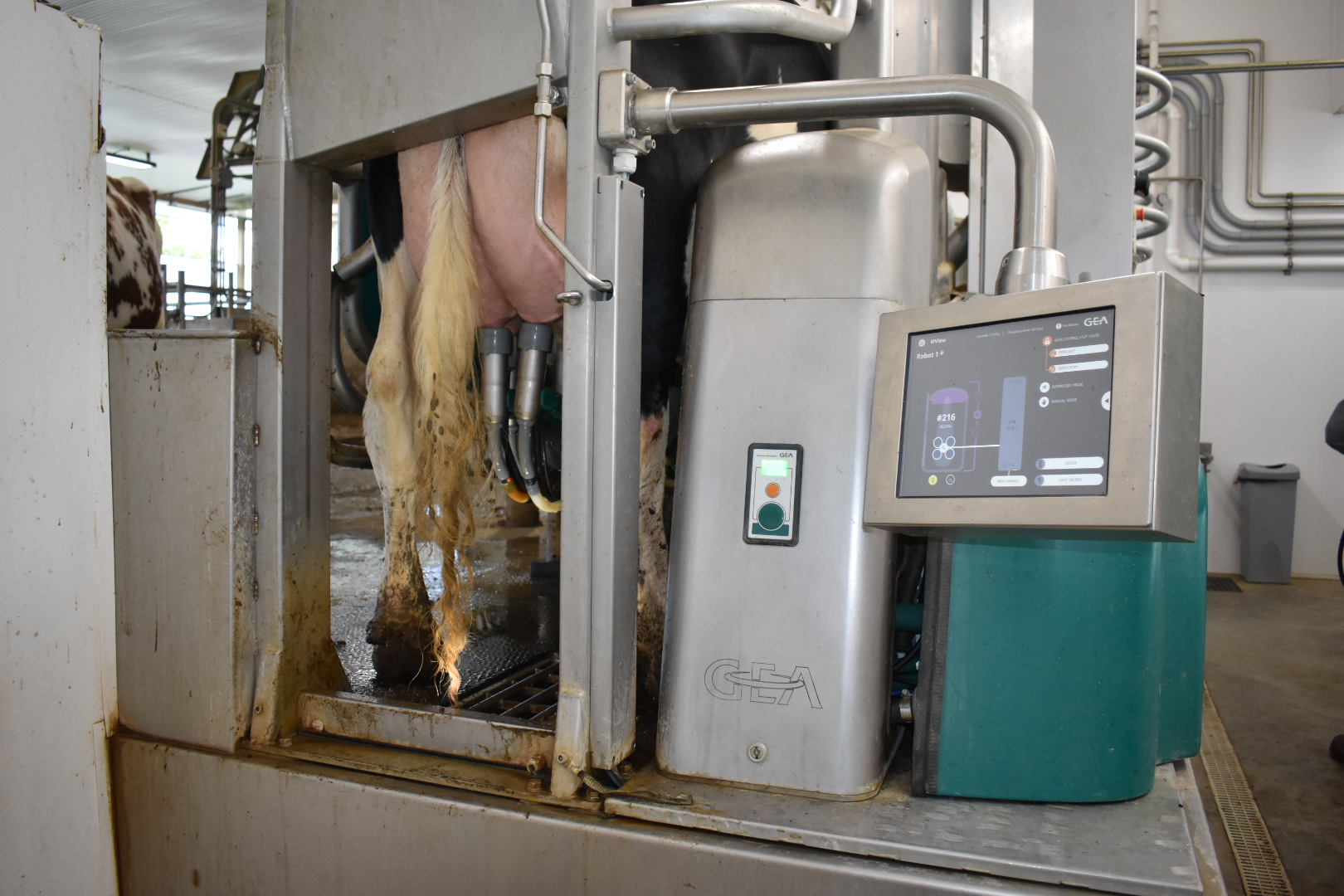 Robotic Milkers
"We transitioned from milking in a 37-stall tiestall barn to utilizing two robotic milkers," Sarah says. "We skipped right over milking in a parlor and allowed the cows to decide when they need to be milked and maximized the amount of data we receive regarding every cow and every milking."
Cow Software
With the pivot to not seeing every cow twice a day at milking time, it can be hard to visually observe when a cow might not be feeling her best. As a result, the Lenkaitises made the decision to incorporate activity collar herd management software on their operation. The animals wear the 
collars to be identified by the robots but also to let Andy and Sarah know when they're feeling a little off.
"I think we do a much better job at taking care of our cows because of all the data we collect each day," Sarah says. "Now we're able to see a clearer picture of the overall health for our herd while also being able to pinpoint individual cows who might need a little more of our attention."
Sort Gates
Another unique piece of technology the Lenkaitises wanted to incorporate was the use of a sort gate. This system works in conjunction with the activity collars and allows them to sort animals on the fly.
"If I see we've got a few cows in heat in the morning, I can simply use my phone to sort them to our hospital pen. Then, when I come out a few hours later, those cows are in the pen ready for me to breed them," Andy says. "It helps you manage your tasks day-to-day, and it keeps the cows flowing through the barn with very little stress."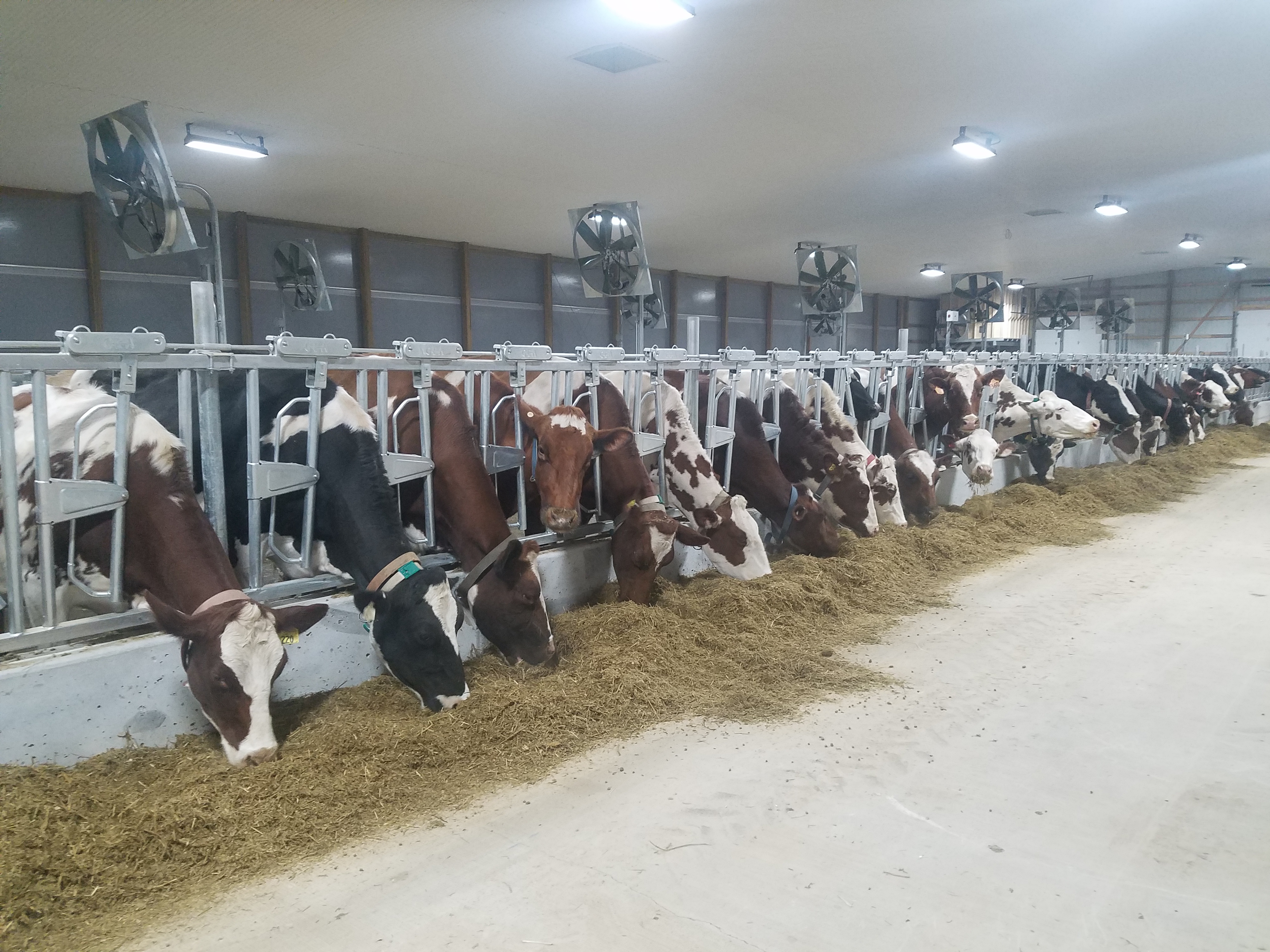 Temperature Control
Temperature and ventilation are of upmost importance in the barn, so the Lenkaitises put their temperature control and lighting on auto pilot. Two sensors in the facility control the lights, fans and curtains to help maintain a comfortable environment for the cows.
"When we talked through the design, we knew we wanted to bring the best parts about the outside inside," Andy says. "When we were in the tiestall barn, we let our animals outside, but only got to use the pasture for about 90 days a year. Now, we're able to control the temperatures and ventilation inside the barn 365 days a year."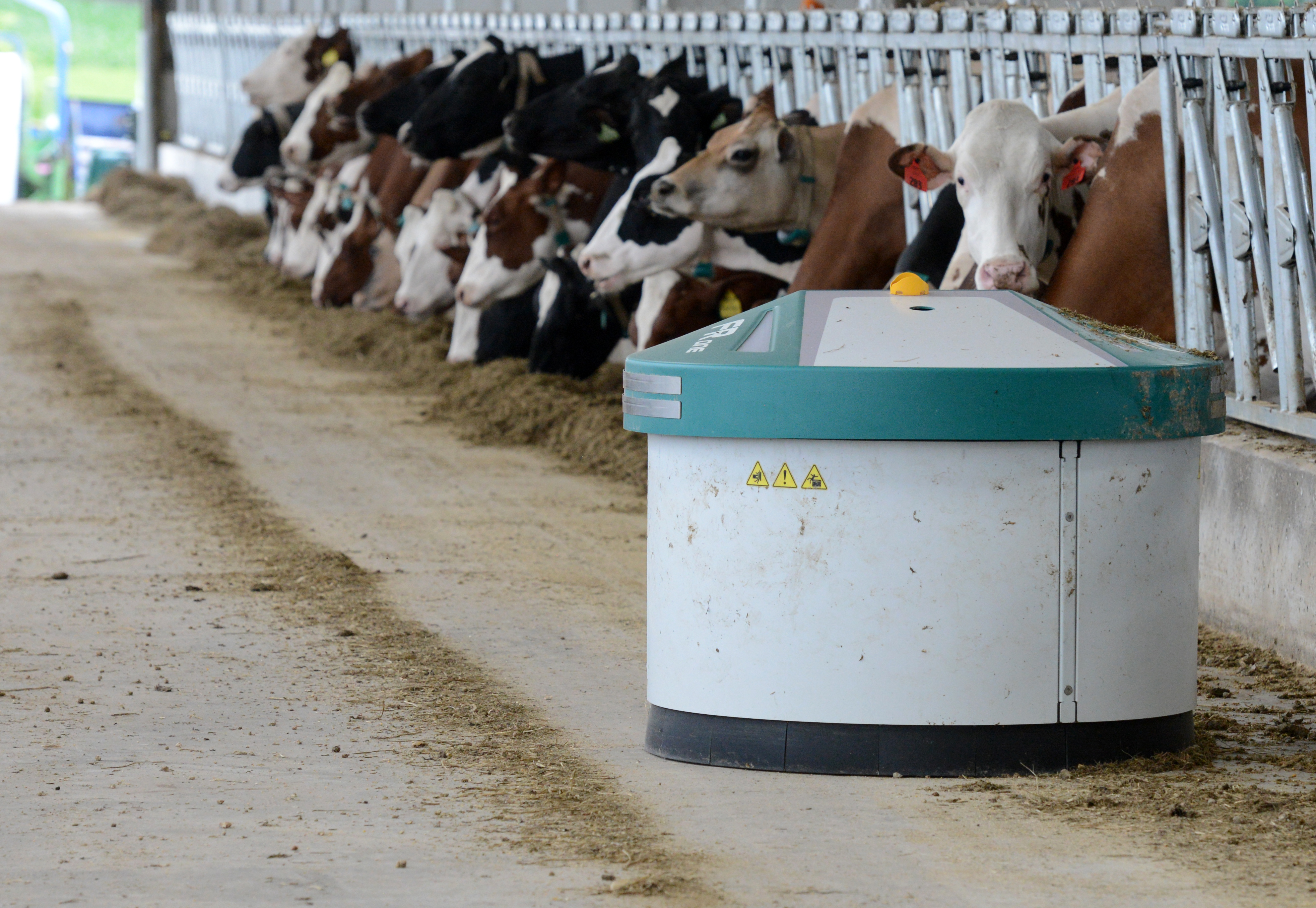 Robotic Feed Pusher
In order to have high-producing cows, you have to keep them well fed. By using an automated feed pusher, the Lenkaitises are able to keep feed in front of their cows at all times. Throughout the day, the robot will periodically make its way down the feedbunk to keep the feed within reach of the animals.
Cow Brushes
Just like humans, cows enjoy a good back scratch every now and then. The rotating cow brushes used at Lenkaitis Holsteins not only helps to keep the cows feeling good, but they also improve cow cleanliness.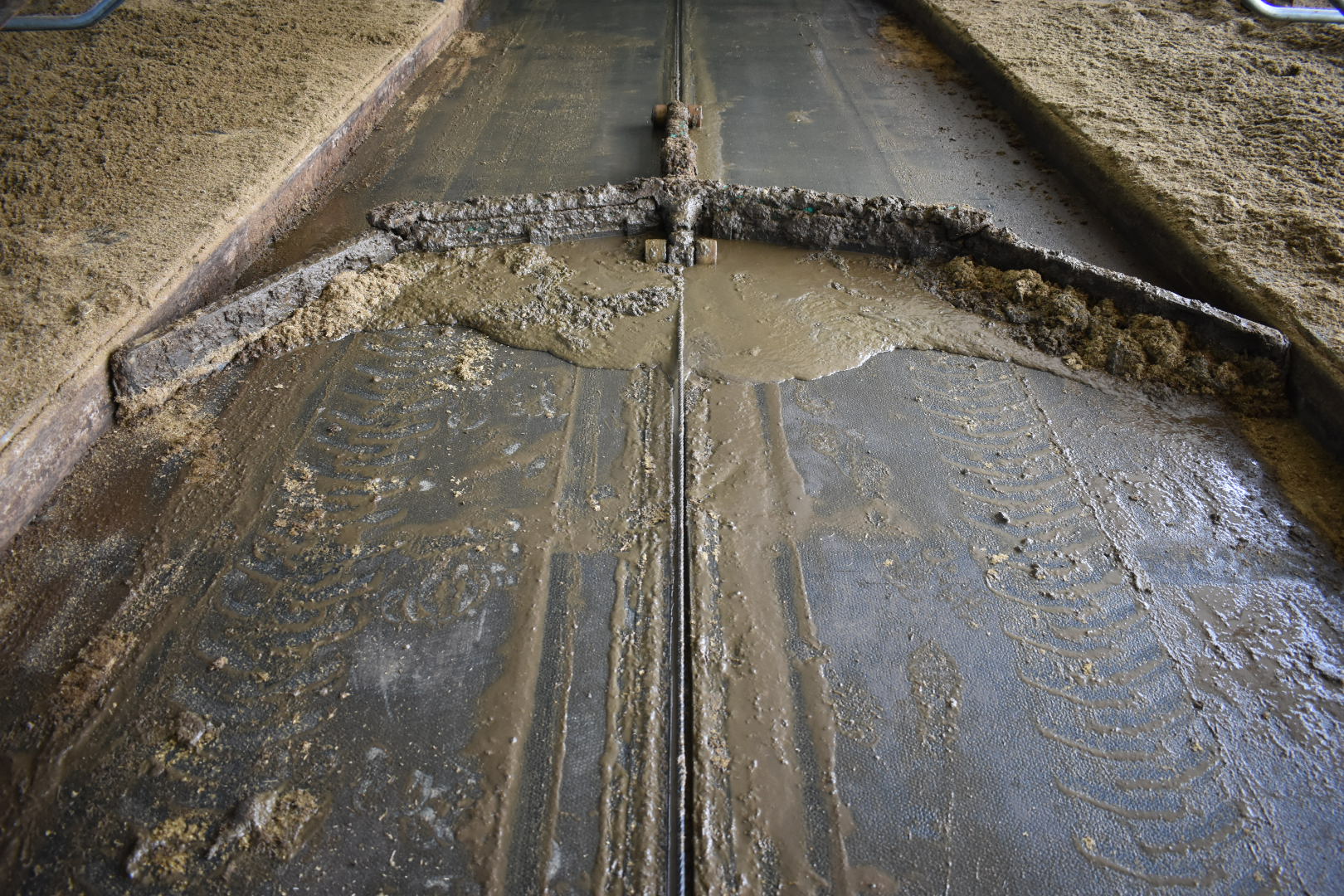 Manure Management
Having to constantly scrape away manure can be one of the "crappiest" jobs on the farm. However, Andy and Sarah were able to turn this dirty chore into a mess free task with minimal disruption to the cows.
"We use a cable alley scraper to help keep the walkways clean for the cows," Sarah says. "The cable alley scrapper pulls the manure to the end of the barn where it is collected in a small reception pit before it pumped to our manure separator. The manure separator has a set of two rollers that separate the liquid from the fiber portion. The liquid gravity flows into a manure pit underneath the barn, and the fiber portion is used as bedding for the cows.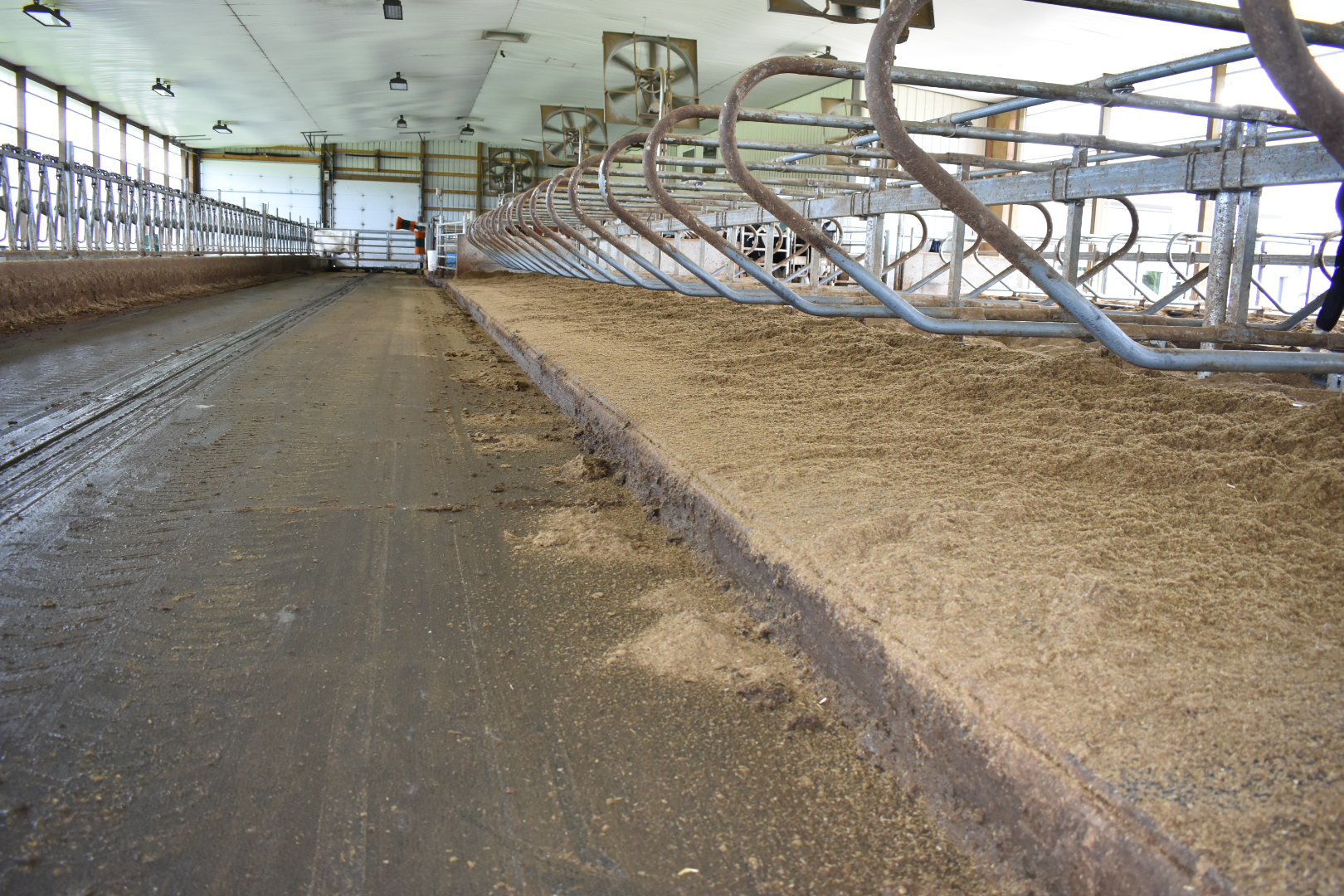 Mattresses
Because of the farm's unique manure system, the facility is not able to use sand bedding in the freestalls. However, that doesn't mean the Lenkaitises had to sacrifice cow comfort.
"We use mattresses in the stalls to help provide some cushion for the cows," Andy says. "On top of that, we add a layer of recycled manure solids to help keep the cows clean and provide a second layer of cushion."
Rubber Flooring
Instead of using the traditional grooved concrete flooring used on most dairies, Andy and Sarah made the decision to go with rubber floors for cow comfort.
"We put in rubber flooring so the cows never actually have to stand on concrete," Sarah says. "We wanted to do that because we have some bigger and older cows who we want to take care of. We've got cows who are 10 to 12 years old standing in our barn, so we want to make sure we help them keep their mobility throughout their life. I think investing in the rubber alleyways was the right move from that perspective."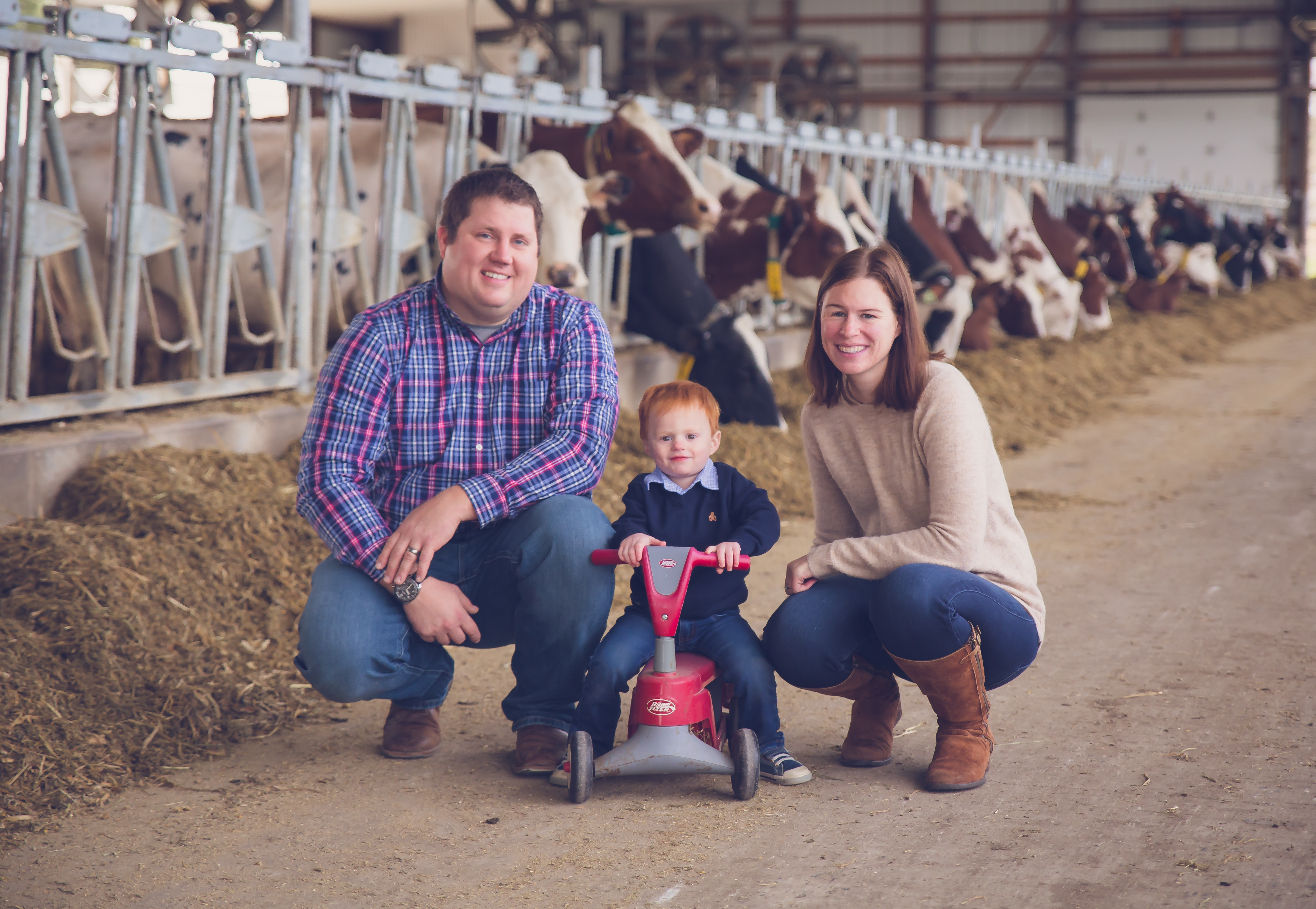 Happy Cows, Happy People
The facilities at Lenkaitis Holsteins have certainly come a long way from their beginning in 1983, but so has the herd's genetics. Not only have Andy and Sarah built a showcase, cow-comfort-centered operation, but they have worked to acquire and breed elite Red and White Holstein genetics.
"Andy and I are continuing his parents' tradition of milking Registered Red and White Holsteins. As we've grown our herd the past six years, we've invested in Red and White Holstein genetics and cow families," Sarah says. "For us, that means making sure we are able to care for those cows individually while also caring for the entire herd at the same time. Giving our girls a comfortable place to live keeps them happy, which keeps us happy."
The three priorities Andy and Sarah set out to accomplish when they began their renovation remain the same – take care of the cows, take care of the people and keep the farm around for generations to come.
"At the end of the day, we want a comfortable place for the cows to work," Andy says. "And if we can make it a comfortable place for the people to work, too, then it's equally beneficial. Hopefully that can continue into the next generation."