More Wheat Use Likely In Feed Rations This Fall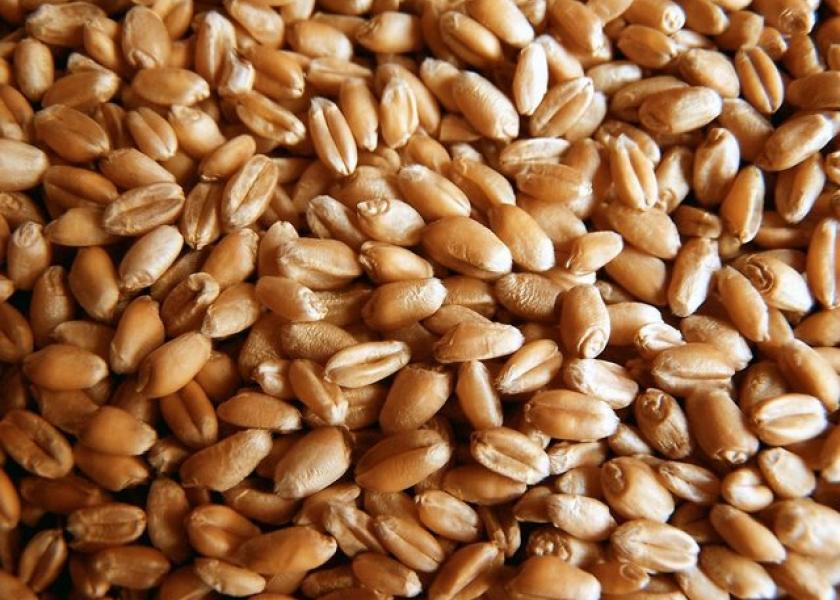 With the marketplace signaling higher prices for corn this fall, many beef producers will likely look at whether to use more wheat in their feed rations. As veterinarians work with producers to evaluate using more wheat, here are some of the  factors to consider.
Allow plenty of transition time
Wheat can work well in cattle diets with some limitations, says Warren Rusche, South Dakota State University beef feedlot management associate.
Wheat is highly fermentable in the rumen and degrades 30% to 40% faster than corn. As a result, when wheat is fed at too high a level, it can result in bloat, acidosis, and digestive upsets which can then contribute to poor intake or erratic intake.
Those potential problems can be minimized by dry-rolling wheat into coarse pieces, which helps improve digestibility, says Justin Waggoner, Kansas State University Extension beef systems specialist. However, over-processing is to be avoided.
"You don't want to over-process wheat and turn it into flour," Waggoner cautions. "You want to just crack the grain."
Extensive processing increases the amount of fines or "flour" in the feedbunk, resulting in lower and more erratic feed consumption, and slower and less efficient gains (K-State Extension addresses this topic at https://bit.ly/3BM20CY).
In moderate to high-grain rations (50% or more concentrate) for backgrounding and finishing cattle, wheat should be fed in combination with more slowly fermented feed grains and limited to 40% of the total diet
to prevent or reduce the risk of digestive upsets, according to research at North Dakota State University (NDSU) Extension.
"What is important is to adapt cattle to wheat gradually so that you avoid overconsumption," according to the bulletin, Feeding Wheat to Beef Cattle (https://bit.ly/3i4Eycs).
It says to adapt cattle by introducing wheat into the ration at low levels (10% to 15% of the diet) and increasing the level in steps or increments up to 40% "after a period of several days of constant intake and appetite."
Plan on needing 20 to 30 days to completely transition fed cattle to diets with high wheat content.
In addition, NDSU research says ionophores should be used with wheat-based finishing diets to improve feed efficiency and reduce the risk of acidosis. Plus, buffers such as limestone and sodium bicarbonate may also be useful in alleviating or preventing digestive upsets.
Feeding cautions
For a cowherd, Waggoner says beef producers need to be sure the animals' protein requirements are being met if fed a wheat-based ration. Beef cow and stocker cattle supplements that are commonly used generally contain 20% to 40% protein, while wheat contains only up to 14% protein (dry matter basis).
NDSU recommends not using wheat in creep rations, as the rapid rate of starch fermentation increases the risk of digestive problems such as acidosis, founder and/or bloat. Likewise, wheat should not be fed in self-feeders.
Damaged wheat (sprouted, frosted, drought-stressed, vomitoxin-infested) can usually be fed, though laboratory analysis of the condition and quality of the grain is recommended.
South Dakota's Rusche says the FDA guidelines on vomitoxin levels in feedstuffs fed to beef cattle older than 4 months are 10 ppm, as long as the feedstuff does not exceed 50% of the diet.
"Be extremely cautious feeding wheat screenings," he writes in Feeding Damaged Wheat to Cattle (https://bit.ly/3l0ePDU).
He says the "cleaning process removes a large percentage of the smaller, scab-infested kernels resulting in increased concentration of mycotoxins in the screenings. The safest option is to not feed wheat screenings from scab-infested wheat at any level. At a minimum, screenings need to be lab tested prior to feeding."
Know the 3 "F's" of Your Nutrition Program