Have you Checked out the 2021 MILK Business Conference?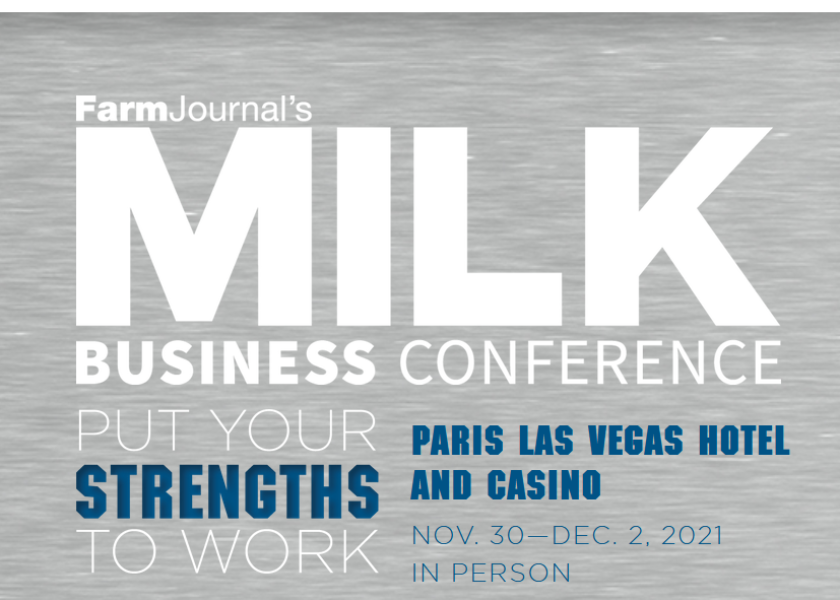 An incredible line-up of speakers and sessions is on store for food animal veterinarians, dairy producers and industry influencers at the 18th Annual MILK Business Conference in Las Vegas, Nov. 30 – Dec. 2.
Plus, you can use the code MILK50 to save $50 off the registration fee here:
"Putting Your Strengths to Work" is the theme of this year's conference. Learn more about the event and register at MilkBusinessConference.com.
Stick around after the conference
 
While you make plans to work, consider staying after the event to play – the National Rodeo Finals begins right when the conference concludes.
Here's a brief look at some of the sessions at the conference this year:
 
Five Mega Trends in 2022 and Beyond
Speaker: Aidan Connolly, Cainthus
Highlighting the megatrends to help producers increasingly recognize their future revenue may go beyond the traditional focus of just looking at the milk price.
 
How to Become the Employer of Choice
Speaker: Dr. Stan Moore, Michigan State University and California dairy producer, Roger Herrera of Ahlem Farms, who milks 4,000 cows talks about tackling labor on the farm in terms of attracting, retaining, and handling labor issues.
 
Turning Manure into Money
Speaker: Newtrient and American Biogas Council
Weighing out options and preparing dairy for future alternative profit centers, such as renewable energy. Review and evaluate the type of technology to consider, the economics, questions to ask energy and tech vendors and so much more.
 
A Candid Conversation About Mental Health
Speaker: Ted Mathews, the go-to counselor for farmers for decades shares his perspective on addressing mental health. Also, Wisconsin dairy farmer, Randy Roecker shares his mental health struggle – talking about the devastating impact it had on his dairy operation and to his family life - and how he managed to dig out of the trenches of it all.
 
How Will You Feed Your Cows in the Future?
Speaker: Dennis Hancock, Director of U.S. Dairy Forage Research Center, USDA.
Sharing how artificial intelligence will help play a role in how cows are fed in the future and more.
Walt Coleman, Longest serving Referee in NFL history shares his stories!
Coleman served as a line judge for the first six seasons before being promoted to referee at the start of the 1995 NFL season. Over his NFL career, he has worked two conference championship games (1998 and 2003). Coleman resides in Little Rock, Arkansas and is a fifth-generation family operator of Coleman Dairy.
 
Plus, Many More Sessions in the Line-Up, including the Beef on Dairy: The Traceability Story