Gene Editing: Experts Say it's Time to Remodel Regulatory Landscape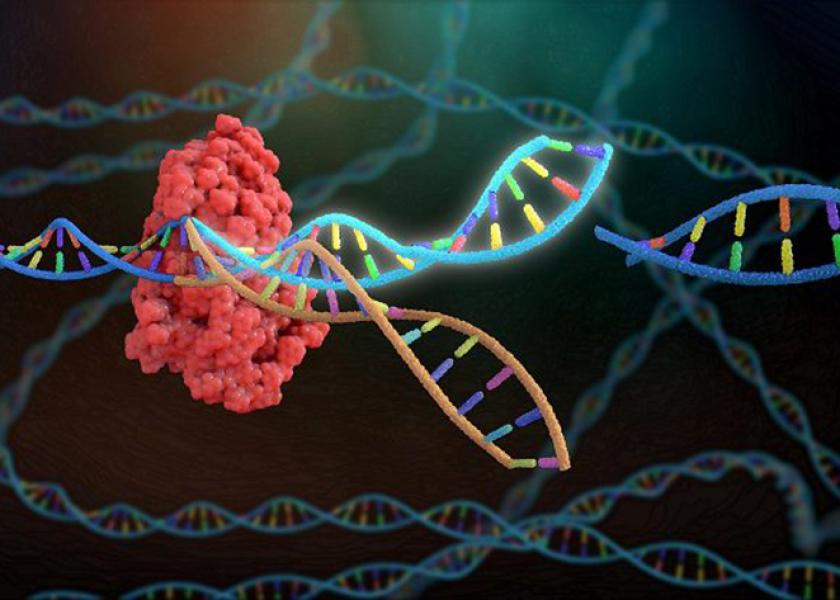 In order for gene editing in agricultural animals to "unleash enormous gains in productivity," a remodeling of the federal landscape is imperative, experts conclude.
The panel, convened by the American Association of Veterinary Medical Colleges (AAVMC) and the Association of Public and Land-grant Universities (APLU), has spent the past 18 months studying this issue and recently released the "AAVMC/APLU Gene Editing in Agriculture Task Force Report."
"Gene editing has the capacity to create transformational change in our food production systems," Noelle Cockett, president of Utah State University, a renowned geneticist, and chair of the task force said in a release. "But in order to realize those benefits in production and safety, we need a regulatory structure that has kept pace with technology." 
The report suggests current regulatory protocols have not kept up with technological change and must be modernized in order for society to realize the benefits of new scientific capabilities. Reform is needed to address the food security and sustainability needs of a global population expected to reach 10 billion people by 2050.
"For the promises of applying gene editing in livestock to be realized, federal regulatory approval and monitoring processes that are rooted in science and streamlined with the pace of development, as well as public acceptance of food derived from gene edited animals, are essential," authors said in the report.
If remodeling of the federal regulatory landscape doesn't happen soon, the U.S. will not be able to sustain its place as a global leader and innovator in the animal agriculture sector and keep up with the expanding global human population, the report said. 
Regulatory recommendations
Currently the Food and Drug Administration (FDA) regulates genetic work on food animals as an "animal drug" under protocols developed during the early phases of the Biotechnology Revolution. The USDA regulates these technologies with crops.
The report offers these recommendations:
1.    Update the existing FDA regulatory framework (currently based upon processes established for transgenic technologies that are out of step with state-of-the-art gene editing technologies) and develop a coordinated, streamlined, fact-based, and cost-effective assessment and approval process between the USDA and FDA to ensure safe food.
2.    Develop an evidence and logic-based decision-making protocol for gene editing applications that is regulated separately from transgenic-based GMOs which result from the integration of recombinant DNA.
3.    Develop streamlined assessment and approval processes that categorize gene editing applications based on: a) the type of genomic change being created, b) the method used for creating the genomic change, c) the impact on the welfare of the animal, and d) the potential for negative impact on the environment.
4.    Develop a regulatory channel for approval of gene-edited agricultural animals with genomic structures that could have arisen in nature as safe for human consumption.
Steps to Unlock the Potential 
The panel also outlined a series of steps that could help pave the way for fully reaping the potential benefits of gene editing technology:
•    Establish a national coalition of scientific experts, bioethicists and engagement specialists from APLU and AAVMC member institutions to serve as a sounding board and think-tank related to the modernization of the existing federal regulatory framework.
•    Engage with federal legislators, staffers, and the White House Office of Science and Technology Policy (OSTP) and inform them on key issues related to regulatory approval and monitoring processes for gene editing applications in livestock.
•    Distribute the task force report to stakeholder organizations and agencies like U.S. Land-grant universities, the FDA, the USDA, the Food and Agricultural Organization (FAO) of the United Nations, the Gates Foundation and others.
•    Establish a University Research Consortium of scientific experts developing gene editing applications in livestock that will facilitate collaborative research and educational initiatives.
"Our task force has thoughtfully and carefully considered many different aspects of this issue, including perspectives from the scientific and agricultural communities, and we have made our recommendations. We hope this work will meaningfully inform the work of government officials as they develop the best public policy in this area," Cockett said in a release.
Task Force members include Cockett; Jon Oatley, Washington State University; Bhanu Telugu, Universities of Missouri and Maryland; Londa Nwadike, Kansas State University and University of Missouri; Jonathan Beever, University of Tennessee; Rex Dunham, Auburn University; and James Murray, University of California, Davis; Kathy Simmons, National Cattlemen's Beef Association; and Clint Nesbitt, Biotechnology Innovation Organization (BIO). The task force was staffed by AAVMC Director for Governmental Affairs Mr. Kevin Cain.
Read the full report.
Read more:
FDA Stalls U.S. Gene-Edited Livestock Efforts
USDA Oversight of Gene-Edited Livestock: A Seismic Shift for Agriculture
Gene Editing Promise Stalled at FDA
Virus-Resistant Pigs Provide Answers to Global Threats
Ag Needs White House Support on Gene-Edited Livestock Oversight
.