Choose Your Farm Journal Field Days Experience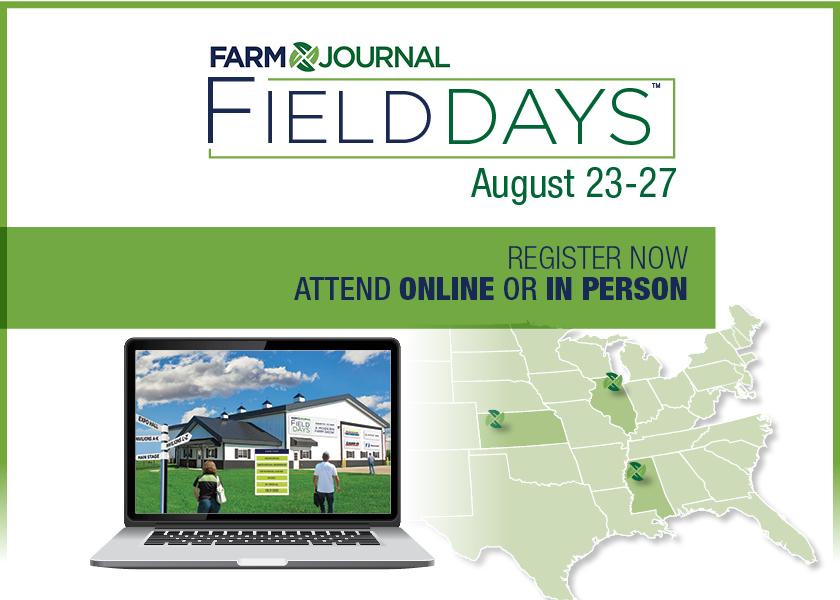 Network with producers at some of America's top farms and hear the latest insights and trends affecting the industry at the 2021 Farm Journal Field Days. 
In 2021, you have the choice to join #FJFieldDays in person or online. Join us at a location near you or login online to find educational content, equipment demos, industry insights and more.
Aug. 23 at Whiskey Acres in DeKalb, Ill.
Ask the owners of Whiskey Acres, and they'll tell you good whiskey isn't made, it's grown. As one of the nation's only certified on-farm craft distilleries, Whiskey Acres is a seed-to-spirit operation in DeKalb, Ill. Jamie Walter is a fifth-generation grain farmer. Together with his father, Jim, they raise corn, soybeans, wheat and rye and also sell seed to area farmers. The Whiskey Acres team distills year-round, crafting bourbon, vodka and rye.
View the schedule and register now!
---
Aug. 25 at Silent Shade Planting Co. in Belzoni, Miss. 
What began as a husband-and-wife operation in 1979 has now flourished into a modern family business, employing five family members. Silent Shade Planting Company is a 12,000-acre corn, soybeans, cotton and rice row crop farm headquartered in Belzoni, MS. Beyond family members, the team includes 20 full-time employees. The Silent Shade operation also includes a trucking division. 
View the schedule and register now!
---
Aug. 26-27 at Frahm Farmland in Colby, Kan. 
Frahm Farmland is the product of six generations of hard-working and innovative farmers. Today, the operation is led by CEO Lon Frahm. Under his direction, the operation has grown to include 40,000 acres of row crops. The operation is known for consistent adoption of technology, charitable giving, industry-leading employee benefits and sustainable farm practices.
View the schedule and register now!
---
August 23 - 27: Online Event 
FarmJournalFieldDays.com
Access content as it airs live or come back and watch on demand! Farm Journal Field Days Online gives you the chance to interact with farmers from across the nation and hear from industry experts from all corners of agriculture. Ask questions and find answers in this two day online experience – all available for free in the comfort of your home office, tractor cab or wherever you might be.