3 Reminders to Keep Vaccines Effective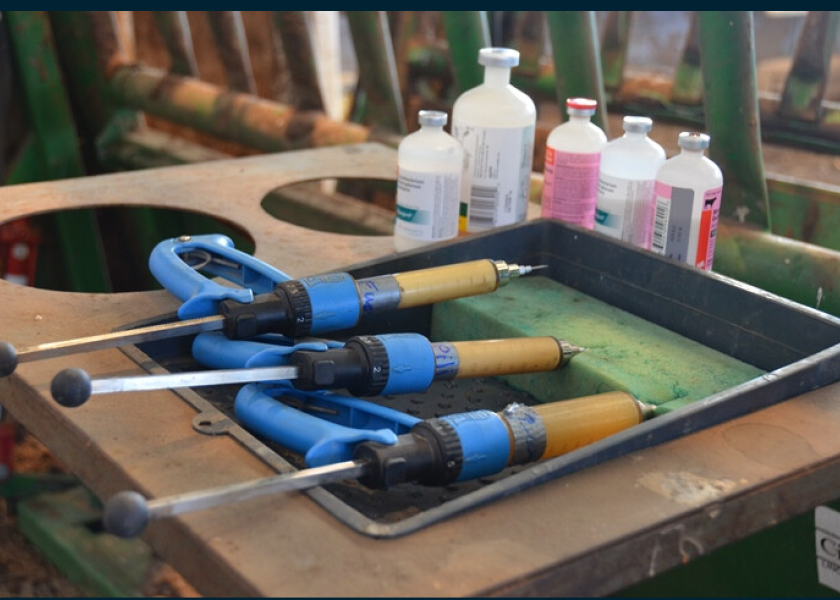 Sometimes a reminder comes in handy in the rush to get everything done – that's certainly the case for handling vaccines.
To maintain efficacy, you need to keep vaccination bottles at between 35 and 45 degrees Fahrenheit and out of UV light, says Gregg Hanzlicek, director of the Production Animal Field Investigations at Kansas State University (K-State) in an article developed by Shelby Varner, K-State Extension news writer.
"The UV light will have a detrimental effect on the live virus that's in the mixed-up vaccine," Hanzlicek said.
Many automatic syringes used for administering livestock vaccinations will have the barrel of the syringe -- where the vaccination is -- covered to reduce exposure to UV rays. "It's still best if you can just keep those (syringe) guns out of the light completely," Hanzlicek said.
Two other reminders, according to Hanzlicek, include:
•    Keep the bottle out of the sun because exposure to the bottle can also kill the virus.
 
•    Store the vaccine at an appropriate temperature, which is especially important if it is a modified live vaccine. "We want those vaccines to always be within 35 and 45 degrees, and that means during shipping, during storage, after mixing and getting ready to inject into the calf," Hanzlicek says.
 
In a recent study, researchers looked at 300 producers, retailers and veterinary clinics, where temperature logs were placed in the refrigerators where the vaccines were stored.  
"What they found was that 76% of those 300 hundred refrigerators did not keep those temperatures between 35 and 45 degrees," Hanzlicek says.
Hanzlicek recommends that people handling the vaccines use a temperature logger to make sure that the vaccines are staying in the proper temperature range, including guarding against the vaccine getting too cold.