Hear It Here First: Vilsack Shares Details on Important 'First Step' for Infrastructure Bill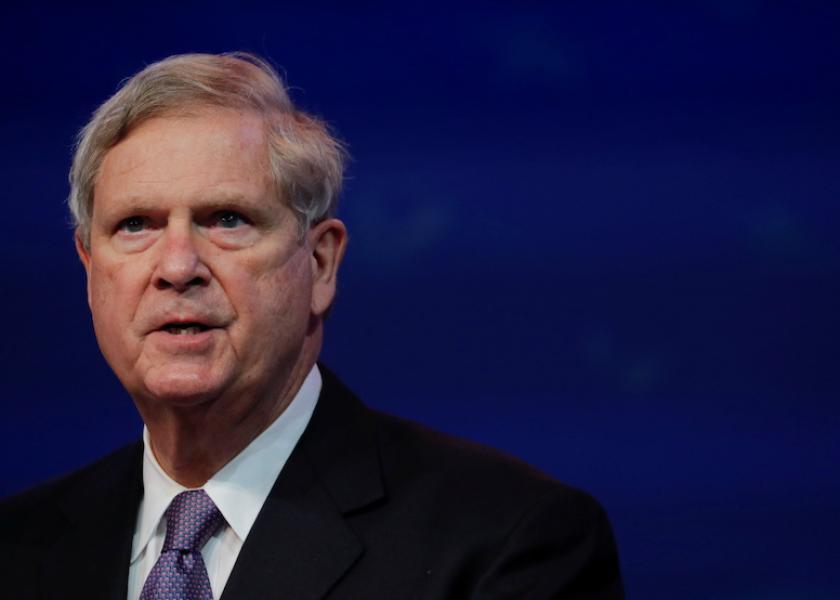 USDA Secretary Tom Vilsack joined AgriTalk host Chip Flory on Tuesday to celebrate what he described as an important first step in the process of improving infrastructure in rural America and across the country.
With bipartisan support, the Democratic-controlled Senate passed an infrastructure bill.
"A multitude of administrations have talked about the importance of investing in infrastructure but have not yet been able to get the job totally, completely done. The fact that this administration, working with this Senate, in a bipartisan way, was able to get 69 senators, 19 Republicans and 50 Democrats, to agree on a fairly significant package that will improve broadband access, invest in a modernized transportation system, ensure peace of mind when you turn on the tap with clean water and safe drinking water and invest in more resiliency on our farms and forests, it's a big, big day," Vilsack said. "It's obviously a first step, the House has to has to take action. But I think we clearly see there is an understanding and appreciation that the time is long overdue for these investments."
Flory: How do the items in the infrastructure plan help with the economic competitiveness for U.S. agriculture?
Vilsack: "When you build better roads, when you improve and make safe bridges, when you make sure the rail system works in an efficient way, when you improve inland waterways so lock and dam systems work in a modern way and you improve ports, it means you're able to move soybeans, corn, whatever the commodity more efficiently, more effectively and less expensively to market. That allows you to price a product in a way that is very competitive in the world market. When 20% to 30% of everything we grow is exported, the transportation system is critically important to the ability to maintain our edge and ag exports. We're headed toward a record year in agricultural exports. If we don't invest, if we continue to delay these investments as we have over the last decade, our competitors will catch up and eventually surpass us and we'll lose that competitive edge."
Flory: Some farmers are going to take a look at the infrastructure bill and say the $65 billion to rebuild the electric grid is unbelievably necessary, but then they'll see $7.5 billion to build a national network of charging infrastructure for electric vehicles and they would like to see that money spent on ethanol instead.
Vilsack: "The reality is there's also research dollars, there's also an effort to expand access to aviation biofuels that this forthcoming in legislation. There is going to be plenty of support, plenty of need, more importantly, for the biofuels industry. You continue to see that support. But the reality is, there is a companion opportunity, and there are multitudes of ways to generate that power and electricity for those vehicles, some which involves biomass. It's really just simply moving away from a reliance on fossil fuels to a more significant opportunity for farms across the board here. Then when you add that to the investments in climate-smart agriculture that are in this infrastructure bill, and the reconciliation bill may be considered, you're talking about a probably historic investment in American agriculture we haven't seen for quite some time."
Flory: In terms of high-speed internet, what does the bill include that is going to make it a reality for rural America?
Vilsack: "A significant percentage of the $65 billion will go to the Department of Congress and others and USDA to invest in rural broadband. This is about remote areas. This is about areas that don't have high speed. This is about making sure that every American has access. What does that mean? It means farmers and ranchers will be able to have the benefits of precision agriculture because they'll be connected. They'll have the benefits of understanding markets in real time so they can maximize their return. Their families will have the benefit of telemedicine and distance learning. Small businesses in rural communities will have an opportunity to expand markets beyond the county and beyond the region to the rest of the world. This is a really big deal. It's long overdue. And frankly, we've been nickel and diming this infrastructure for far too long. Now resources will go to states. States can put them to work very quickly, and people can get connected, which is, I think, one of the reasons why this bill is so important and probably one of the reasons why it got such broad bipartisan support."
Flory: When do you think we might get some of the details of the plan to build up the high-speed internet for rural America?
Vilsack: "The way this works is the House has to pass, hopefully they pass in the same version, but they may make a tweak here or there, so it goes back to the Senate. Eventually it gets hopefully passed, signed by the president and then the resources are provided to the departments and then they have to write the rules and regulations for how those resources will be distributed. Many of those rules and regulations are already written. Some of it will go through grants directly to states and then the state governors and state legislatures were appropriate those resources consistent with what works best for them. Some of it will go to USDA with its reconnect program where it will work directly with a rural electric cooperative or a telecom company for investing in grants and loans that will allow them to do the infrastructure and the investment and installation of the technology necessary to expand access and what this means. We've talked about what it means to farmers and families, but it also means jobs, I mean, a lot of rural jobs. You can't improve broadband and fix road, bridges, ports and inland waterways without putting a whole lot of people to work. A lot of those folks are going to be working from small communities across the country. This is a real boost potentially for the rural economy."
Flory: It's a huge package, $1.2 trillion, $550 billion in new spending over the next five years. It's an awesome investment, of course, but there is concern about how it's going to be paid for. What's the status of the tax plans and specifically the estate taxes and the step up in basis?
Vilsack: "Well, that's not impacted affected by this bill at all. I have a lot of respect for Senator Portman from Ohio. He's one of the fellows who was part of the bipartisan group who put this bill together. He's a conservative Republican. He's confident it's paid for. It's paid for in a variety of ways. There are some fees involved. There are people who aren't paying the taxes they owe. I think there will be stronger enforcement to make sure folks are paying what they in fact owe. No changing the tax law, just simply paying what you owe. There's obviously going to be growth in the economy when you put this kind of work together and that growth is going to generate additional revenue for the government as well. Senator Portman is confident and so were the 69 senators who voted for this that it's paid for. There may be some folks who disagree with that, but at the end of the day, there's no disagreement about the necessity for America to really get serious about infrastructure investment."
Flory: What does the effort look like now to encourage House Speaker Pelosi to bring the bill to the floor of the House?
Vilsack: "Well, I think she understands and appreciates that if you really, really want to make America competitive and take advantage of this once-in-a generation opportunity, you also have to invest in strengthening American families because that's part of the infrastructure, if you will, of the country. I think she wants to see action on the part of the Senate. I think Senator Schumer is actually working on that as we speak. I think once the Speaker is convinced there's going to be action on both sides, both a physical infrastructure and the family infrastructure, then I think she'll be a more comfortable position to be able to go to her Caucus and say this is something we need to get behind, this is something we need to get done. The jobs, the impact on education, the impact on access to healthcare in rural places, the ability to be competitive and export, clean drinking water for millions of American families — it's pretty hard to say no to a bill like this. We've been frankly saying no for a long time; this is a major step forward. Hopefully we take full advantage of the momentum that this bipartisan group of senators created and the president created."
Listen to the full AgriTalk segment below.