Cows of a Different Stripe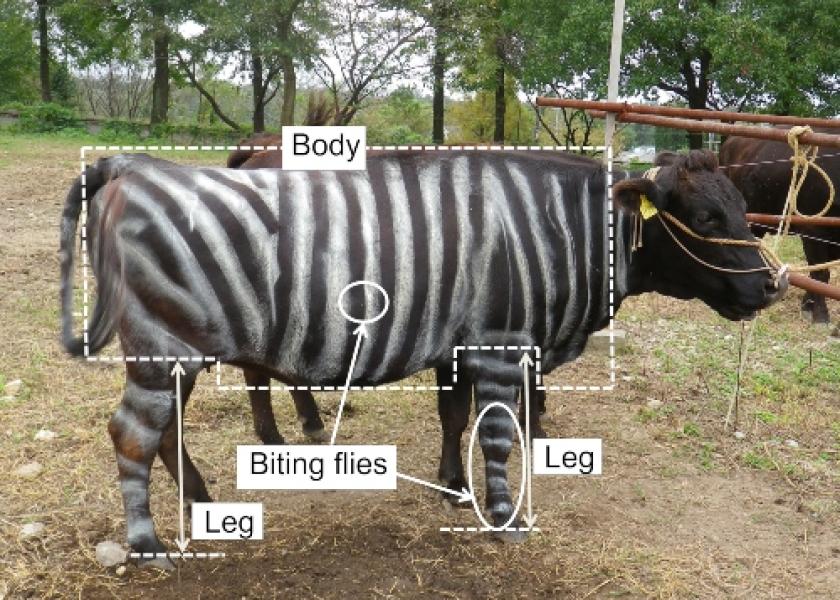 Over the past 20 years or so, we've seen much of the U.S. cow herd shift toward black coats. Someday, perhaps the trend will become zebra stripes.
Scientists, tourists and zoo patron, looking at the dramatic black-and-white striped pattern on zebras' coats, have long pondered its purpose or evolutionary advantage. It turns out that, among other possible advantages the striped pattern helps zebras avoid biting flies in their native tropical habitats. Several scientific tests have shown the black-and-white stripes apparently confuse and repel at least some species of biting flies.
Recognizing that biting flies cause considerable stress and economic losses in cattle herds worldwide, a team of researchers at Japan's Aichi Agricultural Research Center designed a test to determine whether a zebra-like pattern on cattle could reduce fly pressure compared with all-black cows. They hypothesized that cows painted with black and white stripes on their body could avoid biting fly attacks and show fewer fly-repelling behaviors.
Their report, titled "Cows painted with zebra-like striping can avoid biting fly attack," is published in the peer-reviewed, open-access journal PLOS ONE.
In this small trial, the researchers assigned three cows to each of three treatments: black-and-white painted stripes, black painted stripes, and no stripes (all-black body surface). The black-stripes treatment served to measure any effect the paint itself might have on the results.
The researchers used remote cameras to regularly record fly numbers on each animal and fly-repelling behaviors such as head throw, ear beat, leg stamp, skin twitch, and tail flick.
In this trial, fly numbers and defensive behaviors were similar for the control and black-striped cows, but the in the black-and-white striped cows, the number of flies landing decreased by about half, resulting in a 20% reduction in fly-repelling behaviors.
Painting cows in zebra patterns probably is impractical on a commercial scale, for now. But it seems plausible that efficient systems could be designed to add temporary stripes during peak fly seasons. Or, with techniques for gene editing and biotechnology rapidly evolving, perhaps future breeders could include zebra stripes in their menu of genetic traits.
Read the full research report from PLOS ONE.
For more on fly control, see these articles from BovineVetOnline:
Control Flies, Prevent Disease