FDA Reports on VFD Compliance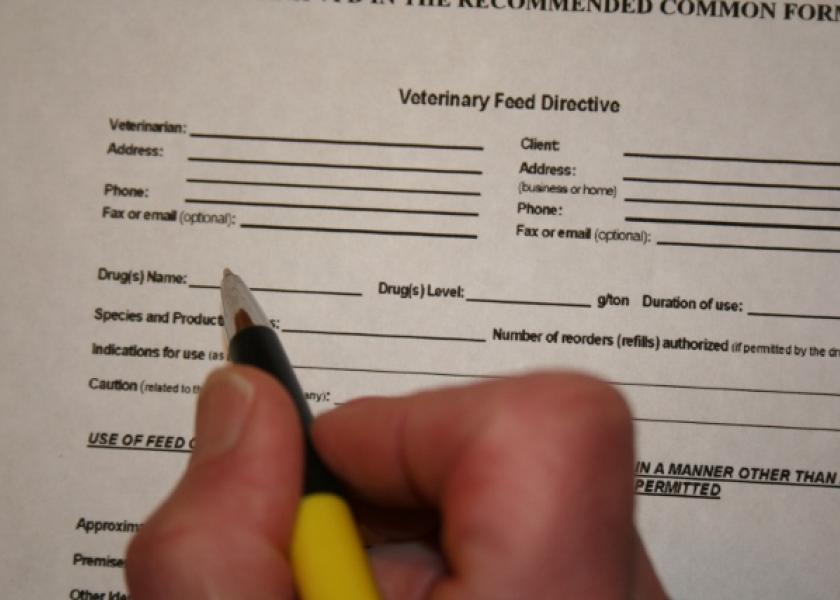 Before and after the current Veterinary Feed Directive (VFD) rules took full effect in January, 2017, the FDA focused primarily on education and outreach to help feed mills, veterinarians and producers understand and comply with the requirements. Since then, FDA has gradually increased the number of VFD inspections and initiated enforcement actions when necessary.
On August 29, FDA released its first report on inspection and compliance activities. The report, titled "Summary Assessment of Veterinary Feed Directive Compliance Activities Conducted in Fiscal Years 2016 – 2018," is available online.
Overall, the FDA reports a high level of compliance across the affected livestock-industry sectors.
In fiscal year 2016, FDA began a small, three-part pilot inspection program that began with inspectors visiting feed distributors to review randomly selected VFD documents. The inspectors then selected one VFD at the distributor and conducted further inspections of the veterinarian and producer (client) named on that VFD.
In fiscal years 2017 and 2018, FDA continued those three-part inspections and expanded the program to include state feed regulatory partners. In fiscal year 2017, state personnel inspected VFD distributors and reviewed selected VFDs for compliance with the requirements. In 2018, those state inspectors began conducting three-part inspections, similar to those conducted by the FDA investigators. With state inspectors contributing, the number of VFD inspections increased from 57 in 2016 to 130 in 2017 and 269 during 2018.
Of the 269 inspections during 2018, 230 required no action, 38 indicated voluntary action and just one indicated official enforcement action.
Key findings in the report include:
Distributors (2018)
Distributor had notified FDA of their intent to distribute VFD feeds -- 94.8%

Distributors who distributed a VFD feed that complied with the terms of the VFD -- 91.5%

Distributors who manufacture VFD feed: Drug inventory or production records showed the correct amount of drug was added to the feed for the VFD reviewed -- 96.7%

Distributors who manufacture VFD feed: Labels and formulas matched the VFD reviewed -- 91.0%

Distributor's VFD feed labels contained the VFD caution statement -- 77.2%
Veterinarians
Veterinarians had an active license in the state where the VFD feed authorized on the VFD order(s) is being fed -- 100%

VFDs included veterinarians' electronic or written signature -- 98.6%

VFDs included the withdrawal time, special instructions, and/or cautionary statements -- 95.3%
Producers
Client did not feed VFD feed beyond the expiration date on the VFD -- 100%

Client fed VFD feed to the animals authorized on the VFD (number, species, and/or production class) --  100%

Client fed VFD feed for the duration identified on the VFD -- 100%

Client complied with the special instructions on the VFD -- 100%
FDA issued just one warning letter following inspections during fiscal year 2018, for a feed mill that "adulterated and misbranded VFD feed by distributing VFD feed to other distributors without first receiving an acknowledgment letter, in addition to adulterating and misbranding medicated and non-medicated feed for other reasons."
In its report, FDA reminds stakeholders that VFD medicated feeds must be used in according to the approved conditions of use and must be under the oversight of a licensed veterinarian and consistent with a lawful VFD order. The agency intends to continue monitoring compliance, and to provide education, but FDA will also use enforcement strategies when voluntary compliance with the VFD final rule requirements is not achieved.
See the full summary report from FDA.
For more on the VFD rules and compliance, see these articles from BovineVetOnline.com.
VFD Audits: Start with the Feed Distributor
FDA Draft Guidance Updates VFD Q&A