Post-Mortem: Grain Overload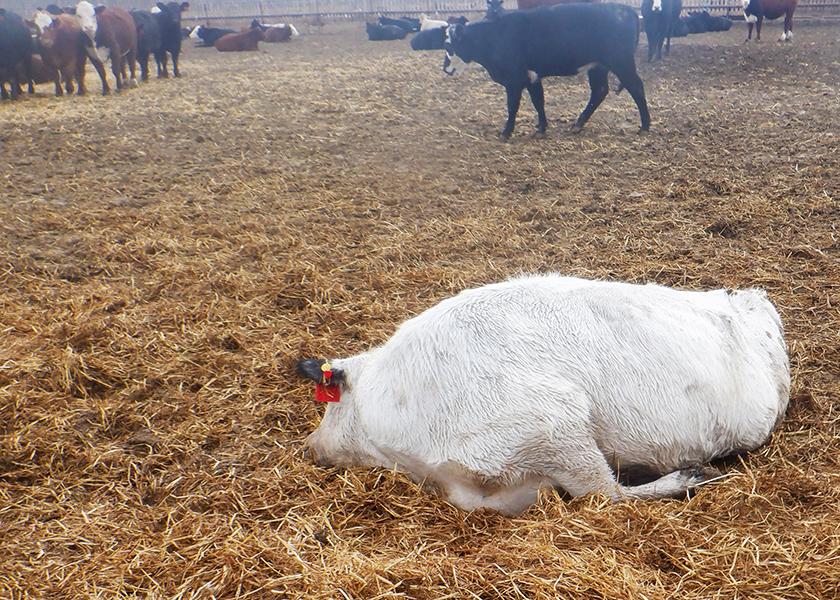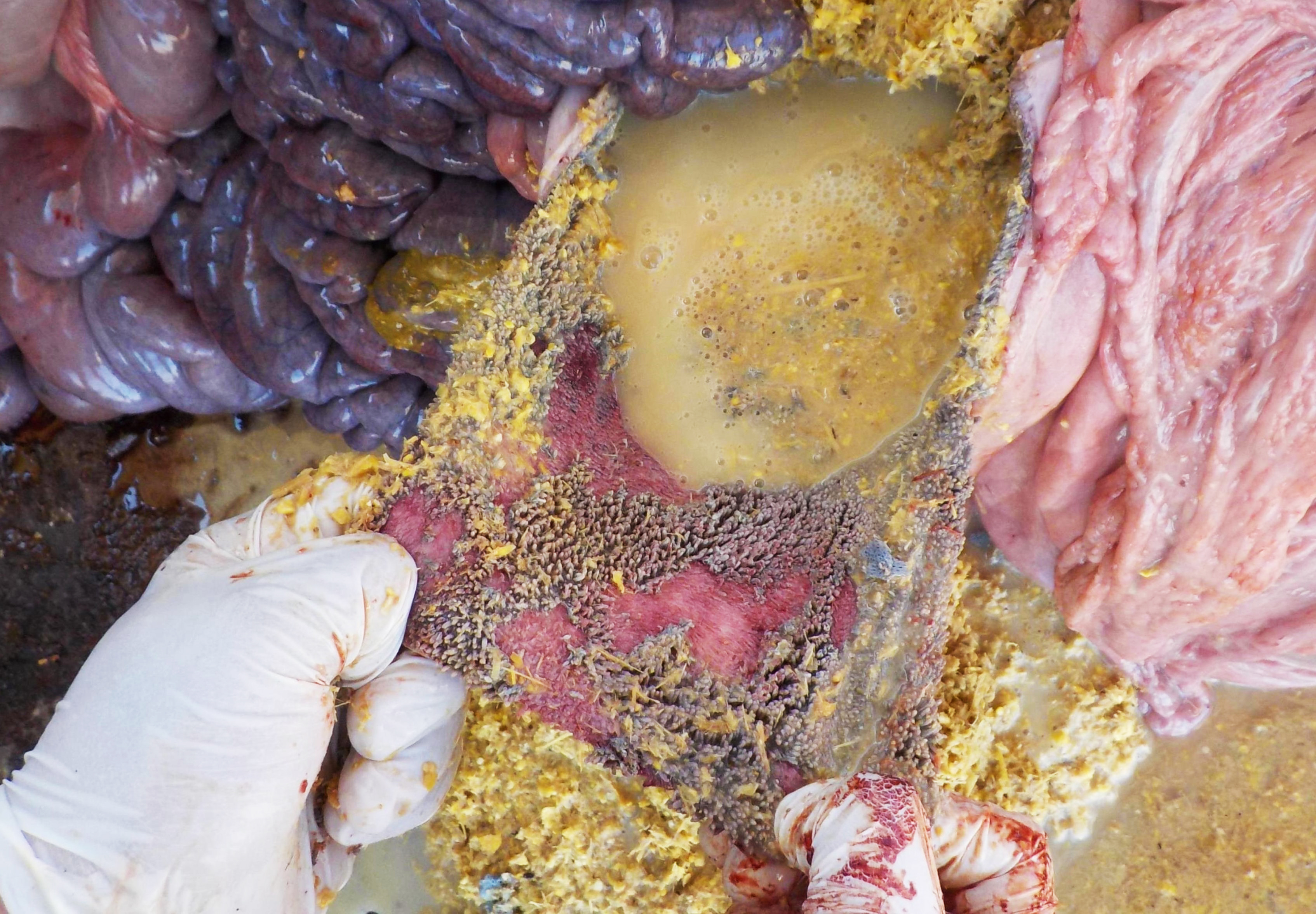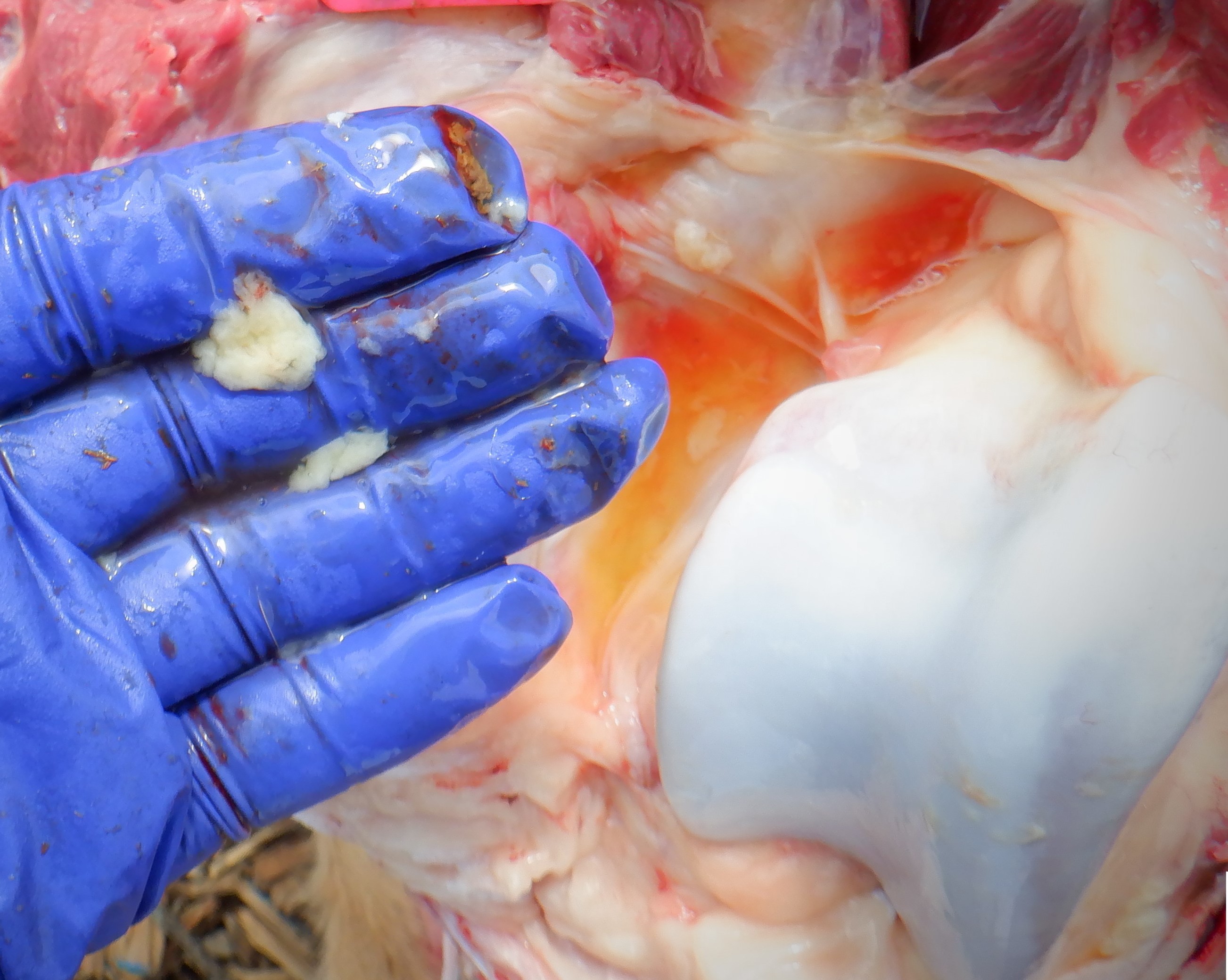 What is the Diagnosis?
These are images from a pen of yearlings in which multiple dead animals were found at three days on feed, with others showing clinical signs of disease.
A: The team diagnosed this event as grain overload (ruminal acidosis), a metabolic disease of cattle resulting from over-consumption, or high consumption prior to adaptation, of high-energy, rapidly digestible feeds. 
Pathogenesis: 
The classic characteristic of ruminal acidosis is
a pH <5.5 for an extended period (>180 minutes).
Fermentation of large quantities of rapidly digestible carbohydrates results in excess volatile fatty acid production, lowering rumen pH and allowing for the proliferation of lactate producing bacteria (notably Streptococcus bovis).
As rumen pH decreases, starch and lactate-utilizing organisms are inhibited, which further decreases
pH until ultimately, only the most acidophilic
organisms (Lactobacilli) survive, generating additional lactic acid.
Increased ruminal lactate concentration drives ruminal osmotic pressure higher, drawing fluid into the rumen and causing systemic dehydration. 
Systemic absorption and metabolism of fermentation end products leads to development of systemic acidosis. Coupled with dehydration and hemoconcentration, the resulting systemic metabolic acidosis ultimately leads to muscular weakness, renal failure, cardiovascular collapse, shock and death.
Epidemiology: 
The disease most commonly occurs in newly arrived animals with aggressive eating behavior that are adapting to feedlot diets; in animals that have experienced feed restriction for a period of time and then engorge when feed availability resumes; and in pens where feeding mistakes have occurred.
Although often a pen-level issue, individual animals could be affected when feed restriction occurs for a period of time or when premature access to a higher energy ration occurs.
Ante-Mortem Clinical Signs:  
History is important for diagnosis and control, thus veterinarians and nutritionists should work together to examine the associated factors surrounding a grain overload event to identify and correct the underlying issue, ideally preventing future instances.
Mild cases are characterized by dehydration, colic signs, and a hypomotile, distended and "sloshy" rumen.
Severely affected animals might also be staggering or recumbent, have tachycardia and have tachypnea and shallow respirations.
Profuse, yellow to tan diarrhea having a characteristic sweet-sour odor is commonly found in the pen and/or associated with specific individuals.
Onset of clinical signs depends on the type and amount of high-energy diet consumed as well as the animal's previous acclimation to that diet; however, minimum ruminal pH occurs six to 10 hours after engorgement.
Management:  
Prevention is paramount and animals should be introduced to high-energy diets slowly over a period of several weeks.
In pen-level events, offer long stem grasshay ad libitum.
If a feeding error occurred, the wrong diet should be removed and replaced with the correct diet.
Supportive care is the mainstay of individual animal therapy (e.g., gastroprotectants, intravenous fluids, and direct fed microbials); however, limited data exist from clinical trials.
Animals that remain recumbent and depressed for 24 to 48 hours despite treatment should be humanely euthanized.
Note: A rumenotomy and rumen lavage, with or without transfaunation, can be performed in individual animals, but is rarely practical in commercial feedlot production settings.
Post-Mortem Lesions: 
Animals are often found dead in sternal recumbency with their legs tucked underneath them.
The rumen contents are often watery, and evidence of consuming the "wrong" diet might be present. 
The epithelium of the rumen and reticulum is easily scraped away, exposing submucosa that is often red-to-purple and edematous.  
The intestines can be inflamed and thickened with watery contents. 
The stifle joint fluid is often turbid and flocculant; the mechanism has not been described. 
The Post-Mortem Series is presented in partnership with Feedlot Health Management Services, Okotoks, Alberta. For more information, visit their website at www.feedlothealth.com. 
Find more of the Post-Mortem Series here: https://www.bovinevetonline.com/news/veterinary-education/bovine-veterinarians-post-mortem-series