Don't Mismanage Heifer Mastitis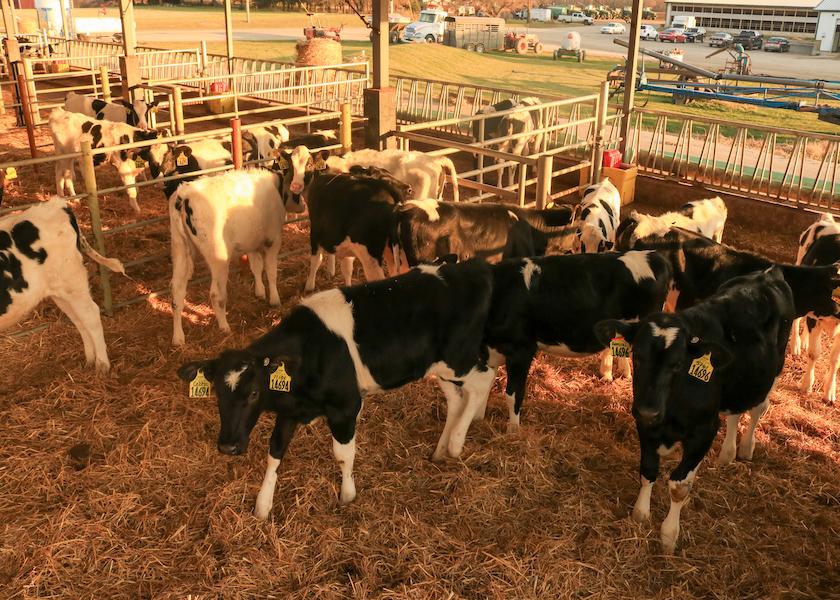 Nobody would want to show up to their first day on the job sick, but that's exactly what happens when a first-lactation animal enters the milking herd with mastitis. In fact, between 29% to 74% of heifers have mastitis pathogens present before calving, and an estimated 12% to 57% end up contracting the infection at first calving.
According to Amber Yutzy, a dairy Extension educator for Pennsylvania State University, few dairy heifers exhibit clinical signs of mastitis before they calve. However, just one S. aureus infection can cause scar tissue to form in the udder. This can reduce the amount of secretory tissue, resulting in 10% less milk in the first lactation.
But how do heifers contract this costly disease in the first place? While there's not a clear answer yet, studies have shown that teat canals of heifer calves can become colonized at very young ages. Therefore, it's necessary to start taking mastitis precautions long before heifers enter the milking herd.
Prevention
Studies have shown that contagious mastitis organisms live primarily in the udders of infected cows and are spread to heifers when they are fed non-pasteurized milk or colostrum. This milk does not spread pathogens directly from the digestive tract to the udder, but calves most likely spread the pathogens by licking their udder or legs after consuming raw milk and these pathogens can remain infectious for variable periods of time. In order to help control the spread of contagious mastitis bacteria to calves and heifers, Yutzy recommends the following:
•    Pasteurize raw milk that is fed to calves. Avoid feeding waste milk from cows that are infected with mastitis.
•    Use individual stalls for pre-weaned calves.
•    Cull calves who suckle other calves.
•    Do not use freshening pens for sick cows.
•    Routinely culture milk from cows who are chronically infected with mastitis. This will help to identify those in the milking herd who have contagious mastitis.
•    Properly handle chronically infected cows to limit the spread of bacteria within the milking herd.
Control
While working to prevent mastitis in heifers is crucial, it's also imperative to control the risk of bacteria being spread within the heifer's environment. Most risk factors that contribute to the development of mastitis in heifers are related to exposure of heifers to mastitis causing organisms, Yutzy says. The hygiene of the environment is important to limit the risk of developing mastitis in heifers. She suggests the following tips to help control environmental mastitis.
•    All non-lactating heifers should be housed in an area that is well-bedded, dry and clean.
•    Non-lactating heifers should be housed in an environment that provides significant space for all animals. Overcrowding causes cleanliness issues.
•    Flies should be controlled in all groups of animals on the farm.
•    Feeding a well-balanced diet can enhance the immune system.
•    Developing routine vaccination protocols can boost immune response.