Apley provides VFD Clarifications specific to Beef Cattle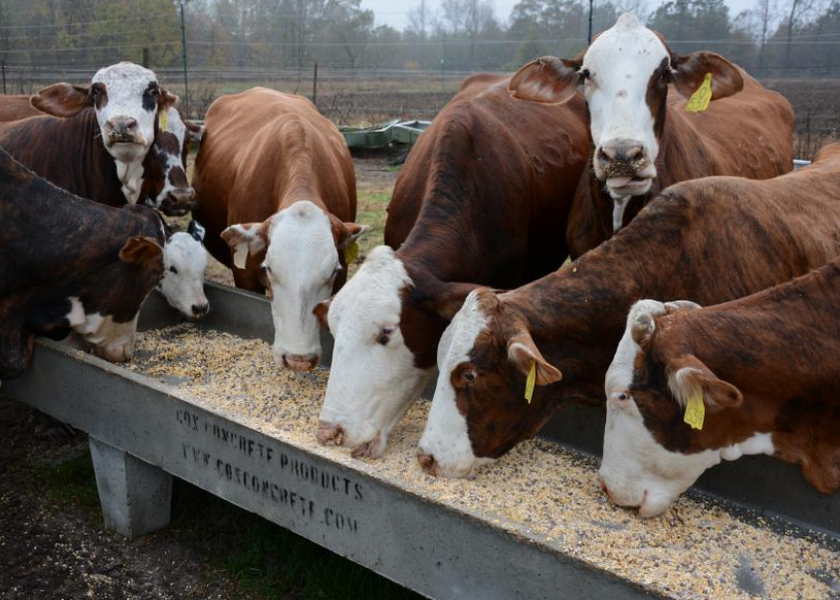 Thousands of veterinary feed directives (VFD) have been generated since the ruling change by the U.S. Food and Drug Administration took effect Jan. 1, 2017. When new or updated programs are implemented, questions naturally result. During a recent GlobalVetLink (GVL) webinar, Mike Apley provided some clarification for veterinarians on VFDs specific to beef cattle. This is a summary of what he presented.
Question: In a feedlot environment, knowing that there will be multiple groups of cattle coming in over time, can you write for all those multiple groups even for ones that aren't there yet?
Answer: "Yes, understanding that an animal only appears on a VFD once. In addition, a key rule of thumb is always write for the Type C feed," says Apley, DVM, PhD, DACVCP, professor, Veterinary Clinical Sciences, Kansas State University.
Any medicated article or medicated feed which may be legally obtained may then be purchased to prepare the Type C feed. There is one exception, Apley says: "For a proprietary free-choice mineral product, only a federally licensed feed mill may produce that product."
Do not write the VFD for the Type A medicated article or the Type B medicated feed to be purchased to create the final Type C medicated feed, he adds.
Question: Apley says another area that VFDs have caused some question and discussion about is with regard to the milligram-per-pound (mg/lb) body weight (BW) per day indication.  The question is what type of ton is to be used in the gram per ton (g/ton) blank?
Answer: "One of the unique things that all cattle veterinarians understand is that our rations vary widely in dry matter percent," Apley notes. "So, should we be putting 90% dry, 100% dry, as fed in that blank? Communication is absolutely the key here. All parties need to be on the same page as to the basis for the indicated g/ton that you will be using."
Apley adds that when using a g/ton value specified on the label, communication is again the key.
"Unless otherwise specified, g/ton values on the label are 90% air dry," he says.
Apley provided some g/ton examples:
-    10 mg/lb body weight per day chlortetracycline for not more than 5 days
o    500 to 4,000 g/ton range in complete feed
o    4,000 to 20,000 g/ton range in top dress
-    Tylosin
-    Dear doctor letter to stay within the 60 to 90 g/ton range on the label.
Apley says to write a VFD for top-dress application, the indication must be approved as top dress.
Joining Apley for the webinar were J. Tyler Holck, DVM, MS, MBA, a veterinary business consultant with swine expertise and a VFD regulations expert, and Chris Lincecum, manager of the VFD program for Cooperative Farmers Elevator. The Cooperative operates out of six feed mills in northwest Iowa and eastern South Dakota. (The free webinar is available on demand at www.globalvetlink.com)
The speakers addressed some common questions and answers (Q&As) provided by the FDA in its document on guidance for the food animal industry, most recently updated in March 2019. The complete set of FDA Q&As are provided in a 47-page document available for free download at https://bit.ly/2XdYQbu. Here are two examples the webinar speakers addressed:
License Requirements:
If I'm licensed as a veterinarian in one state, can I write a VFD for animals located in another state? What if I have a temporary license in the state where the animals are located?
Answer:
-    Must be licensed to practice veterinary medicine and in compliance with applicable veterinary license and practice requirements, including VCPR;
-    Must meet the requirements for the state the animals are located in.
Multiple Drug Levels or Ranges:
In cases where a VFD drug is approved for use at multiple drug levels in the feed, or for use in a range of drug levels in the feed, would one or multiple VFD orders have to be issued to cover such drug uses?
Answer:
-    A veterinarian may issue a single VFD covering all approved drug levels for the specific indication.
o    May specify a particular drug level within the range or authorize use at any drug level within the range by putting the entire authorized range on the VFD.
-    Additional information is included in the "special instructions" section.