Gordon Atkins Named Mentor of the Year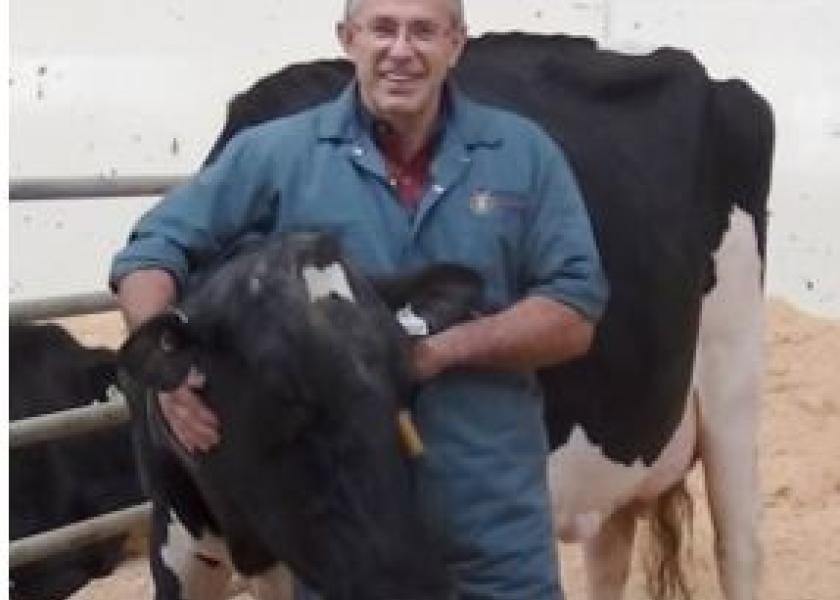 Gordon Atkins, DVM, was named the Mentor of the Year at the American Association of Bovine Practitioners (AABP) national conference. The annual award, sponsored by Merck Animal Health, recognizes an individual who has played a role in educating, supporting and advancing the careers of future bovine veterinarians
Dr. Atkins grew up on a dairy farm in the Calgary, Canada area, received his DVM, with distinction, from the Western College of Veterinary Medicine in 1973 and has been practicing veterinary medicine in the Calgary area since graduation. In 2008, Dr. Atkins joined the University of Calgary Faculty of Veterinary Medicine (UCVM) as senior instructor, clinical skills, and in 2015 was one of only a few faculty members to be given the inaugural designation of teaching professor.
"Mentoring and teaching come easily to Dr. Atkins, as he simply leads by example: first one at the clinic in the morning, last one to leave, a constant professional," said Troy Drake, DVM, owner of HerdTrax Inc., Kathyrn, Alberta, who was hired by Dr. Atkins' veterinary practice as a third-year veterinary student and subsequently an associate veterinarian. "His contributions go well beyond bovine surgery and medicine. He has made his students, fellow veterinarians, the veterinary profession, cattle producers, and the entire livestock industry better off because of his passion for and mentorship within veterinary medicine."
Dr. Atkins has played a large role in the delivery of the university's DVM program, according to John Kastelic, professor and head of the Department of Production Animal Health, University of Calgary. "He has 300 to 400 hours of contact time spent with students annually for lectures and laboratories," said Kastelic. "He draws on his decades of practice experience and huge library of photographs and videos to convey his message. He consistently receives extremely high rankings from veterinary students in teaching assessments."
Dr. Atkins has won many awards for his contributions to veterinary medicine, including the Canadian Veterinary Medical Association of the Year Award, Carl J. Norden Distinguished Teacher Award and a University of Calgary Union Teaching Excellence Award through nomination by veterinary students.
Student Rae-Leigh Pederzolli said Dr. Atkins is one of the most involved professors and mentors that a student could ask for, and that didn't stop after she left school. "As a new graduate, I have called Dr. Atkins late at night and early in the morning only to hear happiness in his voice to hear from me while wondering what case was presented to me that day," said Pederzolli. "I am grateful that he hasn't retired yet, but even then his phone will always be on."
Dr. Atkins is an active member of numerous veterinary organizations, including AABP, where he served as president in 1992 and received the AABP Bovine Practitioner of the Year Award in 1988. He is an Honor Roll member of AABP and the 14th recipient of the Mentor of the Year Award, which was established in 2007.